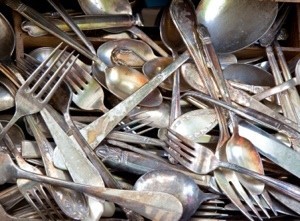 After scouring flea markets and yard sales, I've found some fabulous treasures. Metals are often unrealized treasures. Tarnished silver and brass look drab and worthless, but there's treasure to be found under there. Avoid the expensive store-bought polishes and create your own. If those fail and the tarnish is here to stay, learn to work around it and see the beauty in your newly found treasures.
Silver
Silver can tarnish to yellowish-silver or even to a blackish color which makes it look cheaply plated. The proof of the silver is the tarnish itself; ifferent metals tarnish in different ways. Try creating some at home polishers to remove the tarnish.
Silver Tarnish Dip: Fill your kitchen sink with the hottest water your tap allows. Then, mix 2 tablespoons of salt and 2 tablespoons of baking soda together before adding them to the water. Place a sheet of aluminum foil in the bottom of the sink (use a wooden spoon so you don't scald your hands). This creates ionization which will clean your new treasures. Dip the items for a few seconds at a time, redipping as needed.
Tarnish Scrub: Use white toothpaste to polish the tarnish off of your silver. Rub it onto the silver and continue to polish with a soft cloth. Another option, especially for more tarnished silver, is a baking powder paste made from powder and water. The paste can set for an hour or so if the tarnish is severe.
Anti-Corrosion: Corrosion occurs when the silver comes in contact with certain elements like salt. What might look like tarnish that doesn't come off is corrosion. Try soaking the corroded area in a mixture of two cups of vinegar and one tablespoon of salt, heating the vinegar in the mixture.
Brass
Brass constantly tarnishes. Once you've cleaned your brass, look for a sealing product to protect it from further tarnish. Check your new brass to see if it is coated or not. If it's coated, a simple household cleaner such as Clorox GreenWorks will clean it up. Formula 409 will work on dirtier jobs. If you have untreated brass, then cleaning it will help, though brass takes a little more muscle to clean.
Brass Scrub: A simple scrub cleaner can be made for brass as well. Mix one half cup of vinegar with 1 teaspoon of salt and rub with a cloth. Ketchup is also noted as a cleaner, most likely because of the chemical reactions of the acidic tomato base.
Learn to Love It
If cleaning your treasures isn't producing the like-new shine, then learn to love the shine you found. I recently picked up a pair of what I thought to be base metal candlesticks. However, the dull tarnish rubbed off easily with a cleaning paste to reveal beautiful silver beneath. In the crevices the black remained, and rather than ruin the raised surfices with harsh cleanings, I left them alone. They have character, and the pattern is accentuated with the tarnish.
Plated items often lose their plating and can't shine like new, revealing the base metal underneath. Try to polish this metal to an appealing shine. I have a 1930's creamer and sugar set that lost most of its plating years ago. The set has distinct character, more than a shiny set would have. I look at it and imagine the woman who owned it. Knowing the decade it came from, the cheap silver plating was probably a luxury to her. Her loving hands washed and polished that silver away while adding something to the piece that no storeroom can offer; a history.
Comments

October 8, 2009
2

found this helpful
Top Comment
I once found a silver plated tea tray at a garage sale in Cleveland. It was a terrible dark grey color and when I asked the price it was a whopping 75 cents. I should add this tray was heavy very, very heavy! I took it to a silversmith I knew to ask how best to polish it. He told me to hand polish it and not to remove the tarnish built up in the ornate design as it added to the character.
Then he asked if I needed to know what value to place on it for my home owners policy. He said it was a first quality piece and replacement value would be around $250-$300! I display it proudly!
Read More

Comments