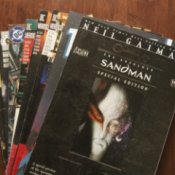 The comic book market has experienced quite a bit of decline in recent years, but there still are comics that are going up in value or have retained a great deal of value. You don't have to be an expert to determine if you might have a valuable comic book. Generally, older comics are worth more than newer comic books, but there are plenty of comics published after 1970 that are valuable.
The condition of the comic book is very important in determining the value. In the past, comic books had simple grades of Fair (F), Good (G), Very Good (VG), Fine (F), Very Fine (VF), Near Mint (NM) and Mint (M). Comics that were essentially new and in perfect condition would commonly be referred to as NM/M. Today, a number based system has taken over grading comic books. Here's the newer grading system with corresponding letter grades:
10.0
Gem Mint
9.9
Mint
9.8
Near Mint/Mint
9.6
Near Mint +
9.4
Near Mint
9.2
Near Mint -
9.0
Very Fine/Near Mint
8.5
Very Fine +
8.0
Very Fine
7.5
Very Fine -
7.0
Fine/Very Fine
6.5
Fine +
6.0
Fine
5.5
Fine -
5.0
Very Good/Fine
4.5
Very Good +
4.0
Very Good
3.5
Very Good -
3.0
Good/Very Good
2.5
Good +
2.0
Good
1.8
Good -
1.5
Fair/Good
1.0
Fair
.5
Poor
Like most collectibles, the value of a comic is dramatically lower for lower grade comics versus the same issue in a higher grade. For example, a NM (9.4) condition version of a Golden Age comics might be worth 10 times more than an issue in G (2.0) condition.
The newer the comic books are, the more pronounced the price disparity can be between high and low grades. For example, a comic from the modern era in lower grade (2.0 or lower) can be essentially worthless. While a copy of the Batman #1 (from 1960) can sell for as much as $27,000.
Here are the steps I would take to determine the value of a comic book.
Determine the Condition: You don't need to be a professional to get an idea of what grade your comic has. You can find a fantastic guide on grading comic books here:
Determine the Value: Now that you know the condition you can get a genearl idea of the value at one of these sites:
Search eBay: Now search on eBay to see if you can find the comic in any active or completed auctions. If it's not in a completed search, track an active auction to see what it sells for. Make sure that you are comparing apples to apples, it needs to be the same issue selling in the same grade.
The online price will give you a general idea of what the comic might be worth, while eBay will give you an idea of what you could actually sell it for.
Things to Consider
Comics are fragile. If you believe you have a comic that is old, make sure that you handle it with great care. Bending the spine or tearing a page can have a dramatic impact on the value of a comic. Comics should be kept flat and stored in quality plastic bags, with backboards made for storing comic books.
By Lewissan from Port Orchard, WA