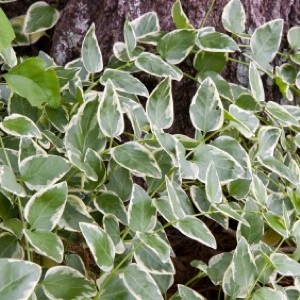 Once established, groundcovers offer an effective means to suppress weeds, stabilize soil, and fill in the space around individual plants. There are species for every landscaping dilemma-hot sun, no sun, wet sites, dry sites, high traffic paths, steep banks, and even boulevards. If you don't like mowing, groundcovers are also a good alternative to grass.
What to Plant
No matter what your situation, chances are good that a groundcover exists to fit the bill. Do some research and keep an eye out for successful plantings in your neighborhood. If you're still unsure what to plant, ask your cooperative extension agency or someone at your local nursery or landscaping company to recommend groundcovers for your area.
Some groundcovers are more aggressive than others, so be wary of invasive species and those prone to get quickly out of hand if not contained. Once established, groundcovers do not need to be mowed, although taller plants may require more maintenance (shearing every year) to maintain a tidy appearance.
For more information on different types of groundcovers (with images), visit the University of Illinois Extension's Directory of Groundcovers.
When to Plant It
Gardeners in cold-winter areas should plant groundcovers in the spring, so the plants have an entire growing season to establish roots. Gardeners in zones with hot, dry summers and mild winters should plant groundcovers in the fall, so the plants can take advantage of winter rains.
Preparing the Site
Start by killing and/or removing all existing grass and weeds. An easy way to do this is to cover the area with several layers of newspapers or a tarp held down with bricks for several weeks.
Remove rocks and other debris and rake the surface to even it out. Disturbing the soil may bring dormant weed seeds to the surface. At this point it's a good idea to water the site and wait a week or two to see if any weed seedlings germinate.
Amending the Soil
Groundcovers are no different than other garden plants. Most won't thrive in poor soil. After preparing the site, have your soil tested to determine pH and find out if it's lacking in any major nutrients.
Even the best quality soils benefit from the addition of organic matter. You will help condition the soil and improve drainage by spreading three to four inches of organic matter or well-composted manure over the top 6 to 8 inches of soil.
Setting Out the Plants
Spacing of plants depends on the plant's habit, rate of growth, cost and how fast the area needs to be covered. Closer spacing requires more plants (at a greater cost), but they will fill in more quickly. In general, faster growing groundcovers can be spaced further apart than slow growing types.
Plantings on steep slopes should be set in the ground in staggered rows. Create a ridge in front and a low spot in the back of each one to prevent erosion and catch water.
Water the plants thoroughly after planting, and every few days for the next few weeks when the top inch of soil feels dry. Plant should receive 1 inch of water each week.
Cover the soil between the young plants with mulch (bark, straw, or pine needles) to help maintain soil moisture and suppress weeds.
Routine Maintenance
Water during dry periods.
Promptly remove any weeds that appear.
Refresh the mulch each year until the plants fill in and become established.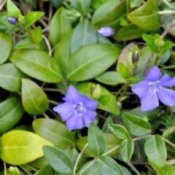 Groundcovers are useful for covering large areas in the landscape. They can also be useful for solving specific landscaping problems, like replacing grass in shady locations, providing erosion control on steep slopes, and providing cover in spaces where it's difficult to mow. The trick to using groundcovers effectively is choosing the right one for the spot.
Good Places for Groundcovers
Places that are hard to mow, in deep shade, or areas seldom seen are all good candidates for groundcovers. Here are some examples of where they are commonly used:
slopes and steep inclines
under trees or tall shrubs
in spaces between buildings or up next to the house
dry, wet, or difficult areas where nothing else wants to grow
Choosing Groundcovers
When you're looking for a good groundcover, let your landscaping needs to define your choices. Focus on the plants that will suit your garden best by assessing your needs:
To get the best performance from a groundcover, you have to give it the growing conditions it needs. Is your site shaded or in full sun? Is it moist or dry? Look for plant choices that are well adapted to your site conditions-sun, shade, water, soil type, heat and hardiness. In general, plants that spread by runners or stolons (underground stems) will fill in areas more quickly than plants that form clumps.
Do you want bold or fine texture? How important are flowers? When it comes to selecting a ground cover based on appearance, you should make leaf texture and color the highest priority. In most species (there are exceptions), the flowers are merely a short-term bonus. Instead of focusing on flower color, consider the overall characteristics and seasonal interest.
Do you need something that is tall, or a low-growing species that hugs the ground? For example, ground covers and spring bulbs make great companions as long as the ground cover isn't so tall it overshadows them, or so short that it doesn't help camouflage dying leaves.
Don't forget maintenance. Weed control is a must until your ground cover is fully established. Mowing tolerance is important, too, if you will routinely be mowing near the area. Depending on your situation, you may also need to consider foot traffic. Many groundcovers can be left alone once they become established. Others may need occasional or even annual shearing to keep them looking and performing their best.
Grounder Covers for Special Situations
Ground covers should be selected for their seasonal interest as well as for their use. They are often chosen to solve a particular problem and planted in a difficult spot where other plants will not grow. The following list is by no means exhaustive. In fact, anything that grows semi-quickly and covers a large area can be considered a groundcover. Some of the plants on this list can become invasive, so contact local nurseries or your local Cooperative Extension Service for a list of groundcovers recommended for your area.
Dry, Shady sites (areas under shade trees, under eaves, and on shaded slopes)
bugle-weed (Ajuga reptans)
common periwinkle (Vinca minor)
English ivy (Hedera helix)
Epimediums (Epimedium spp.)
Japanese pachysandra (Pachysandra terminalis)
lilyturfs (Lirirope spp.)
wintercreeper (Euonymus fortunei)
Sunny Sites (including slopes)
carpet junipers* (Juniperus horizontalis)
cotoneaster* (Cotoneaster spp.)
creeping thymes (Thymus serphllum)
crown vetch* (Securigera varia)
day lilies* (Hemerocallis spp.)
English ivy*(Hedera helix)
maiden pinks (Dianthus deltoides)
mock strawberry (Duschesnea indica)
perennial candytuft (Iberis sempervirens)
wintercreeper (Euonymus fortunei)
wooly thyme (Thymus pseudolanuginosus)
Shade or Partial Shade
bugle-weed (Ajuga reptans)
ginger (Asarum canadense)
goutweed (Aegopodium podagraria)
lily-of-the-valley (Convallaria majalis)
spotted dead nettle (Lamium maculatum)
stonecrop (Sedum spp.)
Wet Sites
astilbes (Astilbe spp.)
bunchberry (Cornus spp.)
creeping jenny (Lysimachia nummularia)
forget-me-not (Myosotis spp.)
heather (Erica spp.)
hostas (Hosta spp.)
lady's mantle (Alchemilla mollis)
mint (Mentha spp.)
sweet woodruff (Galium odoratum)
*These plants tend to spread quickly, and have deep enough roots to really hold the soil.
I have a medium sized hill that has a maple tree in the middle. The dirt on the hill is very poor - full of gravel, rocks, and bad dirt. I am looking for a ground cover that will cover quickly and fill this area. Any suggestions?

Hardiness Zone: 7a

Peggy from Springboro, OH
Answers
April 14, 2008
0

found this helpful
We use Vinca on slopes like this and it's worked out well. It is a vine with purple flowers in the spring and all you have to do is stick it in the ground. It's very easy to grow.
April 14, 2008
0

found this helpful
Any good nursery should be able to help you. A good one will test your soil if you bring them a sample.
April 17, 2008
0

found this helpful
We use vinca, we have red clay soil and it grows there. Plus we get snow and it makes it through. Plus the deer don't eat it.
By Carol in PA (Guest Post)
April 18, 2008
0

found this helpful
Most groundcovers are pretty hardy. I would say this is true of the most popular varieties. Most people use them for a similar situation as the one you've described.
I like English ivy. It grows in shady areas like under trees and on slopes. You can even walk on it if you like without damaging it.
I also grow vinca Beacon Silver which has silver and green leaves. It flourishes in my poor soil. I never water my plants or do anything to help them grow. It gets pink flowers in the spring, but also reblooms.
There are two other groundcovers that have a similar look. One is called pinks and the other is called phlox (groundcover phlox). Pinks are related to carnations and require an alkaline soil. The groundcover variety of phlox is an entirely different plant although they look very similar. My soil is acidic and I can grow phlox here. Both bloom in the spring and I believe both can be mown over if desired. The phlox might rebloom if you mow over it or cut it down, but I dont think pinks will do that for you.
If the area is sunny, I recommend groundcover sedum. There are many varieties and you can plant several of them there. All are hardy.
Good luck.
By Carol in PA (Guest Post)
April 18, 2008
0

found this helpful
After sending my previous posting, I realized I had only suggested low growing groundcovers. The ones in my previous post only grow 4 to 6" tall. There are many other plants that are considered groundcovers that grow taller. They are more like 12 to 18" tall. One that comes to mind is Lady's Mantle. Lady's Mantle self seeds and soon covers a large area. Another plant that comes to mind is the daylily. Both of these plants are quite hardy and grow in my partly shady acidic soil.
Good luck.
Answer

this Question

...