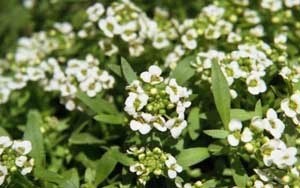 Botanical Name:
Lobularia maritima
Life Cycle:
annual, tender perennial
Planting Time:
spring in cool zones, year-round in warm zones
Height:
dwarf type 3'' to 8'', full-sized 10" to 12"
Exposure:
full sun to partial shade
Soil:
slightly acidic, average, well-drained soil
Hardiness:
all zones
Bloom Time:
late spring to early fall
Flower:
white, red, pink, purple, and lavender
Foliage:
green
Propagation:
seeds, self-sows
Suggested Use:
edging, borders, containers, and walkways
Growing Hints:
When planting alyssum, scatter seeds and press them lightly into the ground. Don't cover the seeds, as they need light to germinate. Although alyssum are quite drought tolerant, they can look a little droopy during the hot days of summer. Shear plants back by half and water regularly. This will bring about new flowers.
Interesting Facts:
Alyssum makes an excellent, nearly instant ground cover. They are an economical way to fill in garden space and work well to crowd out weeds.
January 30, 2006
0

found this helpful
I never even planted any of this, but it is growing like mad! The birds must of seeded it? Anyway they are growing in all my stones with barely any dirt at all! Also the wind has blown more seed and more by other rocks! And also all the strawberry plants, and not picture Vincas! Nothing was planted by me!