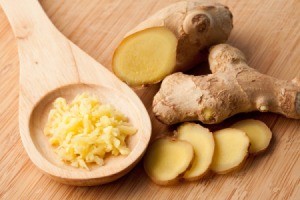 Question:
Please give me information on how to grow ginger. How long will it take for it to be ready to harvest?
Hardiness Zone: 11
Regards,
Micah
Answer:
Micah,
You're lucky. You live in the perfect climate to grow Ginger outdoors. Start ginger from 1 to 1 1/2 inch long rhizomes (roots) that contain at least one eye. If you're using ginger roots from the grocery store or specialty store, look for firm, smooth roots with plenty of "eyes." Slice the roots into sections a few days before planting so that the cut surfaces have time to cure (dry). This will help reduce the chance of decay setting in once the roots are planted. Ginger does poorly in full sun so choose a site with partial shade.
Lay the rhizomes down flat, eyes up, and press them lightly into the soil. Plant them in well-prepared beds or in pots filled with high quality potting mix. A 12-inch pot will hold 3 rhizomes nicely. Cover the roots with an inch of soil. Keep everything soil moist, but not wet. The roots need temperatures of 75ºF to 80ºF to germinate. The length of time to maturity depends on your end use. For fresh use, dig up the tubers in 5 to 6 months.
They will be tender, less pungent and lower in fiber content. Ginger that you plan on drying or using for essential oils can be harvested in 8-9 months when the leaves start to yellow and the roots are at their most pungent. If you see new sprouts popping up in front of the main plants, they will have formed their own tubers. Use their leaves and stems anytime or dig up the tubers and replant them.