EllenB
Gold Post Medal for All Time! 858 Posts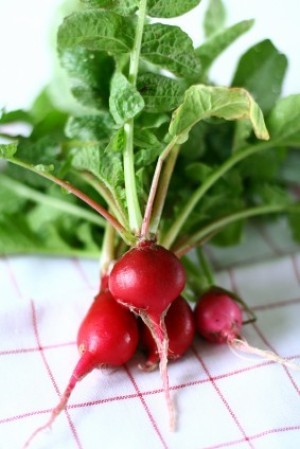 Radishes are one of the first vegetable crops to get planted in the spring and one of the first crops ready for harvest. Children love to plant them because their rapid growth suits short attention spans, and adults love to eat them for their crisp, peppery taste. If one of your gardening goals is to grow mouth-watering radishes that are perfect for slicing or eating out of hand, here is everything you need to know to get started.
A Diverse, Easy-to-Grow Crop
In simplest terms, radishes can be divided into two basic groups according to the season in which they are grown. This includes the short-season spring and summer varieties (maturing in 20 to 45 days), and the autumn or winter storage varieties that need more time to mature (60 days or more). The fast-growing early varieties are usually associated with a bulbous shape, red skins, and white flesh. However both groups feature cultivars in a wide range of shapes and colors.
Spring and summer types: Early season radishes mature in approximately 20 to 45 days and need cool temperatures to produce good-quality roots. Sow seeds as soon as the ground can be worked in the spring. If the weather warms too much before harvest, the result can be crop that is small in size and very unpleasant in taste. Early season varieties tend to be pink, red, white, or bi-colored, with a bulbous, or elongated shape.
Use radishes as row markers by inter-planting them among slower-growing crops like carrots and beets, or grow them in containers on your patio. Some examples of early radish types include, 'French Breakfast', 'Champion', 'Cherry Belle', 'Snow Belle', 'White Icicle', and 'Easter Egg Hybrid.'
Autumn and winter types: These radishes relay on falling temperatures and deceasing daylight during the 60 to 70 days that they take to mature. They are typically sown in midsummer to late summer and hold up well in the ground as they are frost-tolerant. They have substantial roots that can be harvested and eaten either raw or cooked.
The warmer the soil, the hotter the radish, so autumn and winter types of radishes tend grow larger and feel hotter on the tongue than the short-season types.
Examples of winter radish varieties include Spanish or Black Spanish. Another popular type is Daikon, which represents a wide variety of winter radishes from Asia, including the well-known 'April Cross Hybrid'.
Sowing and Growing
Site: Most radishes perform best in cool, moist conditions. They generally prefer full sun but appreciate light shade during the hottest parts of the day. If no shade is available consider using a lightweight floating row cover or apply mulch to the base of plants to conserve water and keep the soil cool.
Soil: Radishes like rich, loose, well-drained soil with a pH of 5.5 to 6.8. Work the soil to a depth of at least 6 inches and add in a few handfuls of aged manure to encourage quick growth and prevent tough, woody-tasting roots. In heavier soils, be sure to work lots of compost and sand into the site before planting or you may end up with misshapen roots.
Sowing: Radishes do not transplant well and grow best when sown directly into the soil. To encourage large roots, sow the seeds 3/4 to 1 inch deep in short rows, 5 to 6 feet long. Over-crowded plants will not develop properly. Space the seeds about 1/2 inch apart when planting. This will allow you to thin plants to 1 to 2 inches apart later, with minimal disturbance to the roots. Firm the soil with your hand and water gently.
Succession planting: To ensure an ample supply of spring and short-season radishes all season long, make succession plantings every 2 weeks until mid summer. Short-season radishes will not grow well when temperatures start to climb above 75 degrees F. Plant a few feet of plants per person per planting.
Seasonal Care
The secret to mild, great tasting radishes is rapid growth via fertile soil and ample water. Dry soil and heat causes cracked, woody roots and over-watering just encourages leafy growth. Once plants emerge, water them thoroughly at least once a week. Weed often, but carefully.
Avoiding pest problems: Because their growing season is so short, insects are rarely a problem for radishes. The principal pests are root maggots (larvae of the turnip fly), which tunnels into the roots and is often found in soils where cabbage has previously been grown, and leaf-eating flea beetles. To thwart these pests you can use row covers to protect plants, or rely on succession plantings to reduce the odds that all of your plants end up getting attacked.
Harvesting
Another key to tasty radishes is to harvest them before they pass maturity. If not pulled at their peak, the roots quickly become cracked, spongy and bitter. Read your seed packet for information on the best harvesting size for the variety you are growing. Don't forget to save some of the greens. Young greens add a mild peppery flavor to salads, and mature radish greens can be useful for flavoring soups and sauces.