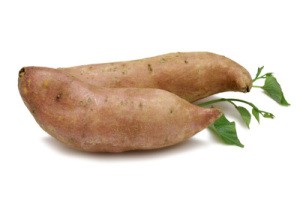 Although most often thought of as a food for the holidays, sweet potatoes are becoming more and more popular as a garden crop. And why not? This warm season crop is easy-to-grow, contains a high amount of vitamins and a relatively low amount of calories, and tastes delicious!
A Sweet Potato is Not a Yam
Some confusion exists over the difference between sweet potatoes and yams because the terms are often used interchangeably (this tends to come up a lot during the holidays). Related to the morning glory, the sweet potato is a tender tropical vine. The part that we eat (the potato) is actually a root and not a tuber (as with white potatoes). There are two basic types of sweet potatoes. One has a light-colored flesh, which is dry, mealy and less sweet tasting (like white potatoes). The other type has a dark orange, moist and sweet-tasting flesh.
All of the so-called "yams" grown in the United States are actually sweet potatoes. The U.S. Department of Agriculture now requires labels with the term "yam" to be accompanied by the term "sweet potato", if they are in fact really sweet potatoes. True yams are much harder to find in many U.S. grocery stores. Although they look similar to some sweet potato varieties, they are in no way related and belong to an entirely different plant family. Yams are grown in tropical areas like South America and the Caribbean. Their outer skin is typically rougher and their flesh sweeter than sweet potatoes.
Not Just for Southern Gardens
Sweet potatoes typically need a long, warm growing season of at least 100 to 120 days to reach maturity. Although usually thought of as a southern crop, many northern gardeners (north of Zone 6) have achieved success by starting slips indoors, and growing cultivars like "Georgia Jet", "Beauregard", or "Centennial", which can mature in as early as 90 days. If you garden in the north, you might also try warming up spring soil temperatures by covering your garden with black plastic for a few weeks before planting.
Getting Started With Starts
Sweet potatoes are grown from slips (rooted shoots) or sprouted cuttings. They are not grown from seeds or by using grocery store sweet potatoes. Slips can be purchased from mail-order suppliers or found at local nurseries. If you have a sweet potatoes from your garden (or a neighbor's) that has survived winter indoors, you can start your own slips. About 12 weeks before your last expected frost date, submerge the bottom third of the potato into a jar filled with water (Use toothpicks to support the potato on the rim of the jar). Place the jar in a sunny spot. In a few weeks sprouts will start to form on the potato. Once these reach 5-6 inches long, carefully remove them from the potato and stick them in damp sand to root. When garden soil temperatures warm to 55-65 degrees F, harden off the seedlings and transplant them into the garden.
General Growing Requirements
Site:
Full sun. Plant them where sweet potatoes have not been grown for at least 2 years.
Soil: Not too fussy. Loose, nutrient-rich soil with a pH of 5.5 to 6.5 is ideal. Once established, plants are drought tolerant. The "Centennial" variety is said to be tolerant of clay soils.
Spacing: Mounds 12 inches apart in rows 3 feet apart.Mulch: Use black plastic or mulch around plants to keep soil warm and suppress weeds.
Number of plants: 2 to 4 plants per person.
Additional Tips:
Plant sweet potato plants in full sun in cooler climates. In warmer climates, give them some light, afternoon shade.
Don't plant your sweet potatoes until the soil has warmed up to at least 55 degrees F; 65 degrees F or warmer is even better.
Sweet potatoes are ready to be harvested when they reach 1 1/2 to 2 inches thick. To harvest, cut back the tops and begin digging 1 foot away from the crowns. Their thin skins damage easily so avoid bruising or nicking them with your spade.
Sweet potatoes are good keepers, but they prefer warmer storage conditions than white potatoes. Never keep them in the refrigerator. To maximize storage life (and give them a sweeter flavor), cure harvested potatoes at high temperatures (85 to 90 degrees F) for 1 to 2 weeks before moving them to long term storage.
For long term storage, keep sweet potatoes in a dry place at 50-55 degrees F. If properly cured after harvesting they can last for 4 months or more in storage.
Besides being a good source of dietary fiber, sweet potatoes are an excellent source of vitamins A and C and contain lots of calcium, potassium, and iron. Sweet potatoes can be baked, broiled, fried, grilled, and microwaved. Freshly harvested (uncured) potatoes are best when boiled or used in recipes that include fruits or syrups. To reduce calories in mashed sweet potatoes, mix them with skim milk or orange juice when adding liquid.
I have never planted sweet potatoes, hints?
By Steve J.

Answers
March 29, 2012
0

found this helpful
Plant sweet potatoes in a slightly acid soil, pH between 5.0 and 6.5. If you feed sweet potatoes, they will only produce foliage, so plant in soil with lots of organic matter in it, and don't feed again. 3 to 4 weeks prior to harvesting, don't wanter the plants or the tubers will split.
April 1, 2012
0

found this helpful
Hi Steve I live in Queensland Australia which is a hot and dry place, not sure where you are but if its a hot place. I buy some small sweet potato from the shops and leave them in my shed to sprout, it takes a while but it will send out shoots. Bury them leaves and all just under the surface or cover them with soil so you can't see them. You will notice in a few weeks the vines start to come through.
I wait a year and then starting in one corner follow the vine with your hand, when you reach a join in the vine; that's where you will find a sweet potato. then just bury the vine again don't dig them all up. sweet potato for ever. you can chop up the vines that grow too long out of the garden beds and give them to your friends. Good luck from gail
Answer

this Question