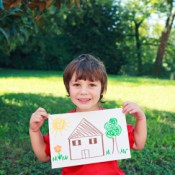 I have two preschoolers who bring home lots of artwork and make their own creations at home. While their projects are my favorite, we've accumulated boxes of their paperwork that we don't look at or use.
One afternoon, I spent a few hours photographing everything they did, downloading the photos to our computer, and uploading them to an online photo service to share with the grandparents. Next, I filed a few of my favorites in two cardboard magazine boxes, one for each child, and put the rest in the recycle bin.
Now, at the end of each day, I gather all of their work and either hang it on the fridge or put it in the "art gallery" box. Once the box is filled, I photograph the work and go through the process above.
By Britt from Boston, MA
Read More

Comments