I have two preschoolers who bring home lots of artwork and make their own creations at home. While their projects are my favorite, we've accumulated boxes of their paperwork that we don't look at or use.

One afternoon, I spent a few hours photographing everything they did, downloading the photos to our computer, and uploading them to an online photo service to share with the grandparents. Next, I filed a few of my favorites in two cardboard magazine boxes, one for each child, and put the rest in the recycle bin.

Now, at the end of each day, I gather all of their work and either hang it on the fridge or put it in the "art gallery" box. Once the box is filled, I photograph the work and go through the process above.

By Britt from Boston, MA
Rebecca Patrick-Howard
1

found this helpful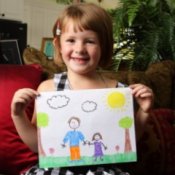 We all want to save all of our children's art work in the beginning. When they first begin drawing pictures and painting self-portraits and gluing random bits of construction paper to things, we "ooh" and "ahhh" and proudly display them on our desks and refrigerators. Once they get going, though, you can suddenly find that you have hundreds of art projects that you have no space for. So what do you do with all of these masterpieces once your child proudly hands them over to you?
To begin with, you should establish a place of honor for the artwork. This might be a special spot on the refrigerator, a pegboard in your hallway, or a central point on the wall over your desk.
Now you can begin the rotation. Every week, change the piece of art that goes there. You can choose it as a surprise to your child (make it an event and have a judging session) or you can let your child choose. This way, a piece of their art gets displayed but it's constantly changing so they can get the feeling that their work is being appreciated.
You might also want to consider getting some of the most colorful pieces framed. That doesn't mean that you should go out and spend a fortune on a matte and professional framer, but an inexpensive picture frame and construction paper matte can make a child's painting or drawing pop out and give your wall an almost primitive art look. You can even buy a frame that has two slots for pictures in it and place your child's artwork on one side and their picture on the other.
For those pieces that you have left over, there are several ways to handle this:
One of the easiest ways is to invest in a scrapbook (or 10)! You don't have to be a scrapbooking fanatic to do this. A simple scrapbook, scissors, and glue or rubber cement will suffice. Place the picture in the scrapbook to keep them orderly. Cut them down to size so that they will fit if you can. If you want to get creative then cut out the drawings and don't use the entire sheet of paper that they have drawn on. You'll probably find that little ones don't always fill a page.
You can also invest in some craft boxes and fill the boxes with the drawings, but unlike scrapbooks these tend to get lost over time or else end up in the attic or basement, never to be seen again.
Click here to ask an organizing question.
A lot of the great artwork my kids bring home is on 8 1/2 x 11 paper. This makes it easy to store and protect them. I bought a 3-ring binder and a package of page protectors.
I can just slip the art into a page protector once it has spent some time on the refrigerator. They can still be enjoy by flipping through the binder.