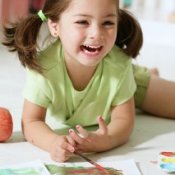 Before the invention of home scanners, it was tape or magnets on the fridge. Now, we can scan our children's art work. At that point, you can do one of many things, but I will just list two of my fav's here:
Upload the artwork you love to share to a digital frame. It can run in a loop and show the future Van Goghs and O'Keefes' work.
Once you scan the work, keep it in a folder in your documents. When you want to display them, right click on each shots and hit "copy". Open up a word doc, right click on the open page and hit "paste". Your artwork will no doubt be really big. Don't worry, we are going to fix that.
On the photo image, right click and hit "format picture". Once that opens, the second tab is the "size" so click on that. You can adjust the size of the photos in this area. I simply highlight the size it is, and enter the size you want. Say, it's 5.75 inches, then you simply highlight that and enter "2.5" (don't put the " symbol, it's already in inches). Hit enter and the photo will be smaller.
You will find your curser is right next to the photo after you hit enter. This means that your next photo will be right up against the first one. If you prefer a space or two, simply hit the space bar, and the next photo can be after the gap. Play around with the sizes till you find one that works for you. Don't worry if you don't get it right the first time. Your original artwork is still in your documents.
Once the sheet with the "mini art" is ready, simply print. You can then display multiple art work on one page. This not only saves you space, but is a cool way to slip the art work into a protective sheet and hang up with magnets.
Source: Been doing craft shots and scenery this way for a while. I have even perfected a way to make the shots the same size as baseball cards, so the sheets work perfectly.
By Sandi/Poor But Proud from Salem, OR