Our front closet desperately needed some help. We needed somewhere to store the kid's gloves, mittens, and hats where they could reach them, and I wanted them to be able to be able to hang up their own coats.
Inspired by the modular closets that can be found in many bedrooms, I had my husband build shelves into our coat closet and added hooks for the kids coats. Each person has a shelf in the closet with a bin for their gloves and such, and a space for purses or other "extras", we have a spot for leashes and umbrellas. It's never quite as organized as I'd like it, but the extra storage sure helps.
By Stephanie from Hillsboro, OR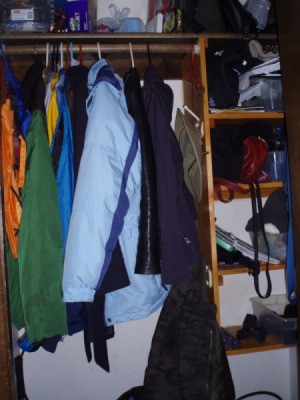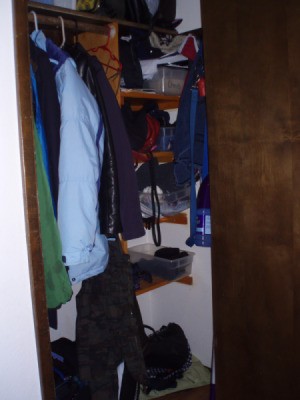 The hall closet usually is for storing coats and other outdoor apparel. Our closet is used to hold: winter coats, spring and fall coats, hats, boots, umbrellas and gloves. I don't move out of season clothing to another closet for storage. So its here all year around.
It's important to keep this closet organized because everyone is in a hurry when they are leaving the house. They don't want to have to sort through everything to find that elusive umbrella or one other glove! Also, its where we hang coats of people who visit our home. So this closet should be "company ready."
Don't be overwhelmed by taking everything out of your closet at one time. You can do it in stages. Never take out more than what you can sort through and return in one hour. First, I'd do the coats hanging on the rod. Then, I would do the floor. Last I'd do the shelving above the rod.
This is the closet where I like to have the very best hangers I can afford. I have inherited several good wooden hangers and these are my favorites for the Hall Closet. Winter coats are heavy. Cheap hangers bend and the coat falls on the floor. So I'd take the time to gather all the best hangers I can find in my house and use them in this closet. You'll need 3 or 4 hangers for each member of the household and extra hangers for hanging jackets of people who visit your home.
There are two adults in my family and we live in the North. So we like to have two coats or jackets for winter. That would be one for dress and one for work. We also like to have two jackets to be worn during spring or fall. These are also one for dress or work and one for doing errands or working in the yard. Keep in mind that often less is more. You'll want to be able to have some space between your coats so they don't need to be crushed.
I'd like to add here that when my son was a little boy we put a hook on the side of this closet because he couldn't reach the hangers to hang his coat. He is 40 years old and still uses this hook! What a good investment! (Check Dollar Tree for a shiny silver one.)
We keep our boots lined up on the floor of the hall closet. If you have a lot of boots to store, use a shoe rack or build a shelf on the floor of the closet. Perhaps you'd like to use a tray for wet boots.
I have hooks for our umbrellas on each side of the closet. Or if you don't have a hook, put a nail. No one sees it so I guess it doesn't really matter what it looks like if its far off to the side.
Our closet came with one shelf, but my husband added another shelve above that one. This has been very handy over the years. My son in law added wire shelving to his Hall Closet above the closet rod. We use shoe boxes to store our gloves and hats. I have one for summer hats and one for winter hats. But I think plastic shoe boxes from Dollar Tree work best because you can see what is inside the box.
Also, if you have a label maker you can label the boxes or use a permanent marker to write the name of the person to whom the items belong. Try to make these easy to access. Better yet, if you are able to afford the wire shelf dividers for items like sweaters you can use them for hats.
Don't forget to use the inside of the closet door if you need to do that! My son in law has a rack for his baseball hats hanging on the inside of the door. But you can use any organizer that suits your needs. A hanging shoe organizer with little pockets makes a good item for holding mittens and gloves. Use your imagination and I"m sure you can come up with something.
By Carol Swanson from Wyoming, PA