Since I have been quilting I always purchase my fabric on sale and believe you me when I find a sale I purchase a lot of fabric. I was having a hard time finding a place to "store" my fabrics. I didn't want it just stuffed in plastic storage bins because I would forget what I had.
So at a garage sale I purchased this most excellent cabinet for $9.00. It had red crayon on the side of it, which when I got home it came right off with Mr. Clean Magic Eraser : ) I rolled up my fabrics and sorted them on each shelve.
Then I hung up 3 baskets on the wall above my sewing machine and rolled fabrics in there too.
I love the storage that doubles as decorations.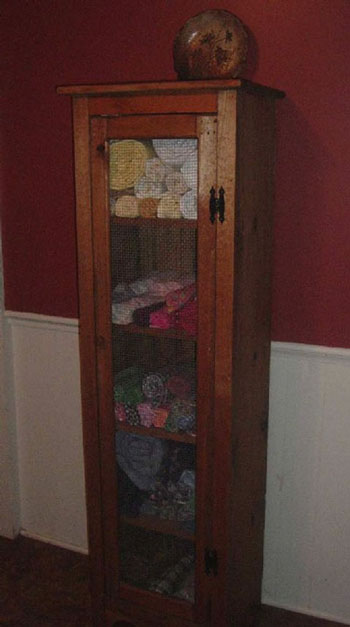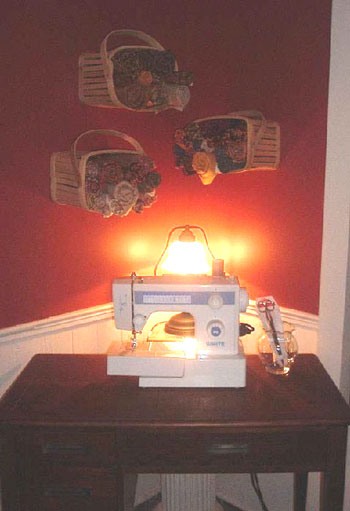 By Tracey
Answers:
Fabric Storage and Organization
Wow! That is a "most excellent" cabinet and what a deal! I must be doing something wrong because I can never find anything that cool at a yard sale. It would make a great CD or video cabinet too. Way to go. The baskets look real cute too. I might try something like that for school papers. Love the ideas on this website. (08/24/2005)

By Lisa Mutton
Fabric Storage and Organization
What a great idea. My fabric, yards and fat quarters, and pieces of no measure, are all stuff into drawers.
I love your idea, thank you for sharing. (08/24/2005)
By Chris
Fabric Storage and Organization
I bet you could probably get a similar cabinet and baskets at a thrift store.
Ziggee (08/24/2005)

By Athena
Fabric Storage and Organization
It looks great! I love the cabinet and the baskets on the wall is a great idea! Happy quilting!! (08/25/2005)

By Cadensnana
Fabric Storage and Organization
I just LOVE the basket idea! Thank you for sharing pictures! (09/13/2005)

By Laura
Fabric Storage and Organization
Totes are a great idea but, like you said, we sometime forget what we have in them. I bought a photo album, cut a small piece of the fabric and placed it in the album. I numbered the totes and placed that # under the fabric. If I look through and find the one I like, I just go and find that # tote. (03/29/2007)

By Carolyn
Fabric Storage and Organization
My Avon-selling neighbor gives me empty boxes with actual lids. They stack great in my closet. I wrote colors on the outside and this solves my fabric storage solution. (12/09/2008)
By jeannie