Organizing Your Wallet
Solutions
Share on ThriftyFunThis guide contains the following solutions. Have something to add? Please share your solution!
When you go to the store and write a check. They want your drivers license, but it's hard to take out of the slot. Put a strip of scotch tape on the end to make a tab. Now you have a pull.
Source: A gal came in the store and had it done. Great idea!
By Vi Martin from Mobridge, SD
I have tape on the ends of all my cards; license, insurance card, library, etc. The tape sticks out to where I can pull the card out of my wallet without digging with my nails. I have been at stores and the older ladies all know why the tape is there. But the young people and men all ask "why do you have tape on your cards!"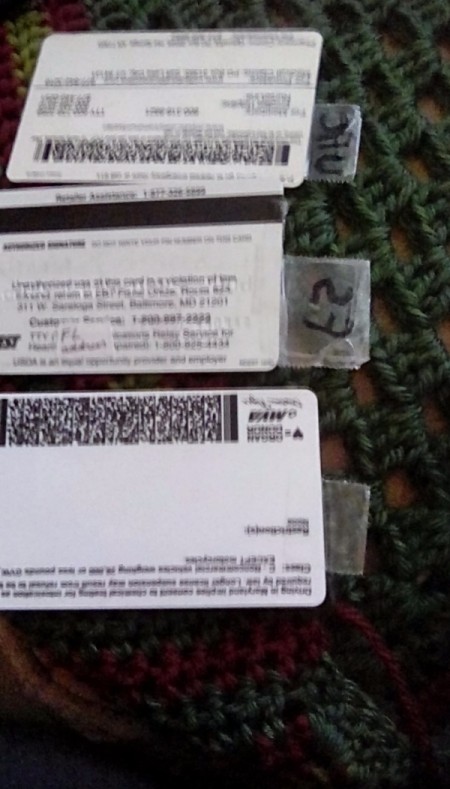 I don't carry a purse, but I do carry a wallet to hold my identification and drivers license. It seems like I always need a pen to write with, but not carrying a purse or having a big enough pocket, a pen is not always available. So I took a pen refill, that goes inside of a regular ink pen, covered it with tape to make it not as slick and to give it just a tiny bit of something more to hold onto to, and I keep this pen in my wallet for when I need a writing instrument in a hurry.
You can use a cheap refill, or a better quality, depending on your preferences for dependability.
By one.of.a.kind from AL
My husband just had to change wallets since his old one was busting at the seams with credit cards, insurance cards, receipts and discount cards. We took the outdated credit cards out and shredded (my shredder has a section for this). Receipts were taken out and checked for recent purchases or warranties and placed in an evelope marked receipts and filed away.
Discount cards were reviewed for the places he shops the most and key tags were taken out and placed on a key ring to be kept in the car. When he shops, he just takes the keyring in with him with all the key tags, instead of overloading the wallet. His overloaded wallet was uncomfortable to sit on so cleaning was necessary.
By HerkDia from Baltimore, MD
I have a PayPal card and other cards that are loaded by sources other than me. I spend what I spend and when the funds are gone, I turn my card around in my wallet. This tells me the funds are depleted and I don't even think about trying to use them.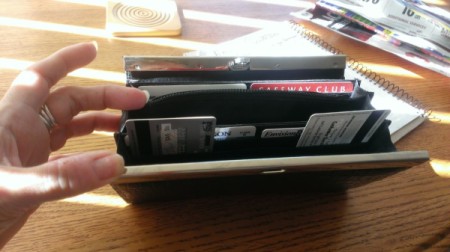 Related Content