Dena Roberts
Bronze Feedback Medal for All Time! 102 Feedbacks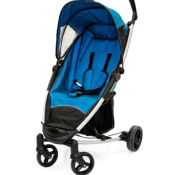 I am looking for free plans for a 6 passenger child stroller, either 3+3, or 2+2+2 configuration, or how to convert a 1+1+1 (3 seats in a row, like a train!) into a 6 seater.
Thanks guys!
Catastrofy from Winnipeg, Canada
Answers

June 25, 2008
0

found this helpful
First of all; I think making one could be very tough, because it seems like it would be difficult to incorporate the safety features of a commercial "buggy" meant for six kids. This would include reliable brakes that engage at all times unless you are actively holding a lever down, and wheels with enough size for easy pushing and two that swivel for easier steering. It also includes a safety harness (not just a belt) for each child. Six kids together are heavy (200 to 300+ pounds) and really complicate steering and stopping.
I am not sure if you have six children of your own, or if you do day care; but what you intend to use the buggy for impacts the type you need.
If you hae six kids of your own, and are just looking for a way to move all six, you might start with plans for a "garden cart" (google that and you will find several possibilities) that use bicycle tires, and only have 2 tires.
In this, you could build in bench seats. I would not use something like this on hills or slopes!
What do you need this for, and maybe that can help us help you? Day care? The farm? Walks in the city or suburbs?

Dena Roberts
Bronze Feedback Medal for All Time! 102 Feedbacks
June 25, 2008
0

found this helpful
re: my request for free plans for a six passenger stroller. I run a small day care for pre-schoolers. I trained at a day care which had a 9 passenger stroller, it was made from plywood and had large "pram" type wheels on it. It didn't have brakes, it had a bar that fastened through the wheels to keep it from moving when loading and unloading children. It was very easy to push and maneuver. Unfortunately, someone stole it from the day care, so I can't get a drawing to make my own plans. They said a parent made it for them, but the parent moved away several years ago.
It would have harnesses, and whenever I take the kids out in the 3 passenger stroller, or the 4 passenger wagon, which is what I presently use, I always put helmets on them, because you never know, kids will be kids! The problem is I am getting 2 more children in the fall (we are allowed to have 8 children in a home day care here) and I will need some way to transport 6 children back and forth to the playgrounds and parks around here. All city streets, not much traffic, easy access curbs, all made wheel chair accessible. Any plans would be much appreciated. Thank you.

June 25, 2008
0

found this helpful
Hi! My cable was out most of this evening; so I didn't get to look around on some of the "free plans" sites that I have bookmarked regarding a cart that might be easy to convert. If you're looking in the meanwhile, look at ones that use bicycle tires--the larger tires make moving such things sooo much easier. Plus, you could probably put caliper brakes on to help slow the buggy down if you are going a bit of a slope.
When I get the chance, I will look around on the sites. I love any kind of a "making things" challenge!

June 26, 2008
0

found this helpful
I am not finding much in the way of plans; however I bet you could adapt the plans from a garden cart (that uses bicycle wheels) or a pony cart for your uses. In fact, if you're close to "horse country", you might be able to pick up a nice used cart that you could adapt, or contact a carriage shop for parts and ideas.
With the garden cart plans, (just google "garden cart plans"), just use their method to mount the wheels and "double it"--use four wheels instead of 2.
Once you have the basic platform, you can probably figure out how to proceed.
Good luck!
Answer

this Question