Homemade Baby Food Recipes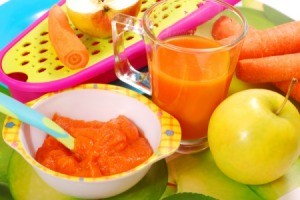 Making your own baby food can be a rewarding experience for you and your baby. Not only can you save money by doing so, you can also control the ingredients, including using only organic fruits and vegetables. This page contains homemade baby food recipes.
Recipes
Share on ThriftyFunCheck out these recipes. If you have made this recipe please submit a photo and let us know how it worked. Or, add your own recipe variation.

Irishwitch
Silver Post Medal for All Time! 390 Posts
I never believed in baby food that was made somewhere and not fresh, so I made my own. Then, I made them for the Grand-kids. I think I am done!
Ingredients:
1 cup water
1 chicken breast
1/4 cup rice
3 whole carrots
1/4 lb. green beans
Directions:
In a covered pot, and using no salt or spices, combine water, chicken breast, and rice. Simmer 20 minutes and add carrots and green beans. Simmer 10 minutes longer.
Source: The Mother's Almanac - Marguerite Kelly and Elia Parsons (Doubleday)
By Irishwitch from Aurora, CO

Since my son started eating solid food, I have saved lots of money by making my own "baby" and "toddler" foods for him, armed with my blender, a few ice cube trays, self sealing freezer wrap, and some reusable freezer containers.
When he was eating "baby" food, I would blend up frozen peas and beans, canned peaches and pears, etc., until smooth, and then freeze them into cubes. I stored the frozen cubes in ziplocks, and would pop one or two out for each meal. I would also do this for mashed ripe bananas, and avocado, or buy a can of pumpkin (not flavored - but plain pumpkin) and cube those as well. When pears and apples were in season, we harvested from a friend's tree and cooked up our own, pureed it well, and made more cubes.
Another favorite was lentil soup, pureed right out of the can and then frozen. I would make brown rice or white rice cubes out of leftovers from our dinners, and then mix the frozen rice with the frozen lentil soup for a great meal for him. He loved it!
Now that he is a toddler, I am always looking for quick meals for his lunch at daycare without purchasing the processed stuff. His current favorite is Pasta Pucks:
Pasta Pucks
Ingredients
one pound of pasta (I use Barilla Plus enriched elbows)
one jar of sauce (I alternate between store brand tomato or cheese)
one can great northern beans - drained
grated cheese and seasoning to taste
Directions
Cook the pasta according to directions. While it is cooking, put the jar of sauce and can of beans into the blender and blend until smooth. Add the sauce/bean mix to the cooked pasta and add any additional seasonings you like (I add some grated cheese and oregano). Freeze in muffin cups (with papers) or in silicone muffin pans. You can also freeze in small reusable freezer containers.
I use the silicone pans, then pop the "pucks" out and put them in a ziplock. One puck for lunch was good from age 1-2, and now he is eating 2 pucks. Saves lots of time for both me and the babysitter, and he gets a good lunch with lots of added fiber/nutrients from the beans. The cost for about 10-16 meals - about $3.00!
We also make a double batch of waffles on the weekend (the big ones that divide into squares) and freeze the extra squares in press-n-seal paper. When the little guy wants a waffle during the week, I can grab one easily, and don't have to buy the commercial ones. You don't need a big freezer to do this, we just have the one on top of our fridge, and it has worked just great!
Read More

Comments
7 Questions
Ask a QuestionHere are the questions asked by community members. Read on to see the answers provided by the ThriftyFun community or ask a new question.

What is the best baby food? How can I make it myself?

Answers

Judi
Bronze Feedback Medal for All Time! 239 Feedbacks
September 24, 2008
0

found this helpful
The best baby food is that you make yourself. I have a blender that has a small 1 cup jar in addition to the regular sized one. If you don't have one like that you can use a regular blender. Just put a tiny bit of the food from your table and some broth, juice, or water (tiny bit!) and blend until smooth. All three of my boys almost totally ate food from the table this way except when we had pizza or something else they couldn't have.
You have to use common sense and not feed a baby something like spaghetti or horseradish but they can eat veggies (my boys loved squash!) and meats and even fruits. This is much, much cheaper than jared foods and so VERY much better for baby.
By kddid (Guest Post)
September 25, 2008
0

found this helpful
I feed all my kids off the table.. I had a small grinder on the table. They ate everything we did. They are grown now and they still love all foods. And they are all still healthy. I think it is the good start in life they had. I am raising my great grand daughter now, and I am doing the same with her. She loves every thing. The other grandparents has her sister and she is real picky.
By (Guest Post)
September 26, 2008
0

found this helpful
The best foods for baby are the simple ones, especially those already prepared by nature. Simply cut an avocado and wa-lah instant baby food, chop a tomato, a peach, smoosh some pears, banana, blend some apples, squash etc. this doesn't have to be complicated, God made food easy for us to enjoy in the simple form.
babies don't require spices salt or msg to like things nor do you want them too. keep it simple,, fruits and veggies and when their a little older add some nuts or seeds.. nutmilk is awesome and easy to make as well as things like cashew cheese...

September 27, 2008
0

found this helpful
If you're talking about beginning foods, you can puree fresh foods in a good blender. You will need to add just enough liquid to allow them to blend easily.
You can precook meats and hard vegetables first, but most fruits can be pureed raw. It's best not to add spices or sugar to baby's food.
By Mommy (Guest Post)
September 28, 2008
0

found this helpful
I agree with all the other posts but I would add that after having 4 children in under 3 years I learned to make a bag of split peas in the crock pot and freeze in small containers. I also froze large amounts of cooked/mashed squash, potatoes, asparagas, beans etc in small containers.
This way they could eat what we were having for dinner (small blener) but when were were gone the sitter could easily feed them by grabbing something from the freezer. Best of luck!
Answer

this Question

I have been making my son's baby food and I noticed that the baby food on the market uses ascorbic acid and citric acid with the jars that contain fruit. I know ascorbic acid is vitamin c and that reduces the browning that can occur with fruits.
I went looking for something like this in my grocery store and I found something called fruit fresh, but it also contains dextrose and silcone dioxide. Are these things safe for a baby?
Julia from Houston, TX
Answers

January 31, 2008
0

found this helpful
Julia
I would not worry about adding anything - the only reason they add it to the commercial foods is for cosmetics. If anything, you can use a little orange or lemon juice.
Are you jarring or freezing your foods? I made mostly veggies and fruits for my son, and froze them with no additives at all.
hope this helps.
Regina

Michawn
Bronze Feedback Medal for All Time! 188 Feedbacks
February 1, 2008
0

found this helpful
Not only is making your own food less expensive, it's safer (if you use organics, even more so). They only add the ascorbic acid to keep the food the right color. You don't even have to add that, do you think the baby cares that the nanas are a little brown?
Also, once they are on oatmeal, take instant Quaker oatmeal and whiz in the blender or food processor, instant oatmeal that has a little texture too it and WAY cheaper.
Have at it and good for you, for feeding your baby wisely and frugaly.
By Trix (Guest Post)
February 1, 2008
0

found this helpful
If you want to avoid the brown color, you can simply add a little lemon juice to your fruit mix. Not enough to make it taste tart, just a bit will do (I haven't done this with bananas, so I'm not sure how that would work, but it's great with other fruits like apples and pears). When your baby is old enough to eat slices of fruit, you can precut fruit like apples and sprinkle them with lemon juice too so they don't turn brown.

February 1, 2008
0

found this helpful
i just love it when i know a mama is making her own baby food; i did, too, and my baby just turned 18. in vicki lansky's Wonderful book, feed me, i'm yours, she says to freeze everything and add nothing, and that babies prefer the natural sweetness of fruit with no additives. the plop method was to drop fruit or vegetables into single serving plops, freeze hard and then store in a ziploc in the freezer. the cube method was to freeze baby food in ice trays, pop them out and then store in a ziploc in the freezer. it took no time for the plops to reach room temperature, the cubes took a little longer. my daughter's favorite thing was butternut squash.
By (Guest Post)
February 4, 2008
0

found this helpful
Don't add anything! The best, healthiest, foods are the ones that are natural with out all the chemicals and preservatives. Just like fresh fruits and veggies without added butter, salts, etc., is the healthiest for you to eat, the same is true with your baby. I agree with the post about freezing the prepared fruits and veggies in the ice cube trays or whatever so your food stays fresh. Good for you for making your own baby food. I wish I would have.
Answer

this Question
Blend up some fresh peaches to make a delicious baby food that can be stored briefly in the fridge or frozen. This page contains a peach puree baby food recipe.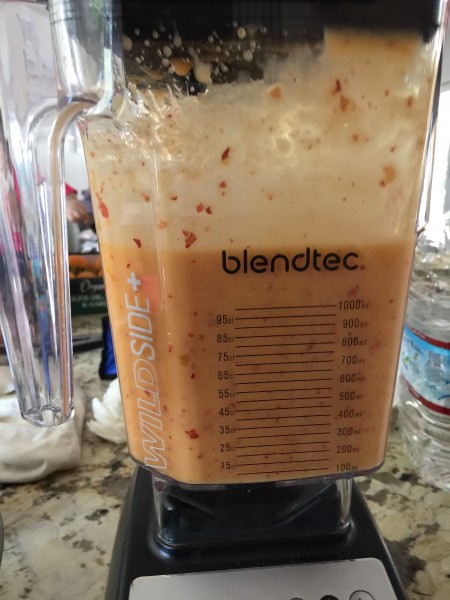 With the right ingredients and kitchen equipment, making your own baby food can be very easy. This is a page about making your own baby food.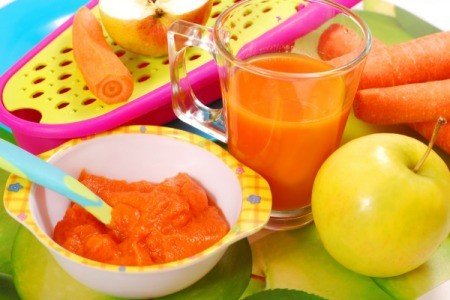 Archives
ThriftyFun is one of the longest running frugal living communities on the Internet. These are archives of older discussions.
Tips and recipes for making your own baby food. Post your ideas.

Answers:
Homemade Baby Food
Don't buy expensive baby foods filled with preservatives. I always fed my babies the same food I ate for dinner. If we ate lasagna for dinner I would cut a piece and put it in a food chopper with a small amount of water and puree the food. Once the food is pureed you can spoon it into ice cube trays and freeze it. Once it's frozen pop the cubes out and store them in labeled freezer bags. You can make frozen baby food cubes out of any type of food. Try it, your baby will be glad you did since there is nothing like home cooking. (01/17/2005)
By Dawn from MA

Homemade Baby Food - Tips And Recipes
I pulled out two of my containers of baby food to check your assertion that they are "filled with preservatives."

Beech Nut Stage 1 Sweet Potatoes lists "Sweet potatoes and water necessary for preparation."

Gerber 1st Foods Peaches lists "Peaches and ascorbic acid (vitamin C)."

Ascorbic acid could possibly be construed as a preservative, as it does protect the color of the peaches, but it does it as side effect of providing vitamin C to the food.

The "preservative" in my baby's food is heat processing, or cooking. I'd imagine most home made baby food is "preserved" in the same way, and then either eaten or "preserved" again by freezing.

I think commercial baby food is expensive compared to homemade, but in no way is modern baby food "filled with preservatives." (01/17/2005)

By Katie
Homemade Baby Food - Tips And Recipes
I never purchased baby food for my two daughters. I made all of it myself. I either purchased organic vegetables such as carrots, squash, or sweet potatoes or used frozen vegetables such as peas. I steamed the cut up veggies either in a double boiler with a special slotted bowl for steaming or steamed them in the microwave. After the veggies were nice and soft, I'd use whatever water was left from steaming to puree them in the blender or food processor, which put any nutrients that got steamed away, right back into the food. Then I'd freeze the veggies in ice cube trays. If it was too thick when I was ready to microwave and serve it to my baby, I'd thin it with breast milk, but you could use water or formula as well. For fruits, I either pureed bananas in the blender or purchased fresh fruit and similarly steamed it until soft and repeated the process.

It wasn't much work if you did several types of food in one day and since babies are introduced to foods a little at a time, one days batch of food would last a long time. It was also much less expensive than purchasing processed, watered down baby food and I was confident that my babies were getting the most healthful food I could provide since I made it myself. (01/17/2005)

By ght
Homemade Baby Food - Tips And Recipes
I always used canned vegetables without the salt and drained the water out and put it in the blender and then poured it in ice cube tray and froze them. Then I would put in a freezer bag and get one or two out at a time and microwave and feed the child! (03/18/2005)

Homemade Baby Food - Tips And Recipes
Try reading the labels for the 2nd's and 3rd's. That's where the undesirables are added, in my opinion. All the desserts have sugar and added rice or tapioca starch. Beech-nut brand does not have added sugar but I could not find them in my area. I made my own desserts from fruits. I just always felt better knowing exactly what was in my son's food. Also, 1st's are usually about 29 cents for 2.5 oz jar and for example, bananas are usually about 39 cents a pound. You are paying a lot for convenience. I also really enjoyed making the baby food and I found it pretty easy. (03/30/2005)

By cntryspc
Homemade Baby Food - Tips And Recipes
When my sons were small, I used a small baby food grinder ( a food processor would be easier now) and they would eat whatever we ate at each meal. If it was too dry, I added formula, it was much healthier that way and cheaper! (05/31/2005)

By A. from Mo.
Homemade Baby Food - Tips And Recipes
I am just starting to make my own baby food and I am enjoying it. I joined a yahoogroup and get great advice from other moms. I read that avocados are an excellent "first" food for babies (which I have not seen in a jarred variety) but my son made a face at the texture. I mixed it with bananas and he ate twice as much as he normally eats! I think that there is much more variety in homemade baby food than jarred food and it tastes better, too.As for the post about there being no preservatives in jarred food, jarred baby food has to have some type of preservative in order for it to be shelf stable, homemade food must be frozen in order to keep it fresh. (06/29/2006)

By Alicia
Advertisement
Published by ThriftyFun.
© 1997-2021 by Cumuli, Inc. All Rights Reserved.
https://www.thriftyfun.com/tf/Recipes/Baby_Food/Homemade-Baby-Food-Recipes.html