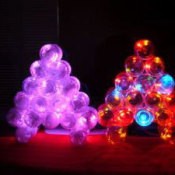 Does anyone have any ideas for reusing baby food jars? I hate to throw them away, I figure someone has a use for them.

Answers
By starchild in VT (Guest Post)
March 17, 2007
0

found this helpful
I read a lot of ThriftyFun stuff about making items out of recycle-ables, and it worries me a little. Isn't there recycling everywhere? Are people really throwing out glass, plastic and cardboard, etc? Check your local garbage drop-off.....recycling is usually FREE or very cheap.
Editor's Note: It is a good point. Although it is a lot easier to recycle now than it was when ThriftyFun was founded, it is still more difficult in many places than others. We look at it finding ways to reuse common things and as free material. Reduce, Reuse, Recycle.

Paula
Bronze Feedback Medal for All Time! 156 Feedbacks
March 17, 2007
0

found this helpful
Starchild, making items out of recycle-ables IS recycling! It all counts! Unfortunately, there are not recycling facilities in every area of every state. I live in a very rural, low populated area and we are not offered recycling with our trash pick-up, nor are there any collection bins available to us; so, it is up to me to be a more responsible consumer and not buy unnecessary items.
By Aeowyn (Guest Post)
March 17, 2007
0

found this helpful
I first decorate the jars with glass paints (purchased at your local hobby store) and give each one a beautiful pattern. They look great on the window sill with sunlight shining throuh the painted glass.
I then use them for either storage of small misc. items like hair clips, screws, or spices, or place a tea candle in them. Hope that helps you.

March 20, 2007
0

found this helpful
WE MADE PAPERWEIGHTS FILLING THE JARS WITH COLORED SAND IN LAYERS,ALSO FILLED WITH WATER AND SMALL PLASTIC FISH, OR COLORED MARBLES, A PRETTY ARTIFICIAL FLOWER,AND ALSO A SMALL SNAPSHOT OF A CHILD FITTED INSIDE THEN FILLED WITH SAND.THESE SOLD WELL AT OUR PRESCHOOL FUND RAISER.SEAL THE TOPS WELL AND DECORATE THEM WITH BITS OF RIBBON OR CLOTH OR PAINT THEM. MAYBE THIS HELPS YOU. ALSO AS A GRANDMOTHER MYSELF SEVERAL TIMES OVER,I'VE HELPED THE KIDS MAKE THESE AS GIFTS.
By Erin from NC (Guest Post)
March 21, 2007
0

found this helpful
I use mine to store loose herbs. I have found that the spices found in the Mexican section of the grocery store (that come in cellophane) are much cheaper than regular spices and I use the jars to store these in.
By Alina (Guest Post)
March 21, 2007
0

found this helpful
I use them for cheap mosquito repellent holders. The huge citronella candles always cost a pretty penny, so I buy a large bag of small citronella candles and put place them inside glass baby food jars, jam jars, etc.
They look beautiful outside at night, and the glass also protects small children from the flame.
By raewyn (Guest Post)
March 21, 2007
0

found this helpful
My mum and grandma make lemon butter and other jams etc that they put into small jars to give away as gifts or they donate their jams etc to the church.

April 2, 2007
0

found this helpful
I have used baby food jars for mini-snowglobes. you can buy mini ornaments for almost any holiday . glue the ornaments to the inside of the lid, let dry, put water in the jar with a few drops of glycerine, and some glitter. Put the lid back on, turn over, and you have a snowglobe.
they can also be used for sand art and for mini-candle jars, if you make candles. cover the lid with a circle of fabric and yarn or ribbon and you have a nice little gift or favor.
A group of children can make homemade butter in baby food jars. Fill the baby food jar under the rim of the jar with heavy whipping cream; give to the children and have them shake it, taking turns until the whipping cream becomes thick and creamy; refrigerate. You can add a dash of salt to the homemade butter and stir or leave it plain; it is delicious on homemade hot biscuits or homemade bread or even toast! The children love shaking the baby food jars. Make sure they hold the lid down!
By Kristin Cowan (Guest Post)
May 6, 2008
0

found this helpful
I have made votive, or tea light holders with them. Just mix two parts craft glue with 1 part water, paint the jar with the glue mixture, then roll the jar in sparkles, rhinestones, or any decoration you like!

March 3, 2010
0

found this helpful
Watch out for a BPA coating on the inside of the jar lids (and other products containing plastic). BPA has been linked to developmental issues in fetuses, infants, children and health issues in adults.
Also keep an eye out for it in soothers, bottles, toys, drinking containers and other plastic products.
Answer

this Question

How can I make souvenirs for a boy's first birthday out of baby food jars?
By betsy from Bronx, NY

Answers

May 30, 2010
0

found this helpful
Ideas for souvenirs for a 1st party for a boy using baby food jars.

May 31, 2010
0

found this helpful
I would make a "label" on the computer, putting the birthday boy's picture on it (in the middle like the Gerber baby); then putting treats such as candies (homemade or purchased) inside. I would try to link the "name" on the label with the contents, such as "Pete's Peas" and use green jelly beans, or "Aubrey's Apples", whatever.

June 28, 2010
0

found this helpful
How about search and find jars? Might be a little old for 1 yr olds, but could also work.
Instructions at replayground.com/.../jarhunt.asp
You could put in things more age appropriate.
marble = ball
penny
button
small plastic things like dog or cat
I hope that helps, or at least you could do it in the next couple of years.
Melissa
Answer

this Question