Browse
Featured
Questions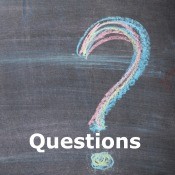 Muscovy Duck Laying Eggs Around Yard?My muscovy ducks started dropping eggs in random places in my yard. I am new to this process and was wondering if this is normal? They are unprotected so I don't know what to do. I thought they were supposed to nest. Please help. All information on this process will greatly be appreciated.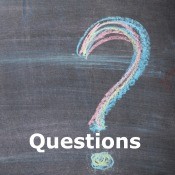 Pekin Ducks Not Sitting on Eggs?I have 3 female pekin ducks and 1 male. The three ladies have all been laying eggs for many weeks, but will only sit at night. They are also using the same nest and up to 25 eggs will be clumped together, but since there are so many a lot will start breaking.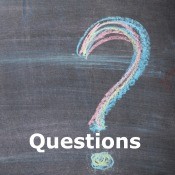 Moving Duck Eggs to an Incubator?I have 2 female Muscovy ducks who are "free" in our barn (with other chickens). I would like to move some eggs the next time they lay and transfer them to an incubator. The incubator is at a school which is 30 minutes from my farm. How can I successfully move them? Keep them wrapped in a warm towel?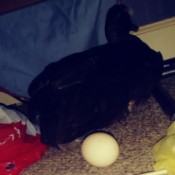 Duck Laid an Egg?My Hazel (duck) had 1 egg. Should I leave it here?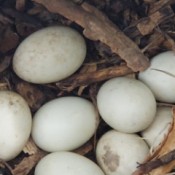 Moving With a Pet Nesting Duck?We have 4 ducks we bought as they where young. 1 has laid 8 eggs and is nesting at this point. We will be moving at the end of the month. Will she still care for the eggs? We will be taking them with us as we move. They are tame ducks not wild so I wasn't sure if she would still care for them.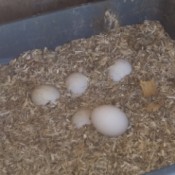 Duck Not Sitting on Eggs?My magpie duck has laid 16 eggs one every day since January 1st, but she doesn't sit on them. She is only a year old. Will she sit or should I collect them?


Published by ThriftyFun.
© 1997-2023 by Cumuli, Inc. All Rights Reserved.
https://www.thriftyfun.com/tf/Pets/Ducks/index.html