Mallard Duck Laid Eggs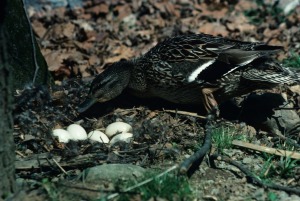 Mallard ducks have laid 2 eggs but the female and male both just left them there. What do I do?

Chris

Answers

March 21, 2007
0

found this helpful
Best Answer
Hi, Chris. I believe that the ducks will lay their eggs one at a time & then when there is about a dozen they will set on them to begin the incubation process, this way they will all hatch at the same time.
I have hand raised mallard chicks a few time, the kids incubated them in school, and then they came to my house. They are great fun, as they will imprint on you, follow you all over the yard, like you are the mama. They would even come down the street with me when I brought the kids to the bus stop in the fall. lol Then in the fall they fly away with the rest of the ducks. I have a female who has been coming back for years to my yard to lay her eggs each spring.
Trish in CT
By ROXY (Guest Post)
May 10, 2007
1

found this helpful
Best Answer
A duck has laid at least 6 eggs at the base of a boxwood bush that is elevated in a planter. She didn't appear to be sitting on the nest for the last 2 days, but suddenly this morning she is sitting on the nest.
I thought she'd abandoned the nest, but now I realize she wants to all hatch at the same time. Glad I didn't touch any of the eggs!
Answer

this Question
23 More Questions
Ask a QuestionHere are the questions asked by community members. Read on to see the answers provided by the ThriftyFun community or ask a new question.

I went to pull weeds on side of my office building and found a duck sitting on a nest with 7 eggs. The nearest body of water is 2 blocks away across a busy street so I have no idea how she wound up there. I purchased duck pellets and put them out in a dish but she's not eating. She did eat some bread scraps the other day.
I don't know if it's just the mother sitting on the eggs. We tried putting out a dish of water, cause at times it seems so hot when the sun hits there that she is panting a bit. She's not drinking our water either. We have not touched the nest or eggs, but we are worried the duck and/or ducklings will die. Animal control won't help until the eggs hatch.
She's been there about a week. She left once and the eggs were gone but we realize that she must have buried them because now she's back sitting on the nest and the eggs are there. I am so worried that if they do hatch, that the duck and ducklings will get hit by a car trying to make it across the busy street. Can anyone offer any advice?
Answers

June 21, 2022
0

found this helpful
Best Answer
The mother has chosen this spot for reasons that only she knows and will probably try to stay in that spot until her eggs hatch. the eggs are laid 1 or 2 days apart and they will hatch in the same manner so she will be with the ducklings for several days after the first egg hatches. The ducklings will also have to gain strength before leaving the nest so if you keep track of when the eggs start to hatch you will have plenty of time to contact the wildlife agency in your area.
You can always leave water for her but she may not want any human contact and will not drink it.
As to food, that is probably not a good idea and leftover food could attract other animals and they may do her or her eggs harm.
You can always call the wildlife agency and ask about what you can or should do or not do.
Answer

this Question

A Mallard duck built a nest in the bush of my front yard. Four ducklings were hatched yesterday, and the mother duck and the four ducklings left their nest this morning. However, there are still two unhatched eggs in the nest. Will the mother duck come back to incubate these two eggs again?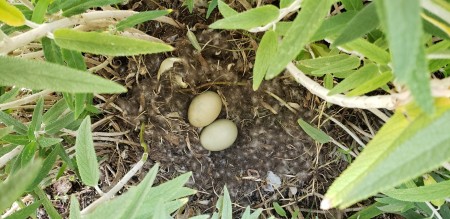 If not, what should I do with them?
Should I continue incubating until they are hatched? Also, why this mother duck only had a clutch of 6 eggs, while typically it should be around a dozen?
Answers

VeronicaHB
Bronze Post Medal for All Time! 107 Posts
May 23, 2021
1

found this helpful
Best Answer
If the mother duck has left with her ducklings and not returned in a couple of days, the eggs will probably not hatch. Sometimes, ducks aren't good at parenting, especially if this is the mother duck's first time raising little ones.
Another possibility is that the mother duck knew that for a variety of reasons the other eggs weren't going to hatch.

gggd
Silver Answer Medal for All Time! 425 Answers
May 23, 2021
2

found this helpful
Best Answer
Nature has given critters a "sixth sense" so to speak. Whether bird eggs not going to hatch, a deformed or sickly kitten or puppy, or any other species' young, the mother seems to know when her young are not going to make it. In the case of the duck walking away with ducklings that DID hatch, she knew the other eggs were bad, so deserted them. She won't be back. As for the abandoned eggs, you can leave them and nature will take care of them - raccoons, skunks, other birds, something will eat them, as it's nature's way. Feel good about the four that hatched !!!

May 24, 2021
1

found this helpful
Best Answer
Most likely the mother will not return but you cannot be sure so do not disturb (even touch) the area or eggs for at least another week just in case the mother returns.
You can always call or email the Wildlife Center for information about what to do.
Here is contact information:
Contact
(540) 942-9453
wildlife@wildlifecenter.org
For more advice on specific duck nesting situations, call us at 540-942-9453.
These links offer information about how to handle situations like this and also has a YouTube video.
www.wildlifecenter.org/mallard-duck-nests
Answer

this Question

Mallard duck laid egg on concrete. Is this normal? She hasn't made a nest yet. The egg is now cold.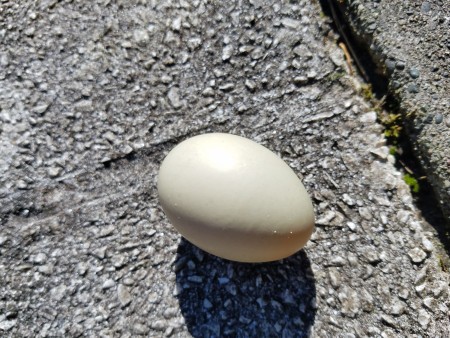 Answers

Pghgirl40
Bronze Feedback Medal for All Time! 196 Feedbacks
March 12, 2021
0

found this helpful
Best Answer
This happens all the time. While it really pains me to say this, you should let nature take its course and leave the egg be to see if she comes back for it (which she won't in all likelihood). They seem to know if an egg is not viable and leave it.
If you can't leave it, call a wild life refuge and see if they will pick it up and incubate it. They will ask lots and lots of questions and give you the best guidance based on how long it has been there and what you see.
Very sad.

Ana
Bronze Post Medal for All Time! 140 Posts
March 12, 2021
0

found this helpful
Best Answer
This egg would have to be warm to survive. It looks like the mother has left the egg, often when they leave they do not return. This mother duck has her reasons . The egg may not be a good one, and was left behind because of it. It happens. Here is answers from this site on the same question - www.thriftyfun.com/caring-for-duck-eggs.html
Answer

this Question

A mallard laid 10 eggs in my yard. She has been sitting on them for almost a month, leaving a short period of time in the morning and again early evening. This morning, 1 of the eggs was approximately 6 feet away from the nest. We have Muscovy ducks in the neighborhood that frequent our yard, including mother, father, and 3 ducklings.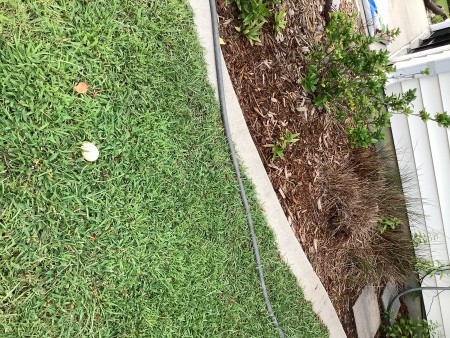 Today they have been approaching the nest, at times laying within 3 feet, while mother mallard is there. She doesn't run them away. I have read Muscovy females are very motherly. Why would they be so close now? Would they remove the eggs when mother mallard is away, or is mother removing the egg if she knows it is not viable?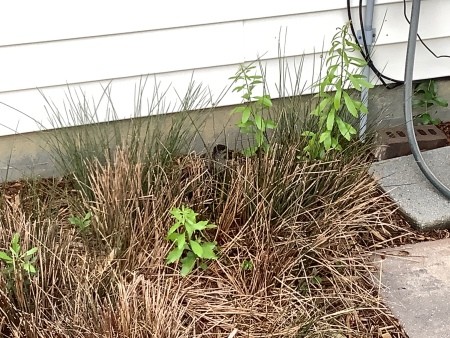 Answers

July 30, 2022
0

found this helpful
Best Answer
There is a pre-incubation period: female ducks can lay their eggs for up to 10 days before incubation begins. So, a Mallard duck will need up to 40 days to hatch successfully (incubation period 23-30 days + pre-incubation period 10 days). A duck will unknowingly continue to sit on the eggs until she is convinced that they are not going to hatch, often well beyond the average incubation days.
Migratory birds are protected. You are not allowed to remove the migratory duck eggs for any reason. Contact your local wildlife organization. farmhouseguide.com/.../
Answer

this Question

We had a mallard who laid eggs in the front of our house. We noticed her sitting on them for 2 weeks.
She is now gone and so are the eggs. There is no sign of cracked eggs anywhere. What happened?
Read More

Answers

A mallard hen laid eggs in my yard. She seems to be sitting on them and incubating them now. Should I provide anything for her? She already has my little dog trained to stay away :-)
Answers
April 26, 2017
0

found this helpful
OMG that is super cute!!!!!!!
I have to imagine that what she most wants is to be left alone, because being approached by you (or the dog) for anything will most likely spook her
I also would think that she can take care of herself in regards to food, water, etc and any approach to help her will be misinterpreted

Judy
Gold Post Medal for All Time! 677 Posts
April 26, 2017
0

found this helpful
Let nature take its course.

April 26, 2017
0

found this helpful
You are a lucky one! Be careful about the dog and make sure he/she does not aggravate the mom or she might abandon her nest and that would be sad.
Here is a site that tells about your duck:

April 26, 2017
0

found this helpful
Thank you for the site. Our concern is how to get them to the water when they hatch. They are in a block walked fence and a row of houses away from where we believe her water is ( pond on a gulf course) We live in the desert so there are not many options for water around here.
Read More

Answers

A female has laid 10 eggs, she returned this morning to see 1 broken out of nest and one moved from nest and then flew away. Will she return to finish nesting?
Read More

Answers

I noticed a mallard duck nesting next to my front door. I went to put up some signs to tell people not to use the front door and she got up and she flew away. She has seven eggs in her nest.
She left yesterday at 3 o'clock and now it is the next day at 7 AM and she still not back. What can I do for the eggs and who can I call to help? And will she come back?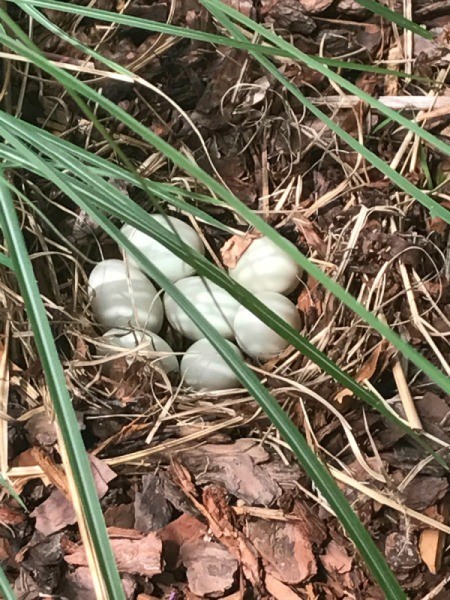 Read More

Answers

Yesterday when I looked in the nest I saw 10 eggs. Today I saw only 4 eggs. Did she hide the other 6 in the nest somewhere?
I don't want to dig around and accidentally crush an egg. A predator did not attack the nest.
Read More

Answers

A mallard duck and her mate hang out near our boat dock everyday. Yesterday we found 2 eggs, not in a nest and not even near each other.
Just laying on the dock in different corners. What should I do?
Read More

Answers

I have ducks all over my neighborhood. We always feed them and one female laid eggs (12 eggs) on my roof. I don't know what to do because we got a ladder and my brother touched one. They are brand new. I just wanted to know if you touch it does the egg rot?
And also she is now away from the eggs, but still on my roof. Do I leave the eggs? Please answer as soon as possible because the eggs are on the roof and I don't know what to do. Also the other ducks including the dad left and are always in my yard and we feed them.
On my roof there are 12 eggs, but my neighbor also has 9 eggs and I don't know if they're hers, but I'm pretty sure they are although she doesn't take care of those, only of the ones on the roof.
Read More

Answers
Published by ThriftyFun.
© 1997-2022 by Cumuli, Inc. All Rights Reserved.
https://www.thriftyfun.com/Mallard-Duck-Laid-Eggs.html