March 21, 2007
0

found this helpful
Best Answer
Hi, Chris. I believe that the ducks will lay their eggs one at a time & then when there is about a dozen they will set on them to begin the incubation process, this way they will all hatch at the same time.
I have hand raised mallard chicks a few time, the kids incubated them in school, and then they came to my house. They are great fun, as they will imprint on you, follow you all over the yard, like you are the mama. They would even come down the street with me when I brought the kids to the bus stop in the fall. lol Then in the fall they fly away with the rest of the ducks. I have a female who has been coming back for years to my yard to lay her eggs each spring.
Trish in CT
By ROXY (Guest Post)
May 10, 2007
1

found this helpful
Best Answer
A duck has laid at least 6 eggs at the base of a boxwood bush that is elevated in a planter. She didn't appear to be sitting on the nest for the last 2 days, but suddenly this morning she is sitting on the nest. I thought she'd abandoned the nest, but now I realize she wants to all hatch at the same time. Glad I didn't touch any of the eggs!
By John B (Guest Post)
May 15, 2007
0

found this helpful
We have the same problem... This site has much info about what to expect.
By Kelli (Guest Post)
April 6, 2008
0

found this helpful
Attention Jan
I would let the grass go tall as long as you can. The mallard will leave sometimes to go get food or be with her mate and that is when you can do a quick mow or weed eat the grass around the nest.
However you are going to have to keep your eyes open for when she leaves. She would probably prefer tall grass so she is hidden and it blocks the wind. Best of luck with the ducks!
By (Guest Post)
April 28, 2008
0

found this helpful
I was mowing and I came by a duck nest. The duck flew away and now she hasn't came back yet. It's raining and the eggs are not covered. Will she come back?
By Danielle (Guest Post)
June 1, 2008
0

found this helpful
My friend and I went on a walk yesterday. We saw a duck nest with two eggs in it. There was no mother, just the eggs. Today we went to check on the nest but still no mother. My friend took one of the eggs, he says his parents and him are taking care of it. It is really hot so the eggs are still warm should I take the other and attempt to care for it?
By lauren (Guest Post)
October 29, 2008
0

found this helpful
You should put them in a basket or something, and put a heat lamp on them, if its not to late!
By Barbara C. (Guest Post)
December 7, 2008
0

found this helpful
What if a hen reject a small duck?
By Barbara (Guest Post)
December 7, 2008
0

found this helpful
What if the duck have 15 to 20 eggs and the hen cover the nest and we don't see her on the nest?
By darren (Guest Post)
February 24, 2009
0

found this helpful
I'm a hunter and I say to take them give them to your local game warden or wildlife bio. and they know what to do with them.
March 21, 2011
0

found this helpful
Last year we noticed a mallard hen come around the front of our home and she ducked under some bushes and later I saw her sitting on a nest full of 14 eggs. I kept an eye on her for the next 28 days or so and only caught her off the nest a few times.
She had laid one a day for 14 days and I caught her incubating them. They started hatching at 9 one evening and within 12 hours they all hatched. She took them around the rear of the house to a pond and got them to the water for safety. We are watching to see if she chooses our home again.
May 10, 2015
0

found this helpful
My mom and siblings found 9 duck eggs today & my younger sister went and touched the 9 eggs and now the mom didn't come back, I currently have them under a light (where you usually put baby chick's under) and now I don't not know how to care for them...Help!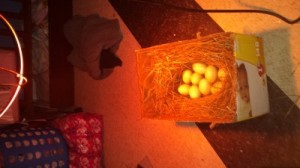 May 11, 2015
0

found this helpful
People mistakenly think that keeping eggs warm is all that must be done for them - not true at all. The duck (or hen if you're talking about chickens) also regularly turns the eggs, and keeps them moist by pulling feathers from her breast so they have contact with her skin.
I have found that a lot of ducks make "lousy" mothers in that they don't want to sit on the nest. That said, even the good mothers will lay a lot of eggs before they finally settle down to incubate them. It's like they're collecting a whole bunch before they are willing to go to the trouble of brooding.
The only semi-reliable way to hatch duck, chicken, quail, or any other eggs is with an incubator. That way the heat is kept even and the humidity can be adjusted as the eggs develop.
One last thing - even a good mother who is brooding her nest of eggs well will take a break for 10-15 minutes a day if the weather is warm. She will stretch her legs for a few minutes and maybe dabble for some bugs or preen herself, wandering off from the nest briefly. That doesn't mean she has abandoned the nest.
Hope this information helps - you need to get these eggs to an incubator or slip them under a broody chicken (at night when she's sleepy and it's dark - seriously! This works! A broody chicken will hatch duck eggs!) or barring that give them to the conservation department or a farmer who has experience with this kind of thing and is willing to help you.
June 9, 2016
0

found this helpful
We have a Mallard duck that has made her nest (with 2 eggs) on the rear deck of our pontoon boat, in a fold of the canvas canopy that is lying back on the sundeck. Every time we go to the boat, one of the eggs is lying out of the nest, outside the canopy. Today, both eggs are outside the nest, lying on the deck. What does this mean?