Information about wildlife and green living.
Browse
Featured
Questions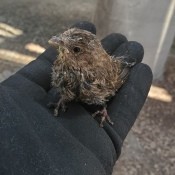 Identifying a Baby Bird?My boyfriend found this bird and we were wondering if anyone could guess the age and what kind he is?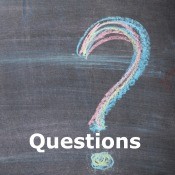 Duck Laid Eggs in Yard?There are ducks in my backyard and they come every year, but this year they laid eggs. She laid one yesterday and one today. But there's no nest and they're scattered everywhere. Did she abandon them? Should I move them?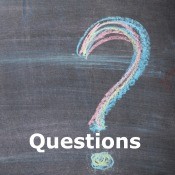 Rescued Chipmunks Need Help?I just found a chipmunk outside, my cat was torturing them. I picked them up and put it in our huge maple tree that has a lot of holes in it. My cat didn't break their skin, but their back legs where injured. I knew only my mom would help them get better so it's the best I could do, but is there more I could have done/do for them?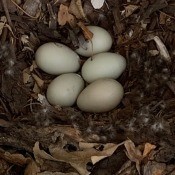 Duck Seems to Have Abandoned Her Eggs?A duck laid 5 eggs in the last week. She was trying to lay another egg 5 days ago and our siding contractor startled her and she flew away. Is it possible she'll come back?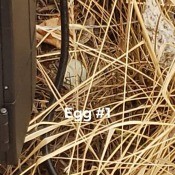 Abandoned Duck Egg?Is this an abandoned nest? The female hasn't been around or anywhere near by for almost a week. There is just the one egg. There are lights in our garden that light up at night. Should we let a predator find it? Should we see if we can hatch it? I'm worried this duck couple is gone. My kids where so excited we got a duck nest and now we aren't sure what to do.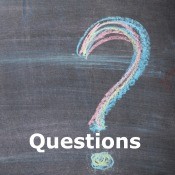 Hatching Abandoned Duck Eggs?Around April 18 my sister found a duck and 13 eggs on our boat, that was being sold. May 10 and we set up a whole new nest with shelter and everything, Benedict (the mother duck haha) needed. Everyday I've checked on the nest and she is nowhere to be seen. So it's now 4 days later and she hasn't returned at all and only had 6 eggs left. I decided to hatch the eggs myself. Is it too late?


Published by ThriftyFun.
© 1997-2022 by Cumuli, Inc. All Rights Reserved.
https://www.thriftyfun.com/tf/Better_Living/Green_Living/Wildlife/index.html