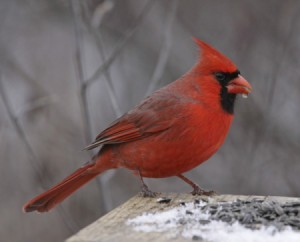 With its unmistakable brilliant red color, the Northern Cardinal is one of the most popular and well-known song birds in North America. Here is some information on what makes this species special and some tips for attracting more of them to your backyard.
Quick Facts
Common name: Northern Cardinal
Genus Species: Cardinalis cardinalis
Range: Canada: Southern Ontario; Eastern U.S: Great Lakes and New England, south to Gulf Coast, Texas and Arizona; Mexico, Guatemala.
Habitat: woodland edge, thickets, parks, gardens.
Length: 7 ¾ to 9 inches.
Wingspan: 12 inches.
Bill: red, conical-shaped for cracking open hard seeds.
Males: bright red feathers and crest; distinctive black mask on the face and upper chest.
Females: gray-tan with pale red on crest and wings; grey mask on the face and upper chest.
Young: males and females look similar to the female until their first molt.

Migration
Northern Cardinals do not migrate. They choose a home range while young, often near their parents, and take up permanent residency. Once settled in, these birds are strongly territorial, especially the males, and will defend their breeding areas and nesting sites against other cardinals both physically and through song.
Habitat
The favored habitats for Northern Cardinals include the dense thickets of open woods, forest edges, and the borders of fields backed by a mix of coniferous and deciduous trees. To nest in your backyard they need a consistent food supply and enough low shrubs and trees to nest in and raise their young.

Nesting
Cardinals mate for life, and they stay together year-round. Both males and females have a rich and varied repertoire of songs, and mated pairs will sometime sing together before nesting. During courtship they may also display a bonding behavior where the male collects food and feeds it to the female. If the pair mates successfully, this beak-to beak-feeding by the male will continue while the female incubates the eggs.
Depending on their geographic location, the breeding and nesting season lasts from March until August and typically results in 1 to 2 broods. The female builds a cup-shaped nest, which she attaches firmly to well-protected small branches from 2 to 12 feet off the ground. For gardeners hoping to attract a breeding pair, honeysuckle thickets and young evergreens, as well as dense thorny shrubs like roses, barberries, and hollies, are favorite garden nesting sites.
Feeding
Northern Cardinals are ground feeders and find food hopping along the ground and while taking short flights from branch to branch among trees and shrubbery. They are diurnalfeeding during the day and resting at night. Although seeds make up 90% of their diet, they also eat insects, wild fruit and berries, corn (maize) and oats, the blossoms and bark of elm trees, and drink maple sap from the holes bored by other birds.
Garden plants that attract Northern Cardinals include brambles, sumac, cherry, dogwood, grape, mulberry, blueberry, elderberry, tulip tree, hackberry, and Russian olive. Leaves and twigs from these plants may also be used for nesting. At bird feeders, cardinals show a strong preference for black oil sunflower seeds. Offering seed mixes is generally a waste as most of it gets tossed aside in favor of the sunflower seeds. When their preferred seeds are not available, cardinals will also eat safflower seeds, white proso millet, bread, nutmeats, and peanuts. In the summer you may only see the resident pair and a few young at your feeder. Winter feeders may host as many as a dozen or more pairs.
Interesting Facts
The cardinal was once prized as a pet, but its sale as a caged bird was banned in the United States by the Migratory Bird Treaty Act of 1918. It is also protected by the Convention for the Protection of Migratory Birds in Canada. In the United States, possessing or killing a Northern Cardinal is against the law and punishable by up to $15,000 and six months in jail.
The common name, Northern Cardinal, and the scientific name, Cardinalis cardinalis come from the cardinals of the Roman Catholic Church, who wear distinctive red robes and caps. The term Northern in the common name refers to its range, as it is the northernmost cardinal species. The Northern Cardinal is also sometimes called redbird or common cardinal.
The cardinal is a popular mascot choice for many high school, college, and professional athletic teams across the United States, although it is often depicted with a yellow bill, instead of red. It is also the top choice for state bird, representing seven states.