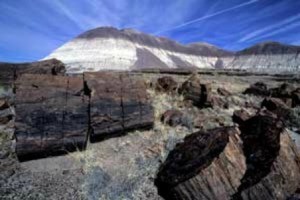 Travel Destination:
Petrified Forest (Pictured Below)
Country: United States
Low Cost Things to Do:
On the way to Tucson, we stop at the Dinosaur park, which is also next to the Petrified Forest and Painted Desert. This is a low cost visit (Probably no more then $10 for carload, unless you go to gift shop). Also, they sell pieces of the petrified forest in the gift shop, but you are allowed to get out of your car to walk around and take pictures. This is an especially great stop for kids.
Katy Wedepohl from St. Louis
Related Links:
Petrified Forest National Park (National Park Service Website)
"Petrified Forest National Park is a surprising land of scenic wonders and fascinating science. The park contains one of the world's largest and most colorful concentrations of petrified wood, multi-hued badlands of the Chinle Formation, portions of the Painted Desert, historic structures, archeological sites, and displays of 225 million year old fossils."
May 30, 2006
0

found this helpful
Hi, I just wanted to point out a typo:
Despite the title of this page, Petrified Forest is NOT close to Tucson.
Tucson is in the southerrn part of the state, while the Petrified Forest is located in northeastern Arizona. Here is a link explaining more:
And please remember, NEVER take a piece of the forest as a "souvenir". The last time I heard, it's a crime here in AZ. Besides, if everyone takes a piece, there won't be anything left for the next person to see.
May 31, 2006
0

found this helpful
You're right Dana, I've been there, too and didn't notice that. It is between Gallup, New Mexico and Flagstaff, Arizona. Thanks,
Susan from ThriftyFun