My cat caught a chipmunk, but I got it away from him. I brought him in the house and put him in a container. He looks shocked and I can't tell if he's injured. I don't see any blood anywhere, but I don't want to scare it anymore than it has been, so I don't want to pick it up just yet. What can I do for it?
By ELLEN JUNKINS from Plymouth, NH
Answers
June 17, 2009
0

found this helpful
The smartest thing would be to contact your local wildlife rescue place and turn it over to them. That's the smart thing.
Now here's what I would do (and have done in the past). For a chipmunk, I would put him in a good sized hamster cage. Hamster food would be good for him.
One thing that you don't want to do is to try and handle him. Not now or in the future. If he doesn't start to come around in a day or two, take him to a vet. He may have internal injuries. But remember. He is a wild animal, no matter how small and cute he is. And once he has been nursed back to health, he should be released back into the wild. Or at least turned over to a zoo.
June 17, 2009
0

found this helpful
From my reading I have learned that at least in birds when a cat punctures the skin, it will cause a bacterial infection that will be fatal. The chipmunk might need antibiotics to heal properly. Look up wildlife rehabilitators in your area and see if there is one nearby. Take it over there and let them worry about it. Thank you for caring for it though.
PS I remember reading a story about an imprinted Crow that loved humans and was a pet. It got loose and went to another person for love, thus showing no fear, and the person killed it with a broom. Teaching animals to trust people when that animal is wild is causing that animal to be very disadvantaged as soon as it is healed it will still like to be around people. I hope this helps. I will help you look for a re habber if you cant find one. Robyn
June 18, 2009
0

found this helpful
Wildlife rescue as suggested is the best idea and if you see no blood or obvious woulds, I'd let it back out in the woods.
June 18, 2009
0

found this helpful
Thanks everybody for your advice. The chipmunk had a small wound on its leg and I put organic antibiotic on it for a few days and he was eating and doing great.
I let him go back to the wild this morning. He jumped out of the cage and just sat there looking at me for the longest time and I scooted it a little to tell it to go and he ran off into the bushes. It was a great experience!
August 30, 2011
0

found this helpful
Hi, I lost my chipmunk some months ago. My sincere advice/request to you is NEVER feed a chipmunk with cow's milk (from my personal experience).
Answer

this Question

...
I saved a chipmunk from my cat last night, and kept it in a small cage with hay, birdseed, and water. This morning I checked on it, and it seemed to be dead although it wasn't stiff. I checked its body all over and it didn't appear to have any puncture wounds and no bleeding. It didn't respond to anything I did to it, but I noticed that it seemed to be breathing, but very shallowly. It's almost as if its playing dead, but more so appears to be in a deep sleep. If it is, why wouldn't it wake when I was handling it? I set it back down and left it alone. I'm afraid to just lay it out in the yard for fear that something will get at it. What should I do?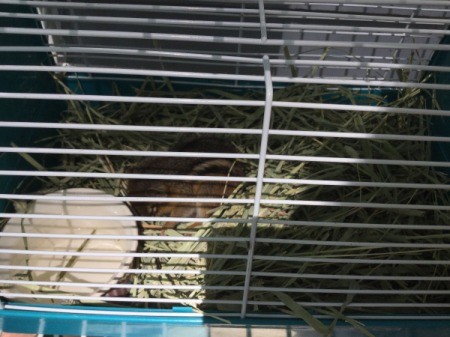 Answers
May 10, 2017
0

found this helpful
Make sure it is warm and fed. Check to see if its mother appears. Here is a great article:
December 2, 2017
0

found this helpful
I have one the same, he sleeps heavily, then wakes. We found him in the very same pose in the middle of an exposed area. He is weak, but eating and going to the bathroom. He is getting more lively over the last day.
Answer

this Question

...