Polyphemus Moth Information and Photos
Photos
Share on ThriftyFunCheck out these photos. Click at right to share your own photo in this guide.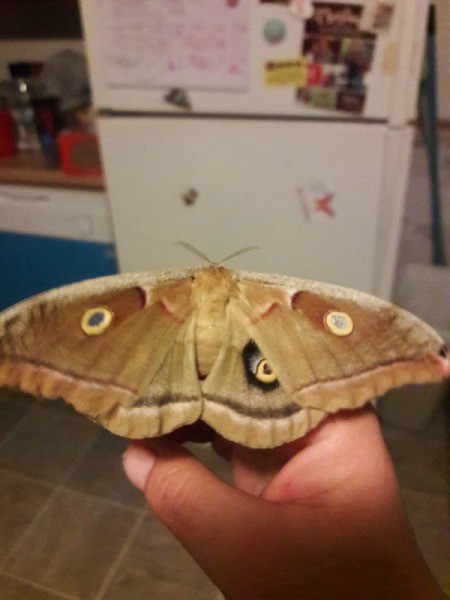 Photo Description
I was walking down the street this evening and I saw this helpless beautiful moth walking on the ground. So I leaned down and to my surprise it walked right onto my hand, almost as if to say thank you for the lift and it held on the whole way to my apartment, where I could check it out. I saw that it's poor wings were soaked and it couldn't fly. So I let it stay inside till it could fly and let it back out.
Photo Location
Westfield, Massachusetts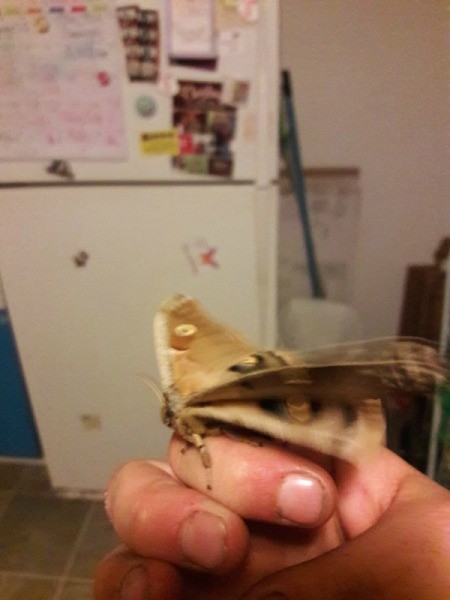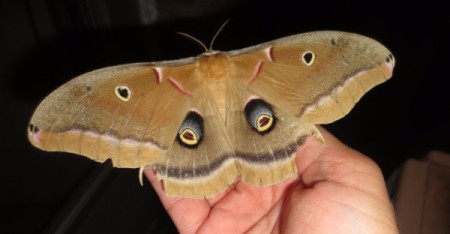 Photo Description
As I was making beer munchies in my kitchen, I heard a light thumping on the window. Thinking it might be the wind picking up (it was raining) or hail or something, I opened the curtain and saw this gorgeous, huge freaking moth. I looked him (her, actually, I think) up and discovered she was part of the giant silkmoth family called Polyphemus, after the Greek cyclops. Those "eyes" on her wings--the center circle is transparent--like a dragonfly's wings!

I fell in love with this beautiful little creature. Well, little to me. Huge among moths! I was absolutely enchanted.

I'd had a lousy night and this moth, who obliged willingly enough when I offered my hand to crawl on, improved my mood tenfold.

I hope you enjoy this picture which my little friend held so agreeably still for. Oh, and I shut off the florescent light that was attracting her. Littler insects can bounce off the window, no problem, but I didn't want her to get more hurt than she already is. (Her wings, at the bottom.)
Photo Location
Omaha, NE
My father was outside gardening when we heard him calling for us to see a huge butterfly. It was not a butterfly, but a really beautiful and humongous silk moth. It had a wingspan of about six inches, beautiful blue eyespots and a chubby belly. I think it's quite cute!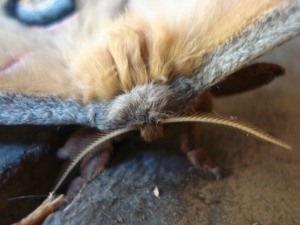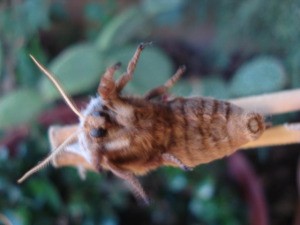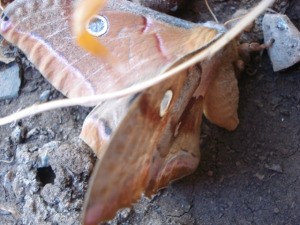 Source: photos by my mother
By attosa from Los Angeles, CA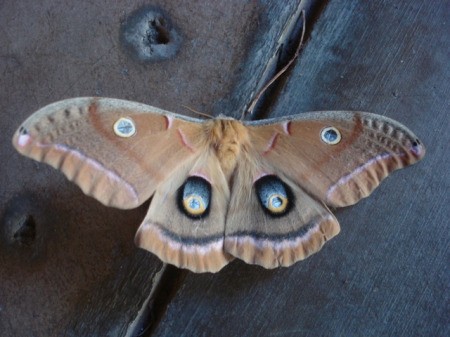 Related Content