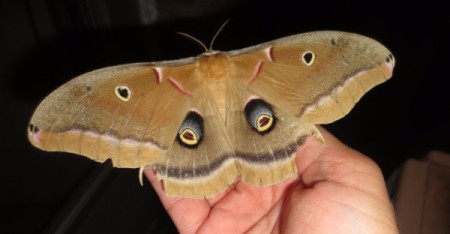 Photo Description
As I was making beer munchies in my kitchen, I heard a light thumping on the window. Thinking it might be the wind picking up (it was raining) or hail or something, I opened the curtain and saw this gorgeous, huge freaking moth. I looked him (her, actually, I think) up and discovered she was part of the giant silkmoth family called Polyphemus, after the Greek cyclops. Those "eyes" on her wings--the center circle is transparent--like a dragonfly's wings!
I fell in love with this beautiful little creature. Well, little to me. Huge among moths! I was absolutely enchanted.
I'd had a lousy night and this moth, who obliged willingly enough when I offered my hand to crawl on, improved my mood tenfold.
I hope you enjoy this picture which my little friend held so agreeably still for. Oh, and I shut off the florescent light that was attracting her. Littler insects can bounce off the window, no problem, but I didn't want her to get more hurt than she already is. (Her wings, at the bottom.)
Photo Location
Omaha, NE