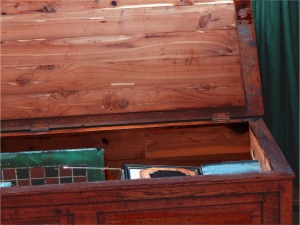 How can I remove the smell of moth repellent from an old cedar chest? I have tried sanding it down, wiping it with vinegar, setting it out in the sun, wadding up newspaper to absorb the odor and many other things as well. Nothing has diminished the smell. I love the chest, but I don't want anything I place in it to smell like moth balls! Please help. Thanks in advance.
By Laurie from Waldo, ME
Answers

September 8, 2005
0

found this helpful
How do you remove the scent of mothballs from an old cedar chest?
Rad

Alicia
Bronze Feedback Medal for All Time! 122 Feedbacks
March 9, 2011
0

found this helpful
I would use baking soda, but don't just open the boxes and put those in the chest. I would dump them inside the chest and after a couple of weeks I would vacuum it out. Then you can proceed with sanding if necessary.
February 2, 2016
2

found this helpful
I just inherited a lovely cedar chest and put some blankets in it, and in a month, everything reeked of moth balls that had formerly been in the chest. After trying a few web suggestions, one suggestion, spraying Fabreeze in the chest, actually WORKED!
A furniture maker also said that heat (space heater or blow dryer) and air movement will help the chemicals in the mothballs dissipate. Haven't tried that yet. So far, the Fabreeze is holding! Can't believe my nose!

October 9, 2018
0

found this helpful
I tried Febreeze in my Cedar Chest and it did nothing whatsoever.

June 16, 2019
0

found this helpful
I don't have an answer but wish to offer a perspective based on my knowledge of chemistry. Moth balls are usually either 1,4-dichlorobenzene (AKA para-dichlorobenzene) or napthalene, though sometimes, camphor. All of these are semivolatile non-polar compounds. They will not react with acids (vinegar) or baking soda. Fabreze kills odors by sorbtion, and will only work short-term. The mothball chemicals are designed to vaporize and condense on the clothing stored in the chest, but they also condense in the wood, which is somewhat porous, and a bit oily--the cedar oil is why cedar chests work to protect clothing.
So it takes a long time for the chemicals to re-vaporize and leave the wood. So heat and ventilation should accelerate the process, but it will take patience. If kept warm and ventilated, it should eventually disappear, but it may take weeks or months.

June 30, 2019
1

found this helpful
will activated charcoal remove moth ball odor from a cedar chest?

December 31, 2019
0

found this helpful
Worked for a few days then the smell came back

November 22, 2020
0

found this helpful
I HAVE THE ANSWER!!!!
After trying MANY options over the years, nothing worked except this:
I have a beautiful old solid cedar chest from my grandmother that until now was unusable due to the mothball odor.
So I went to a store that sells aquariums and bought a 39.00 container of activated charcoal kernels (about 1/2 gallon size). I spread them out all over the bottom of the inside of the chest, then loosely crumpled up newspaper pages (about 10 sheets) and floated them above the charcoal. Within a few days the mothball smell was COMPLETELY gone!
Then I just vacuumed out the charcoal.
Trust me...this is THE best option!

Jess
Silver Post Medal for All Time! 267 Posts
November 22, 2020
0

found this helpful
Wow, thanks for letting us know. That's a great tip.
Read More

Answers

I've seen countless posts on "what to try" to remove mothball odor from a dresser and I've tried many of them without success. I also don't see any follow up posts of folks saying what actually worked for them. My next attempt will be to cover the entire inside with polyurethane. Has anyone tried this? Does it work?
I'm asking that answers don't include "what to try" -- there are so many posts on the web to that effect already. Instead, I'd like to hear "what worked".
Thanks!
By Mike D
Answers

October 22, 2014
2

found this helpful
Get a bag of cedar shavings from the pet store (hamster or guinea pig litter). Put a 2 inch layer in the bottom of the cedar chest and close it up for 2 days. Clean it out (I used a shop-vac and reused the cedar shavings as mulch) and leave the chest open to air for a day. Repeat- this was fine for me. Repeat again - passed my wife's smell test.
August 28, 2016
0

found this helpful
I don't think I would use polyurethane. That would seal the wood and not help recover the cedar smell. I am about to tackle the same problem. Hope you are successful.

August 28, 2016
0

found this helpful
I don't think I would use polyurethane. That would seal the wood and not help recover the cedar smell. I am about to tackle the same problem. Hope you are successful.

October 22, 2017
0

found this helpful
I used cedar rings and balls and still have the smell in it

October 27, 2019
0

found this helpful
I always used pine shavings/bedding from Walmart for kitty litter. It completely absorbed all the odor from a litter box. So I dumped a bunch inside a cedar chest that has a strong mothball for.
I plan to leave the shavings in the chest with the lid closed for at least a week. Will report back.
Read More

Answers

How do I get rid of moth ball smell in a blanket chest? It is part cedar and part particle board. I did not want to damage the wood, so I have just been airing out the chest when the weather is nice.
By Donna
Answers

August 10, 2011
0

found this helpful
Try a bowl of vinegar or coffee beans. The acidity should take care of the smell.

June 20, 2015
0

found this helpful
Pour some rubbing alcohol in a pump-type sprayer and mist the interior of the chest wait a minute and do it again, but this time wipe out the interior. Repeat a couple more times and stop for the day since you don't want to oversaturate it and also so you can check your progress in a couple days. If you have a place where you can put it in direct sunlight, place it there to dry. Drying it with a hair dryer works too (the heat helps it dissipate).
In between treatments, place a homemade deodorizer in the chest. Get some cedar chips from the pet store and also some activated charcoal. Mix together and put in an old stocking or two (easier than just dumping it in and taking it back out) and place your "log" in the chest and close the lid.
Repeat if necessary in a few days.
I had a chest that had a full box of mothballs PLUS a mothball holder (shaped like a daisy of all things) closed up in a chest for over 40 years. That chest took five treatments.
Actually, after the fourth I sanded down the interior and placed fresh deodorizer logs.
It smells great now. When the cedar smell starts to fade a bit I just scuff the inside lightly with a piece of sandpaper and it renews the smell. I have heard of people using natural cedar oil, especially if their piece wasn't solid cedar.

December 4, 2016
0

found this helpful
I've tried both and both worked for a while. Neither was a permanent fix. I've also tried kitty litter which was unsuccessful.
Answer

this Question
I have a cedar chest that had mothballs in it for about a year and I am trying to get rid of the smell. Can anyone help me?
By Lucretia D.

Answers

February 24, 2012
0

found this helpful
That's a shame, best air it out, time will heal, also lightly sand inside of the chest and the cedar will be so renewed. gl

September 2, 2014
1

found this helpful
I used a charcoal closet deodorizer I bought at the hardware store. I put it in, and I honestly forgot about it. I don't know how long it took, but it got rid of the odor .
Answer

this Question