I inherited this Lane Cedar Chest about 22 years ago. Unfortunately I had to have someone store it for me for about 3 years and when I was able to retrieve it the condition was not the same. Originally in excellent beautiful condition. Now not so much.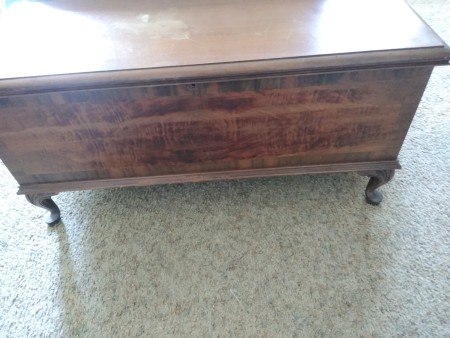 I have been trying to find out more about this and am confused by the date. If I read this correctly the SN 112230 would translate to constructed date of March 22, 1911. Does this seem possible. My mother-in-law was the most loving and honest woman I ever knew. I know she would not have allowed anything to be altered but the stamped SN looks darker that Style #48636S. Also, have seen info that seems to say this date is too early for Lane. Measurements are 48 W x 23 D x 19 H
I have also not been able to locate this style anywhere so far. Haven't seen a similar chest with the very plain box style and raised elegant feet. I'd love to know more about it since I am forced to move and not sure I can take this with me. If I am forced to part with it can't figure out if it is worth having restore or selling as is.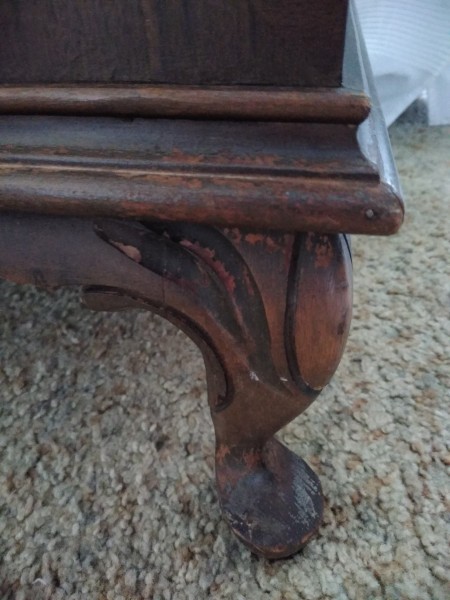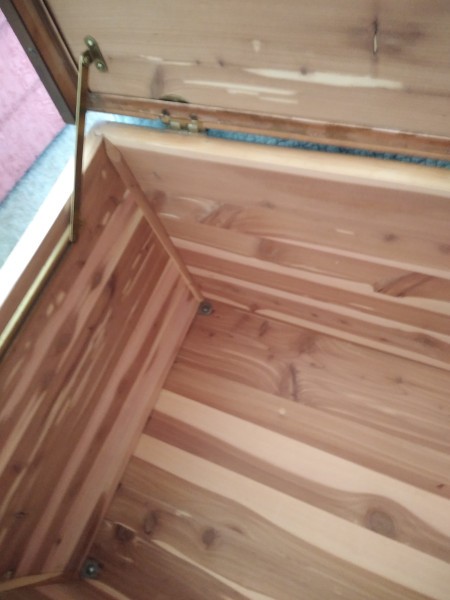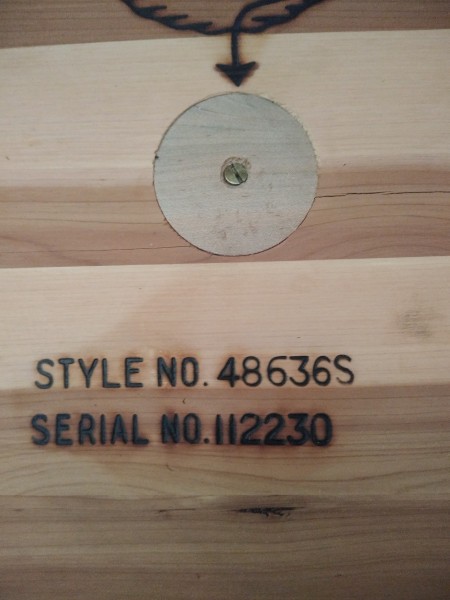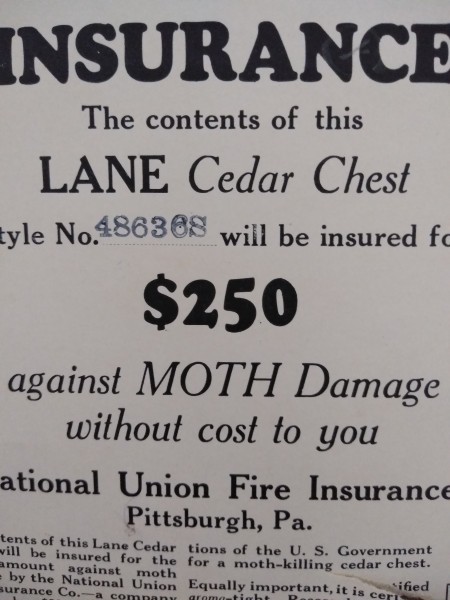 September 19, 2022
0

found this helpful
Edward Hudson Lane (18911973) founded the company in 1912 (in Altavista, Campbell County) virginiahistory.org/.../lane-cedar-chest
So your chest couldn't have been made in 1911, perhaps March 2, 1921 and 1 is the plant number.
Lane used more than one serial-number system. Contact Lane Furniture directly lanefurniture.com/.../contact-us

September 21, 2022
0

found this helpful
Lane Company cedar chests, also called a "hope chest," were made from 1912 until the company closed in 2001 (89 years). They were made in a variety of styles. The year that a Lane Company cedar chest was made and the style are two of the main factors for determining its value.
Serial number of your Lane cedar chest is 112230, style #48636S.
Serial number holds clue to age of Lane cedar chest. Lane Cedar Chest serial numbers are dated in reverse, for example, if the chest's number is 2865150, so the production date is 05-15-68, or May 15, 1968. Sometimes there is an extra digit that indicates the plant where the chest was made - 2 in this example. But it seems that this rule does not always work. 1911 cannot be the year your chest was made.
Your chest is made in Queen Anne style. Lane made chests in Queen Anne style in the 1920s-1930s. www.ebay.com/.../353323075745
So I think the number should not be read backwards. SN 112230 means November 22 1930. I think in 1930 Lane Cedar Chest serial numbers are dated not in reverse. Here is an identical Lane Vintage Cedar Chest made in 1933:
instappraisal.com/.../1933-lane-vintage-cedar-chest
It has the serial #335280, style #48636x.
Most Lane cedar chests, on average, are valued between $150 and $400.
Identical Lane Cedar Chest was sold for $151 (26 bids)
www.ebth.com/.../1467767-lane-cedar-chest
Another identical Lane Queen Anne Style Cedar Lined Chest was sold for $171.22 (42 bids)
www.nmestateauctions.com/.../Lane-Queen-Anne-Style-Cedar-Lined...
Similar vintage Cedar Chest sold for $115 (20 bids)
auctions.transitionaldesign.net/.../Vintage-Cedar-Chest
Lane Flame Mahogany with Inlays Blanket Chest with Cedar Lining from 1933 is listed at $1,475
Chests manufactured up to 1987 include a lock that catches and locks shut automatically when the lid closes. This led to the deaths of children. Many people have removed the locks from the chests, but there are still about 6 million chests that do not have the safety locks installed. Chests with the original locks may have a different value from those without them. If the lock hasn't been replaced, do so immediately or remove the lock for safety's sake.
www.hunker.com/.../determining-the-value-of-a-lane-cedar...

September 25, 2022
0

found this helpful
If you are asking about value in the present condition, I would say approximately $25-$50. Anyone buying it would be someone who wishes to restore it or use it to store 'stuff' in their garage. I cannot see anyone buying this to use in their home (in its present condition).
However, your location will probably determine the final value as these are too costly to ship.
Your area may be where people have extra room for a chest but most areas are filled with apartments and have mostly people who tend to move a lot and do not want something like this to lug around.
The only way to know for sure is to list it for sale with best offers considered to see if anyone is interested. Start with a higher price and lower it if no one shows an interest.
it would be costly to have it restored and you may not be able to sell it for even that cost. Also, if time is of the essence then a yard sale may be your best choice as these are not usually fast sellers.
The legs show this as a Queen Ann style. This chest seems to be very close to the style of yours and sold for $115 in 2020 (Ohio). It appears to be in pretty good condition.
auctions.transitionaldesign.net/.../Vintage-Cedar-Chest
You may be able to find useful information on one of these sites/links.
www.thriftyfun.com/Value-of-a-Lane-Cedar-Chest-2.html
www.thriftyfun.com/Restoring-a-Cedar-Chest.html
www.hunker.com/.../history-of-hope-chest
westmagnoliacharm.com/.../
homeguides.sfgate.com/easy-steps-refinish-cedar-chest-91954...
The serial numbers do not always follow the rule of reading the numbers backwards but I've been informed that Lane may answer your question if ALL you ask is about the date and include your serial number. Try it - just numbers.
lanefurniture.com/.../contact-us