Fawn (Baby Deer) Information and Photos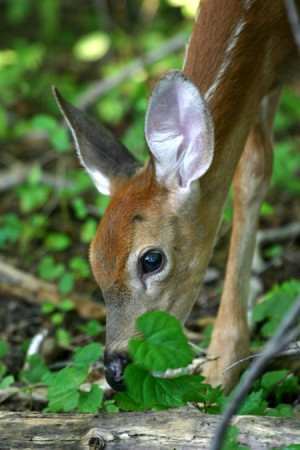 White-tailed deer mate in the fall from October to early December. Their babies, called fawns, are born approximately seven months later in the early spring or summer. White-tailed deer are considered a uniparental speciesmeaning the fawns are only cared for by one parent (the doe). Shortly before the doe is ready to give birth she chooses a birthing area, a spot covered by vegetation that will help conceal her fawns from predators. Once there, she will drive off any other deer that try to enter the area, even her own offspring. Her existing female offspring may rejoin her and her newborns later on, but the males will either leave voluntarily or be permanently driven off to start life on their own.
Fawns at Birth
Fawns weigh about 8 pounds at birth and twins are quite common, especially if the doe has been healthy and well-fed throughout her pregnancy. They are helpless at birth, but able to stand and take a few steps within the first hour. Because the blood and fluids at the birthing site may attract predators, as soon as they get to their feet the doe leads the fawn to a new sheltered spot called a form. If she has twins, the doe may place each fawn in a separate form up to 200 feet apart so that if one is discovered by a predator, the second will remain safe. At birth, the fawns reddish-brown coats are dappled with white spots. This makes them nearly invisible to predators while lying motionless among vegetation.
The Fawn's First Year
The fawns will spend their first three to four weeks in the form, or until their wobbly legs grow strong enough to keep up with their mothers. The does dont tend to their fawns nonstop; since her fawns are born odor-free, the doe keeps her distance, except when nursing, to avoid having her own scent draw predators to them. The fawns are born with the instinct to remain still and quiet while their mothers are away. Its common for people to happen upon newborn fawns curled up in a field or forest alone and mistakenly assume they have been orphaned, but that is almost never the case! If this happens to you, enjoy the moment and then quietly move on. Although the fawns mother is probably not visible, it is likely that she is somewhere nearby. Should the fawn start to follow you, gently push on its shoulder until it lies down and then slowly walk away. This is the same way the doe would communicate to her fawn that she wants it to stay hidden.
After about three weeks of hiding, the fawns can run fast enough to keep up with their mothers and start following them everywhere. The protective does begin to show their young how to find food, but even after the young start grazing or browsing, they will continue to nurse for some time. Eventually they will rely solely on the foods they will eat as adults: acorns, corn, soybeans, mushrooms, grasses, tree leaves, buds, twigs and bark, wild grapes, apples and assorted shrubs.
Navigating Life on Their Own
White-tailed deer are considered fawns until they are a year old, when they are called yearlings. The death rate among both fawns and yearlings is high. They are killed by predators (wolves, coyotes, bears, and bobcats) bad weather, disease, or a lack of maternal care if their mother is killed or abandons them. Researchers have estimated that as many as 30% to 40% of white-tailed deer die during their first or second year.

After they reach their second year the females are called does and the males are called bucks or stags. Female whitetails will remain with their mother until they are about two years old. Males leave their mothers after the first year. Distinguishing between the male and female genders becomes easier as they grow. Females tend to have a slighter frame and do not have antlers. Males are larger and begin growing antlers several months after birth. They shed their antlers in the winter every year, and start growing a new pair each spring. The age of a deer cannot be accurately determined by the size or number of points (tines) on an antler. Antler development is determined by nutrition, not age, although older more experienced bucks do tend to grow the largest racks.

Read More or Comment...
Add your voice! Click below to comment. ThriftyFun is powered by your wisdom!
Photos
Share on ThriftyFunCheck out these photos. Click at right to share your own photo in this guide.
This fawn is a few days old. It was born in our yard, here it is resting under a tree near our house. The Mom is nowhere to be seen. It was found by my wife while picking garlic mustard in our yard.
By Rob F.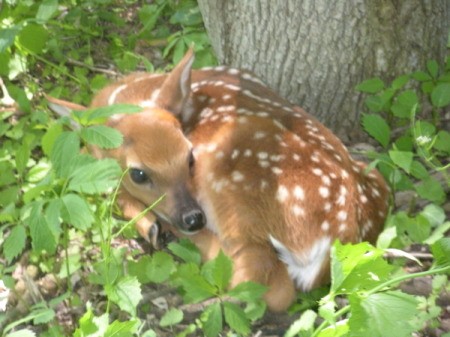 While driving along Skyline Drive in Shenandoah National Park a few weeks ago, I was able to capture this Mother Doe and her Fawn posing together ever so nicely in the woods. I couldn't have planned it any better myself.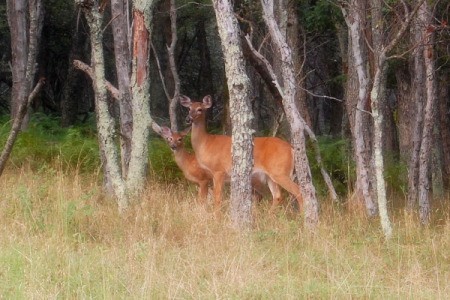 Read More...
Photo Description
While out walking, we spotted this baby fawn laying in the grass.
Photo Location
Hords Creek, Coleman, TX
While visiting Shenandoah National Park this weekend, I was so excited to have seen this little baby fawn. It really doesn't get much cuter than this!
By Kim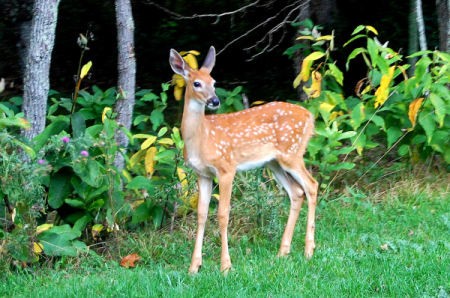 I was lucky enough to see this fawn, let alone have it decide to scratch an itch!
By Cindy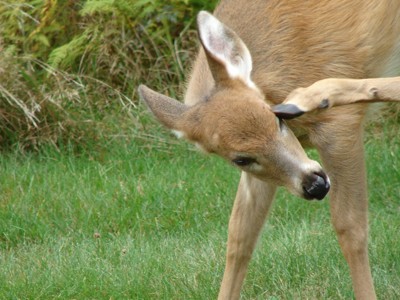 We went away for the weekend, and we stopped at Elk Neck State Park in North East Maryland. Along the side of this road was a brave little fawn that didn't seem to notice that we stopped our car right next to her.
She didn't run and I didn't see her mother either. She kept right on eating her breakfast while I snapped pictures of what were calling our Fourth of July fawn. :)
By Jackie from Salisbury, MD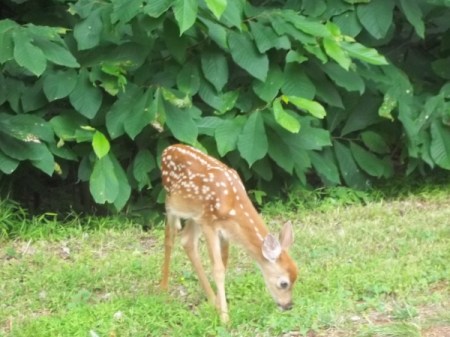 Four fawns that learned to eat corn treat. Believe it or not, they have to be taught what to eat by watching their mothers. But they will taste-test numerous flowers and landscape plants on their own. It's odd things they don't know to eat; like tacos, apples, grapes, etc., that they watch their mothers eat it or not.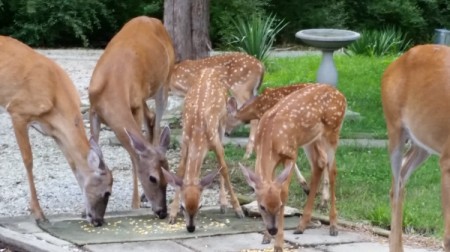 Read More...
June 15, 2005
0

found this helpful
Here are our new neighbors, mom and baby. This is just one of at least two pairs that live in and around our yard in rural Washington near the Strait of Juan de Fuca. Baby is about a week old now and follows mom very closely everywhere she goes.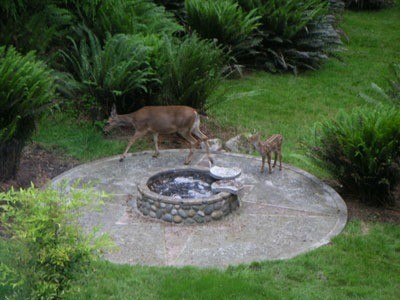 Read More...
I was riding around in the area where I am considering purchasing a house, and I came upon this fawn. The fawn did not seem to be afraid of the car, so I stopped, and it obliged me by posing for a few pictures!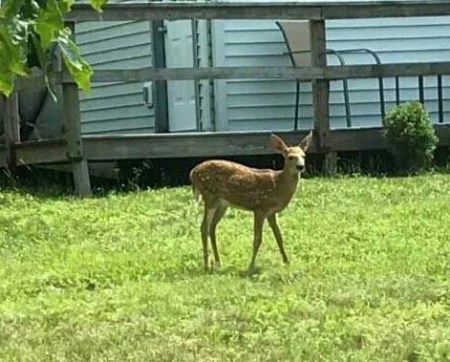 Archives
ThriftyFun is one of the longest running frugal living communities on the Internet. These are archives of older discussions.
August 5, 2010
0

found this helpful
I was having my coffee in the sunroom when something caught my eye in the yard. At first I thought it was a neighbor dog. Looking closer, I see it is a baby deer. He couldn't have been more than a week old.

I grabbed my camera and got a shot. I looked around for momma but didn't see anything. Poor little thing started running up the field next door. I looked this morning but no sign of him or his mother. I hope he found her.

By Peggy
Answers:
Wildlife: Fawn
Most likely the fawn was not abandoned. Once a doe gives birth to a fawn, she will leave them alone for a time. She will only return to nurse them.

When fawns are born they do not have a scent on them but the mother does. Since the mother does have a scent, she would draw in predators. So she stays away from the fawn for a while, I forgot for how long.

Our PA state game commissioner explained this to me. We had a newborn fawn on our property and thought it was abandoned. We didn't touch it, just watched it.

He told me some people will take the fawn, thinking it was abandoned and notify them. When this happens usually the fawn never gets back to the mother and must be hand raised. So if you ever see a newborn fawn, just let it be, Mom is near by. (06/15/2010)

By mkymlp
June 14, 2010
0

found this helpful
Our friends had a house fire last year causing them to move out while the house was being renovated. Since we live on a country road, we get to see a lot of deer in our yards. Since no one is living in their home right now, this little fawn was napping under a Hosta plant. We almost didn't see her.

We knew better than to touch her or hang around too long, so I took a couple of quick pictures before leaving her alone. She is fine, since the following day, she was frolicking with her mother in the woods behind the home.

By Patti
Answers:
Wildlife: Fawn
Awwwww! :) (05/28/2010)

By PainterLee
Wildlife: Fawn
I loved your photo. Thanks. (05/28/2010)

By mulberry204
Wildlife: Fawn
What a wonderful photo of such a cute baby! Thumbs up! (05/28/2010)

By Deeli
Wildlife: Fawn
That is the cutest! (05/28/2010)

By soneal1027
Wildlife: Fawn
I love it! How precious and how lucky you were to see her. Thank you for sharing this picture. You've started more smiles than you are aware of. (05/28/2010)

By Beth
Wildlife: Fawn
Aww, thanks for sharing your tale and pic. I'm glad the little gal is well and happy. (06/03/2010)

By JustPlainJo
May 27, 2010
0

found this helpful

This is a picture of a baby deer that we found on our property the other day when we went to pick tomatoes. She was lying right beside the garden fence and she made a little cry, or we would never have known that she was there. I was able to take some great photos with my phone before leaving. We saw her later with her mom, so we know that she was not abandoned.

By one.of.a.kind from Locust Fork, AL

Answers:
Wildlife: Fawn
I love deer! They are so pretty/handsome and fawns are just the cutest :-) (09/17/2009)

By Deeli
Wildlife: Fawn
Great picture! You were fortunate to get so close. (09/19/2009)

By nowens
Wildlife: Fawn
What a precious photo. Thank you so much for sharing it. You have made my day. Bless you! (09/19/2009)

By wsurfs
Wildlife: Fawn
How wonderful God is with his creatures. (09/19/2009)

By sillepeanut
Wildlife: Fawn
She's beautiful! How lucky you were to be there. (09/21/2009)

By Beth
Wildlife: Fawn
How awesome, so sweet and innocent God's work. (09/27/2009)

By meoowmom
September 17, 2009
0

found this helpful

This little guy lost his footing trying to run after his mom when we drove into our driveway. It only took a few minutes before he was up and reunited with his waiting mother.

By EM10 from Bancroft, Ontario, Canada
Answers:
Wildlife: Fawn
What a precious picture. I'm glad to hear that he made it back to his mama. (06/18/2009)

By crazylena
Related Content