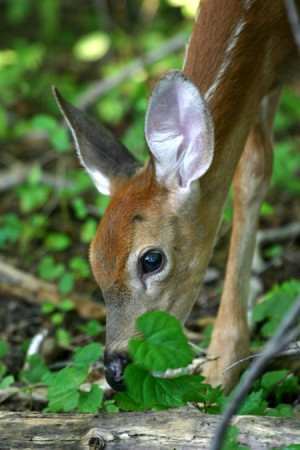 White-tailed deer mate in the fall from October to early December. Their babies, called fawns, are born approximately seven months later in the early spring or summer. White-tailed deer are considered a uniparental speciesmeaning the fawns are only cared for by one parent (the doe). Shortly before the doe is ready to give birth she chooses a birthing area, a spot covered by vegetation that will help conceal her fawns from predators. Once there, she will drive off any other deer that try to enter the area, even her own offspring. Her existing female offspring may rejoin her and her newborns later on, but the males will either leave voluntarily or be permanently driven off to start life on their own.
Fawns at Birth
Fawns weigh about 8 pounds at birth and twins are quite common, especially if the doe has been healthy and well-fed throughout her pregnancy. They are helpless at birth, but able to stand and take a few steps within the first hour. Because the blood and fluids at the birthing site may attract predators, as soon as they get to their feet the doe leads the fawn to a new sheltered spot called a form. If she has twins, the doe may place each fawn in a separate form up to 200 feet apart so that if one is discovered by a predator, the second will remain safe. At birth, the fawns reddish-brown coats are dappled with white spots. This makes them nearly invisible to predators while lying motionless among vegetation.
The Fawn's First Year
The fawns will spend their first three to four weeks in the form, or until their wobbly legs grow strong enough to keep up with their mothers. The does dont tend to their fawns nonstop; since her fawns are born odor-free, the doe keeps her distance, except when nursing, to avoid having her own scent draw predators to them. The fawns are born with the instinct to remain still and quiet while their mothers are away. Its common for people to happen upon newborn fawns curled up in a field or forest alone and mistakenly assume they have been orphaned, but that is almost never the case! If this happens to you, enjoy the moment and then quietly move on. Although the fawns mother is probably not visible, it is likely that she is somewhere nearby. Should the fawn start to follow you, gently push on its shoulder until it lies down and then slowly walk away. This is the same way the doe would communicate to her fawn that she wants it to stay hidden.
After about three weeks of hiding, the fawns can run fast enough to keep up with their mothers and start following them everywhere. The protective does begin to show their young how to find food, but even after the young start grazing or browsing, they will continue to nurse for some time. Eventually they will rely solely on the foods they will eat as adults: acorns, corn, soybeans, mushrooms, grasses, tree leaves, buds, twigs and bark, wild grapes, apples and assorted shrubs.
Navigating Life on Their Own
White-tailed deer are considered fawns until they are a year old, when they are called yearlings. The death rate among both fawns and yearlings is high. They are killed by predators (wolves, coyotes, bears, and bobcats) bad weather, disease, or a lack of maternal care if their mother is killed or abandons them. Researchers have estimated that as many as 30% to 40% of white-tailed deer die during their first or second year.

After they reach their second year the females are called does and the males are called bucks or stags. Female whitetails will remain with their mother until they are about two years old. Males leave their mothers after the first year. Distinguishing between the male and female genders becomes easier as they grow. Females tend to have a slighter frame and do not have antlers. Males are larger and begin growing antlers several months after birth. They shed their antlers in the winter every year, and start growing a new pair each spring. The age of a deer cannot be accurately determined by the size or number of points (tines) on an antler. Antler development is determined by nutrition, not age, although older more experienced bucks do tend to grow the largest racks.