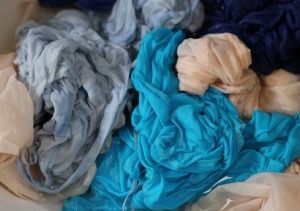 A diaper got mixed in with my dark load, and now I have wet lint all over my dark clothes. How do I remove the wet lint?

By Jena from Round Rock, TX
Answers:
White Lint All Over Dark Laundry
You will need to rinse the clothes several times to remove the wet lint. Or let the clothes dry outside on a line, then shake them to remove the lint. It won't all come off, thought. Maybe throw them in the dryer, some more might come off, then rewash the clothes. It will take a few tries to remove the lint. Good luck. (10/27/2009)

By OliveOyl
White Lint All Over Dark Laundry
Wash again, place in dryer and whatever lint remains can me removed by using masking tape portion by portion like when using a pet fur remover roller. (10/28/2009)

By Deeli
White Lint All Over Dark Laundry
Make sure your lint filter is empty of lint.
If you use fabric softener, clean the screen part of the lint filter with warm water, dish soap and a "soft" brush or a sponge. You want the softener residue off, but don't want to tear the screen.
Replace the screen, dampen the clothes and then run them through the dryer again. The cleaned filter should capture all the lint. It just occurred to me that you might be using a laundromat dryer. Ask the manager to clean the screen.
(10/29/2009)
White Lint All Over Dark Laundry
Run the clothes through the rinse cycle with vinegar in the water and use cold. I would divide the load in half to have more room for the water to get around the clothes. Then if at all possible line dry them, or if not, dry them and on the last few minutes use the fluff cycle. This should take away most of the lint. Then what little is left, I roll duct tape around my hand with the sticky side out and use like a giant size lint brush. (10/29/2009)

By debbie
White Lint All Over Dark Laundry
Put back in washer with 1 cup vinegar and 1 cup fabric softener on rinse cycle. I did have a yard of net tulle I added to the dryer and that worked. Be sure to clean the lint trap a few times if it is towel or rug fuzz. (10/13/2010)

By Kiki