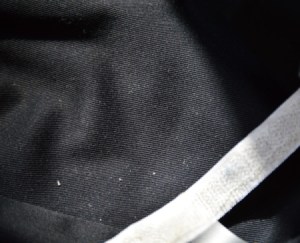 I accidentally threw my husband's dark pants and other dark clothing into the front load washer that I didn't realize, or see already had white towel rags in it. I wasn't even looking, I just took a "hug full" of his dark clothing, threw them in the washer, and started it up.
Well, when I took them out to put them into the dryer and saw the 100 million little lint fibers from the *white towel rags* all over his black pants. The white lint was literally woven into the black fabric. I couldn't believe it, or that I had those white rags in the washer that went through an entire wash cycle with the dark colored clothing.
I took a damp rag and tried swiping the white lint off; that didn't phase it. I took all kinds of hair brushes and tried brushing the black fabric to try and at least loosen up those white lint fibers and nothing happened. I tried packing tape and that didn't work, with a roller tape nothing really stuck, and I even used the nozzle of the vacuum cleaner to try and suck them out of the pants fibers and that did nothing either because the white rag towel fibers were so "woven" into the black pants fibers.
I just sat there beside myself wondering and knowing I couldn't pick every little white cotton fiber out with tweezers, so then, I tried (Velcro) and it worked like a charm! I mean, it did the job without any fret at all.
I just held the little old piece of Velcro between my fingers, and brushed the black pants fabric lightly with the Velcro, and then used tape to dab up all the white fibers that got loosened from the Velcro. It took a bit of time, but nothing else did the trick, and this worked so well, that if that ever happens again, I now know what to do.
This picture with a couple of white fibers left doesn't do the Velcro justice. I just posted this pic to show the little piece of Velcro I worked with, as it came off of something, at some time, and I'd saved it. Yesterday it hit me; "Oh, I can try that too, since I tried everything else."
Who knew it would save the day, and any future mixing of fabric colors when the lint just won't come off.