I live on a farm, which is on well water for washing. I find my clothes are not soft and are not comfortable to wear. Also I have an odd orange stain on my clothes. Is there anyone in Ontario, that is on a farm and experiencing this? Do you have a solution? Detergent or soaps that are better? Any help, would be appreciated.
By Sheila from Ontario, Canada
Answers
February 7, 2011
1

found this helpful
Best Answer
You must have a lot of iron in your water. How about using Iron Out? This is only for whites though.
February 8, 2011
1

found this helpful
Best Answer
We have well water. We do run a water softener. I wash everything in cold water to reduce the stain on the clothes. I never buy expensive clothes, because they never last or look new for long. At least we save on the water bill, right?
February 8, 2011
1

found this helpful
Best Answer
You definitely have a lot of iron in your water! If you use a cup of distilled vinegar in the final rinse cycle it will break down the iron (and other minerals at that) and soften your clothes too. :-)
February 9, 2011
1

found this helpful
Best Answer
My parents were on well water with the same problem. My mom found not using liquid bleach kept the whites whiter and there is a person in the Ottawa area that sells attachments to reduce iron in the water. Not sure of his name maybe google it. Also washing in cold water helps as it does not set stains.
February 11, 2011
0

found this helpful
Best Answer
When employed at a laundromat one customer would come every few weeks to undo what her well water had done to her clothes. She'd dump in Liquid Plummer which got rid of the orange color. She'd apparently done this for years and swore by it.
September 13, 2016
0

found this helpful
Best Answer
We have well water, with a higher than usual iron content. We have no water softener. My clothes are always soft and normal, but about once every 3 months, I run my whites with Iron-Out, be so careful if you do, as the fumes are toxic. Maybe you are using too much detergent, and do you use a dryer sheet, or a wadded up piece of tin foil in the dryer? Try a smaller load. Try a cup of white vinegar instead of fabric softener-I actually never ever use liquid fabric softener.
That said, a strange thing happened this summer, Jim needed a bucket of soapy water and bleach to scrub a sidewalk-and I poured in some tide, and a cup of cheap bleach, not Clorox--which promptly turned orange in the bucket! So maybe you are getting a chemical reaction-experiment a bit. Maybe it's your laundry products, and not your nice, healthy well water. Good luck!
Answer

this Question

...
January 31, 2012
0

found this helpful
I have well water and I cannot keep my bright colored clothes bright and my whites white. I started to take them to my parents because they have city water, but it would be much easier if I could do it at home. Any ideas or some tricks to help me keep the brights bright and the whites white?
By Stacy
Answers
January 31, 2012
1

found this helpful
Best Answer
I would start with having your water tested. Your local county extension office could tell you who would test it. It must contain a mineral that is in a higher concentration than normal, such as iron or sulfur. Once you find what that is, then you would have a better idea of what you may need to add to your wash to counter act that. It could be something as simple as just adding some epson salt, or vinegar, but if you add the wrong thing to some chemical it makes the problem worse.
February 1, 2012
0

found this helpful
Best Answer
THere is a remedy to well water. I had the same problem. With my regular washing detergent I add "Oxiclean".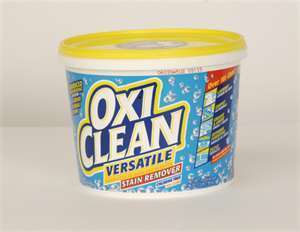 Answer

this Question

...
We have bad well water, and have yellow gray, white clothes. I use hot water with bleach. They still look bad. What can I use to get them white again?
By Shirley
Answers
March 30, 2010
0

found this helpful
Best Answer
Shirley,
I too have well water and the main problems with mine are iron and sulfur. I use a product called "Iron Out" and I get it from Wal-mart. It is found in the plumbing/paint area. I quit using bleach on my "whites" 20+ yrs ago when we moved here due to the well water! I only use cold water and my nursing uniforms are still bright and white using the Iron Out and my homemade laundry detergent. (Available on this site under "laundry." May also be found under "old topics") Just remember to mix the Iron Out product in WARM water and DON'T breathe the fumes. The fumes are awful! Add to your machine on the whites, and like I said, I use cold water in my wash.
Good luck. Hamnurse
March 30, 2010
0

found this helpful
Best Answer
I lived in town when my oldest daughter was a baby, and couldn't use bleach in the laundry because the water would turn brown. The first time I did the laundry and used bleach on white clothes, my husband's underwear, daughter's diapers, etc. came out a rusty-pink color.
I used a product called "Miracle White" after that. The whites that had changed color gradually got quite a bit better, and I used that instead of bleach for whites as long as I lived in that town. I don't know if a person can still purchase the Miracle White or not.
April 1, 2010
0

found this helpful
Best Answer
I also have iron and sulphur in my well water. We have a filter on our well at the tank that filters out the sulphur odor, and improves the iron content, but I still get orange stain on my clothes and on my dishes. I use "Iron Out" for both, from time to time. In between times, I use the new Chorine Free Bleach that is on the market now for my laundry. It is actually peroxide, and it doesn't really make your clothes white again, once they are discolored from the iron, but it helps with socks and underwear if you start using it when they are still new and nice and white. I use about a cupful in a large load. I also use "Iron Out" to clean the tank and toilet bowl.
Harlean from Arkansas
Answer

this Question

...
February 7, 2011
0

found this helpful
I have well water and every time I wash clothes, especially towels, they smell musty after a couple of days. What can I do?

Rosy B from Sutherland, Virginia
Answers:
Washing With Well Water
Our well water is just too cold to wash clothes clean in the winter, so I use warm water to fill while I am putting in soap, bleach, etc., then select cold water when I am ready to leave the laundry room. I get clean clothes and the benefit of using lower temperature water.

By Lynn (11/19/2004)

By ThriftyFun
Washing Clothes in Well Water
SA-8 laundry detergent, made by Amway, it even dissolves in ice water, plus it comes with a money-back guarantee. It's an excellent product, and concentrated. There's a website, www.quixtar.com, where you can get in touch with an independent business owner. (08/22/2005)

By LizCar
Washing Clothes in Well Water
White vinegar helps too. It seems to get rid of the smell and keeps your clothing smelling better for longer.
I add about a 1/4 of a cup along with my laundry soap.
(10/03/2006)

By Wendola