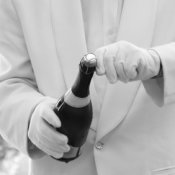 I can't imagine giving any type of party, where the guests, decorations, etc. are all white. It would remind me of the child dressed in their very best clothes and told to go play but not get dirty.
A black-themed party would be more to my (and my friends) liking. Everyone attired entirely in black, dark foods (which are easier to make and find than white food), party decorations, balloons, etc. Plus, I think it would be more elegant, and the guests more relaxed than having to be so careful of everything that they eat and, especially drink, to ensure it doesn't end up on the front of them. How awful to spill something on oneself's at the very start of the party!
You can also more easily up the WOW factor by adding more glitz, when black is the central color. White drowns out the sparkles and glitter.
By Luann D. from Corning, NY