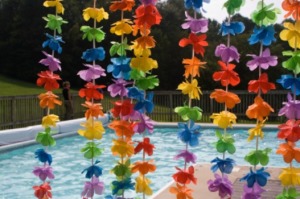 My name is Gabby and I am having a Hawaiian luau party for me and 13 of my friends. This is a boy girl party and most of us are 13 or 14. I pretty much have everything under control like decorations and some foods but what I need help on is what games to play.
I don't want them to be too cheeesy but fun.i also need ideas for hawaiian or hawaiian related movies because my dad is renting a projector and we are watching a movie on the side of my house.If you have any ideas for movies or fun games please tell me.Thanks a bunch,gabby<3
Answers
By Marie (Guest Post)
July 10, 2005
0

found this helpful
Just play truth or dare, one thing will lead to another and it may turn out to be an awesome party.
By Lisa (Guest Post)
July 10, 2005
0

found this helpful
Limbo seems like it would be appropriate
By (Guest Post)
July 11, 2005
0

found this helpful
I did a Luau for my daughter's birthday and we did Coconut bowling. Use plastic bowling pins or empty 2 liters and take turns bowling them over with coconuts. you might want to have several coconuts because the boys will try to break them. Another suggestion might be to drain the milk from them first. Beach ball volleyball is another goodie.
By (Guest Post)
July 14, 2005
0

found this helpful
We had a Luau for my teen son's 18th birthday.
I took a white poster board and painted a brown Tiki god mask, to play something like "pin the tail on the donkey." We had noses to pin, however. (see pic 1769)
The most awesome game, however, was tacky tourist. It was a relay race with 2 teams. There were identical items that I picked up at a second hand store: camera, straw hat, loud tourist shirt, sun visor, sunglasses, swimming flippers and a grass skirt. The guests raced to dress in the gear, run to a point, then return to undress from gear. (see pic 1778) The family is still talking about that racing game. My photos are here: pg.photos.yahoo.com/.../hall.kelly@sbcglobal.net/album?.dir=/121b&.src=ph&.tok=phrgPTDB7A0I1kvG
By (Guest Post)
July 16, 2005
0

found this helpful
For the movie...anyone remember "Gidget Goes Hawaiian"?
By rachael (Guest Post)
July 30, 2005
0

found this helpful
what about a hula hoop contest!
Read More

Answers
This is my 13th birthday and I want to have a luau, my budget is low, and I don't have many ideas. My party is next weekend. I would really appreciate it if ya'll could help me!
Nina from Georgia
Answers

May 6, 2004
1

found this helpful
Some of these tips might be helpful...
Dollar Store
I would visit your local dollar store and look for cheap decorations and games. Sometimes you can find some funky stuff for cheaper than you can find it at a party supply store.
Fish Party
Games
FISHING RACE - Using standard or construction paper, cut out and color fish shapes; then place a paper clip on the front as the mouth of the fish; take a twig (or small piece of doweling), tie a string and magnet to it (magnets can be bought at an art store for pennies), and you have your "fishing pole". Place them into a large cardboard box, or a box of your choice (for realism, you can decorate the box to look like the sea, with sea animals inside and out).
HOW TO PLAY "FISHING RACE" - There are three different variations to the game. 1) Align two or more players around the "sea". Using the magnet, the player must try to attach the magnet to the fishes mouth (paper clip). The player to "catch" the most "fish" wins. The winner then plays the next player, and so on.... 2) A variation on #1, add a blind fold for older kids for more challenge. 3) Relay version (for large parties and lots of kids) - Players must "catch" the fish and run to the bucket (any container will do - located 20 feet away, of course), then pass it to their teammate who does the same, and so on....
PRIZES - For peace, it is recommended that you use the same prize. 1) for each fish caught, the player wins a gummy fish - this way everyone gets something, but the winner still gets a "little extra" for winning. 2) Take a fish bowl, fill it with pennies, nickels and dimes and quarters (more pennies than nickels, more nickels than dimes, more dimes than quarters, etc.) AND most important - marbles. The winner gets to dip into the money bowl for each fish they caught. There's one catch - with each handful, they must put the marbles back, and the bowl remixed BEFORE they reach in again. This will allow for more turns at the money bowl. 3) Instead of handing out party bags, they can exchange their "fish" for prizes (i.e. - fish-shaped stencils, erasers, candy, etc.).
PIN THE TAIL ON MOBY - This is a variation of the old-time favorite - pin the tail on the donkey. Use your computer to print out a picture of a large fish (use 8.5" x 14", the larger the better - you can even take an 8.5" x 11" printout to Mail Boxes Etc. and have them enlarge it to 11" x 17" or larger for only a couple of bucks). Then make copies of the tail (or trace them onto one sheet to get more out of it), cut them out, color them the same color as the real tail, and voila, you have Pin the tail on Moby..... This can be adapted for most parties and themes and only costs you the paper.
EAT LIKE A FISH RACE - You place 5-10 gummy worms (whatever number) on a plate in front of the kids. The idea of the game is to see how many worms you can Eat Like A Fish in thirty seconds. This means that there are NO HANDS used!
www.thriftyfun.com/tf000017.tip.html
Beach Themed Wedding Centerpieces
By Rose Smith
Decorate your tables with some fun-loving beach-themed centerpieces. Each centerpiece is easy to put together, so anyone can do them.

May 6, 2004
0

found this helpful
Also see:
Hawaiian Birthday Party
www.thriftyfun.com/tf334936.tip.html

May 10, 2004
0

found this helpful
Thanks to ALL of you who sent the GREAT ideas! I used lots of them and the party was a HUGE success. I hope that I can be of help to others on this list in the very near future.
I appreciate all of you!
@-}--------------
My best!
Donna

May 23, 2005
0

found this helpful
You all have such *fantastic ideas! I'm looking for some ideas for a teen outdoor party. I will need these quickly as the party is tomorrow afternoon.
The theme is tropical, (think Luau) and I can't think of any good, inexpensive games or activities etc for older kids. I would appreciate any/all ideas!
Please reply to: jimmyporter1 AT comcast.net Thanks SO much in advance! - Donna
By Debbie (Guest Post)
May 24, 2005
0

found this helpful
Figure out how to make tissue-paper flowers. (Check the web and the local library. Also, if you know any teachers or scout leaders or the like, ask if they know how.
Then buy lots of tissue paper (try dollar stores, then discount stores before going to craft stores, to save money). Have everyone make enough flowers to string together to make their own flower necklace.
I've noticed with store-bought ones that they string a flower, then a tube, then a flower, then a tube, etc., so that they don't need as many flowers, and it still looks good. For the tubes, buy a box of straws and cut them into 1" or 2" lengths.
By Coreen (Guest Post)
May 24, 2005
0

found this helpful
Pineapple Princess punch: Mix equal amounts of lemon lime soda (store brand is fine), Hawaiian or red punch, and pineapple juice. Yum! Be sure to offer ice separately so it won't dilute the punch.
Buy almond cookies to serve with it. Or better yet, buy a fresh pineapple and cut it up into tidbits. Put the pieces on toothpicks, then do the same with strawberries. And start planning ahead for next year's party so you can shop all year long!
By Nina From Georgia. (Guest Post)
May 24, 2005
0

found this helpful
Thank You All For Your Ideas!!!!!!!!!! I would Appreciate it if I could Recieve a lot more

June 7, 2005
0

found this helpful
I am having my daughters 3rd birthday party at home this year and it is going to be done in the hawaiian theme. I am going to buy just a regular awning from a local store and make it into a hut. I will put the long dry grass on top and then decorate around it making it look just like the tiki huts in hawaii.
A cake for a luau party would be cute if it was a three tier cake round or square and a hula girl on top with the bottom layer to have palm trees all around it and the second layer to have like a grass skirt around it and the top layer to have like coconuts or just something like that around it. That way it is not all just one decoration on the cake.
By Jennifer Spoon
By michelle (Guest Post)
July 8, 2005
0

found this helpful
Im looking to have my 9 year olds birthday party a hawaiian theme. I cant find any thing about how to make grass skirts? I want them to look good and be somewhat durable. Please help Thanks in advance

July 8, 2005
0

found this helpful
does anybody have any ideas for games and movies ??????
Read More

Answers