I live in a third floor apartment and the back door is a stairway that is covered from the elements, but open to animals. Last spring two pigeons laid two eggs and I was lucky enough to watch them grow and fledge the nest. When they left I had to paint the back steps after I scraped all the poop off, not fun.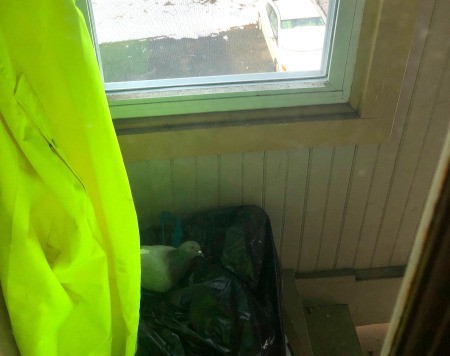 This year the two birds that were only eggs last year have returned to repeat the process. Ok so the issue! We use the back landing to put the trash out and when my husband or I leave for work we take it down. Well the pigeons have been there in this time frame and they have laid an egg.
I don't know what to do? I can not leave the egg on a pile of trash because I just cleaned my fridge and the trash needs to go down! I was thinking of getting an old bucket and putting it on its side with some hay inside and gently moving the egg into there. Now I know they won't follow the egg, but my idea was if I put the bucket on the landing it would be in the same place in the hopes they won't abandon the egg. Any help or tips are greatly appreciated!

Pghgirl40
Bronze Feedback Medal for All Time! 196 Feedbacks
March 5, 2019
0

found this helpful
Best Answer
You are best served to find a wildlife sanctuary in your area (google your town and wildlife sanctuary and ask for their assistance. We have good services in my town, but I don't know about other places.
They will give you the best and easiest options. Do not touch the eggs until you talk to them as you risk causing harm to them.
To deter them going forward, you can try things like cat statues, hanging CDs, hanging a wind chimes or such...but if your bird population is like ours, when they find a good place to nest, it is a problem to break their habits. Perhaps the wildlife sanctuary can give you feedback on prevention too!
Post back what they tell you!! Prayers for the feathered family visitors.