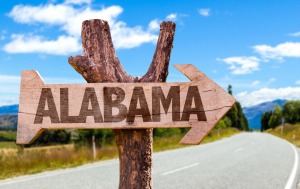 Does anyone have any advice or info about moving to Alabama? I have lived in California my entire life and am concerned about the "adjustment". I hear it is a whole other world there. Thanks!
By Tina Buchanan from CA
Answers
January 26, 2010
0

found this helpful
From California to Alabama? And you have never lived there before? Yeah, get ready for some culture shock.
I imagine you will find some of the conveniences you are used to missing but the people will be a new and good thing for you. I think the best description would be "more neighborly".
Of course it also depends on whether you are moving into a city or out in the boon docks. AND whether you are in the city or out in a rural area of California right now.
But I am certain you will be doing some adjusting. I don't know how soon you are moving but for starters you can start looking at the weather forecasts for where you are moving to and comparing them with what you have now.
Bigggest areas of difference I am thinking will be:
Weather, People, Schools, Retail/Businesses. In that order. Good Luck
January 27, 2010
0

found this helpful
Wow! I've never been but my Dad is from the South and my sister in law's hubby is from there. #1 Don't expect to find fresh veggies and fruit like you can here. #2 Don't be surprised if, well, hmmm, they are still a BIT behind in many equality issues. #3 It's gonna be hot and sticky! But embrace it!
January 28, 2010
0

found this helpful
Culture shock indeed! Lots of differences, do you have any questions in particular? I have lived in Alabama my whole life; you can message me if you want. Blessings.
January 28, 2010
0

found this helpful
As someone who moved from northern Illinois down to the southwest gulf coast of FL. The only advice I can give you is don't do it! I lived in TX for awhile and it was a whole lot easier to assimilate there than here. There's no in between, people either love it or they hate it. Speaking for myself, I would rather take nasty winters than no viable jobs, poor educational system, extremely hot, humid summers that go on forever and certain prejudices that no matter how much time has passed, will never be erased.
If at all possible, I would go and stay in Alabama for a month or so. Just check it out at your own pace. However, remember, it's always easy to fall in love with a place when you're relaxed and there isn't any pressure. It's actually living there and being there on a day to day basis.
January 28, 2010
0

found this helpful
I lived in Florida for a long time and then moved to Alabama. Now I live in Oklahoma. I'd go back to Florida or Alabama anyday. Yes the humidity is high but you get used to it just like anything else. I would have to say the people are the friendliest in Alabama. We lived in Mobile and it just always seemed slower paced, which I liked. Most of the people were very neighborly. There are still some prejudices there but I don't believe they are any greater than here is Oklahoma. I don't know about California. Overall, though, people are just nicer to each other - respectful may be a better word.
January 28, 2010
0

found this helpful
I'm from Georgia, moved away for awhile, made it back, and with God's grace, I will never leave the south again.First of all, you will do three things, st being here, which are unavoidable. You will: Slow down!
Eat! and Talk! Get used to it. Yes, the three people in line ahead of you have to be someplace too,but they knew to leave early 'cause they are bound to see somebody they know and talk a minute or thirty, just like the checkout girl up there and Mrs.Whoever, who just had new twin grand babies, and has the pictures to prove it.
So you might as well turn around and ask the person in back of you whatever is on your mind that you need an answer to.They'll answer in such detail you will think you should be paying tuition to stand in the checkout line!
And do not be uneasy when total strangers just start a conversation like they have known you all their life.They are not unbalanced in the least,they are a perfectly sane Southerner. Talk back or you will be considered snooty.
Even if it seems they are delving a little too much into your side of your business, they aren't. There's a reason, and if you will just be patient, you'll soon realize they are just getting to know you.
And as soon as they get to know you,and you form friendships, you will have to buy new pants, because no matter what time of day or night, somebody somewhere is cooking up something so good your tongue will slap your brains out trying to get a bite.
Yes, there are Sunday drivers in the South.
No, the stereotypical prejudice you hear and read about is not what it is made out to be.A good person of color is just as respected as a good white person. A disrespectful person, black or white, will be looked down on.
The outdoors is a big part of life here, because it is usually so warm, and there is not nearly as much emphasis placed on material things as there is on family and friends. And God is still # One. Much more conservatism, much less liberal, much more laid back and even behind the times a little, but in a good way.
Oh, and don't worry if you are a little wonky. You will fit right in. Colorful characters and big hearts are always welcome. Watch the movie Steel Magnolias.That is about as close to real Southern life that I know of.
January 28, 2010
0

found this helpful
It really depends a lot on where you live in CA and where you are moving to in Alabama. I was born in Alabama and lived there until I was a teen. Then I lived in southern CA for about 18 years. Almost all of my family lives in Alabama, though, and I go back there at least once a year.
It is a completely different lifestyle, and most of the advice above is right on target. I'd add that you should make sure you smile at people, and most definitely wave at anyone that waves at you. (Alabamians do this when they are driving, especially in their neighborhoods, and if you don't wave back, they'll think you are a snob.)
Don't take for granted what "cool" is. Things that are in fashion in California may be laughed at in Alabama, and vice versa.
Don't start the conversation with "I just moved here from California". Whether they admit it or not, most Alabamians think Californians are "strange". Once they've gotten a good first impression, then you can tell them you moved from California, and they'll ask all kinds of questions. They don't like people to stereotype them, but they may do it to you. We're all only human after all. ;o)
January 29, 2010
0

found this helpful
Housing prices are a lot different too; what you would pay for a sub-standard house in California, you would get a gorgeous house, with a much bigger yard, in Alabama.
Read More

Answers