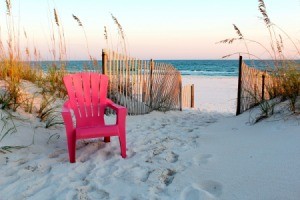 Can anyone give me information about the Alabama, Gulf Shores? When does the off season start, would Oct. be a good time to vacation there? That's when we plan on going. I did find out about some of the hot spots to visit and everything so far sounds really great on Frommers.com but I'd like more information.
Thanks in advance for your help,
Gayle from St. Louis
Answers

Julie
Bronze Feedback Medal for All Time! 149 Feedbacks
July 14, 2008
0

found this helpful
In our 20 years of traveling while in the navy that was my most favorite place to live. We were there almost 2 years. My husband was stationed in Pensicolla Florida, but we always choose to live outside of base. We lived in Lillian Alabama, and then Elberta Alabama while there. Both places were just a few miles apart from each other and both were in gulf shores.
If you vacation during October the weather is perfect by then you have almost missed any hurricanes that may arise. And Elberta, Alabama is well know for there German sausage festival in that little town, which has lots of different German foods, music, arts and crafts to see. that town is just about 10 miles from the shore line. the sands are the whitest I have seen, the waters the bluest.
Sand dollars are so easily found there on the beach. We lived there 20 years ago and went back to vacation 3 years ago one week before a hurricane hit. no sure what damage it done to gulf shores afterwards but before hand it was just a beautiful as ever. if I could live at a shore line it would be there verses any other eastern shoreline, but we are hooked on the great Smokey mountains here in Tenn.
Do check out the German sausage festival though while there in October, you will love it. also contact the chamber of commerce in gulf shores and tell them what your interest are they will send you a travel kit that will be most informative. You can find it online and just check the boxes that best suit your needs like motels, bed and breakfast camping, etc. Here is link to it and the map too.
www.google.com/search
?
q=chamber+of+commerce+gulf+shores+alabama&rls=com.microsoft:en-us&ie=UTF-8&oe=UTF-8&startIndex=&startPage=1
Take your camera because you will want to remember it for along time. Oh, Pensicolla Florida is just 12 miles from the Alabama state line on the shoreline and if you fish they have a 3 mile long pier for just fishing and on the 4th of July they give the best firework display I ever saw. enjoy! you will love it!

July 14, 2008
0

found this helpful
Gulf Shores is my favorite place to vacation although we haven't been able to go the past several years. Prices begin to drop in mid August, so October ought to be even more affordable. While there, visit Fort Morgan, a really neat fort literally at the end of the road. I'm not sure what hurricanes have destroyed since my last visit, but there's also a pier near Fort Morgan where you could fish, either for regular fish or crabs.
The people in the whole Gulf Shores area are super nice. I could easily imagine living there. Don't forget the outlet malls in nearby Foley, as well. This info may be slightly out of date, but I'm certain you will enjoy it and it's actually fairly inexpensive.
By (Guest Post)
July 14, 2008
0

found this helpful
We go to Gulf Shores and Orange Beach (They run into each other) every year. We usually do our reservations through WWW.BrettRobinson.com. They have the best prices for the condos that I have seen. There are others there but they are out favorites. If you sign up with them they will send you emails of what is happening on the coast. Also, I believe that October is when Shrimp Festival is. It is a festival where people show off their art works, and all kinds of shrimp! Great place to visit in Oct. but to me it is too cold to swim! Have fun!
By J. Parrent (Guest Post)
July 14, 2008
0

found this helpful
We were in Gulf Shores in June. Goodness, the traffic is terrific and Foley has quadrupled since we were there last. I was told since the storms people are moving inland. Personally, We stay in Foley while there. Hotels are cheaper than beach rentals and the beach is just a short drive away. Mikee's is the place to eat. Expect a line but very good and reasonable. Yes, do the Fort Morgan bit. We crabbed (net baskets) and fished there too. Lots to do in the Gulf Shores/Foley area. A must do is Lambert's but guess if you are from Missouri you know of Lambert's. We like to deep sea fish out of Gulf Shores also. The "Plantation" condo is a nice out of the way condo. We enjoyed that also but more $$, expected. Enjoy

July 15, 2008
0

found this helpful
Gayle - October is a great time for any of the communities along the Alabama Gulf Coast. The Shrimp festival that some people have mentioned is Oct 9-12. It used to be a small local festival but has really grown. It is lots of fun.
The local tourism site is the best way to do some digging on restaurants and places to stay. www.thebeachiscalling.org. All of the hotels and condo places can put their specials on the tourism site - so it makes searching easier for you.
You can look in the calendar area to see what might be going on during your trip.
I'll be traveling to the area next month and I'll try to update this post with anything special I discover.
By Guest (Guest Post)
July 15, 2008
0

found this helpful
I have lived in NW FL, just a few miles from Gulf Shores for the past 17 years. October is still in the peak hurricane months. That's why prices are lower on rentals. They want you to take the gamble that maybe there won't be a storm during your stay.
Peak season for hurricanes is AUG-SEPT-OCT. Please be aware of this when making plans.
Answer

this Question