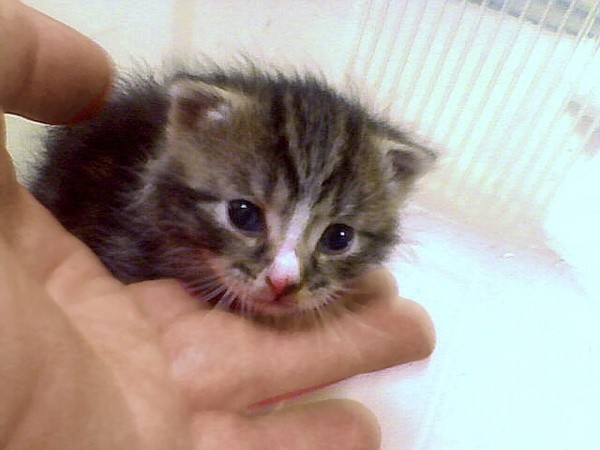 When I was twenty-four, I took a walk through a meadow near my home. Where the meadow ended, a few small trees had cropped up here and there. Some small dogwoods were in the mix. I thought I spotted a trillium. As I bent over to get a better look, I braced myself by grabbing on to one of the lower branches of a nearby dogwood. It wasn't a trillium. I should have known, the area was too exposed for trillium.
Standing back upright, I let go of the branch. It left my hand with a spring-like action. From the corner of my eye, I saw something falling to the ground. I looked to the ground and saw two baby mourning doves. Except for the beginnings of flight feathers on their wings, they were completely naked. Knowing the mother would not likely tend to them if I put them back into what was left of the nest, I brought them home and raised them.
I was their new mother. They were with me twenty-four hours a day. I took them to work with me. Later, when they could go a bit longer without food, I came home on morning break, lunch, and afternoon break to feed them. They grew to young adults in no time.
I made a large outdoor cage for them. They were quite contented, for a while. Realizing they needed flight to strengthen their muscles, I began to release them for a couple of hours a day. They would return soon. They had gotten hungry and knew there was plenty of their favorite seed in the cage.
Later, the female was slow to come back. Some days, she didn't. So, I kept her caged for a while, still letting the male come and go as he liked. She appeared stressed. She paced back and forth in the cage. She looked at me as if she was trying to tell me something, but I couldn't figure out what. All I had to do was listen.
After three or four days of watching her in total misery, I heard something. It was the mating call of a male mourning dove. It wasn't her brother; this time, he was in the cage with her. Each time the dove made his call, my caged female increased the rate of her pacing.
Without a word being spoken, I heard the male say, 'Sweetheart, where are you? It is time. Time to build our nest. Time to start our family. Where are you? Without a word being spoken, I looked at my female and heard her say, ' Love, I am prisoner. I must come to you, but I cannot escape these bonds. I try so hard'.
Without further ado, I opened the cage, kissed my little one goodbye, and with outstretched hand, I gave her freedom. I never saw her again. The old saying goes 'If you love something, set it free. If it comes back, it's yours forever. If it doesn't, it never was'. She never was mine.
The male is a different story. He stayed for months, coming and going as he pleased. He stayed until I moved away. He was extremely jealous, not even wanting me to stand close to another person. There is another whole story about this bird and our friendship, Very interesting. Maybe another time.
------
It was spring. Everything was beautiful, well, almost everything. The robins had returned. There were many nests and many empty robin egg shells littering my back yard. Baby robins seemed to be everywhere. And along with the little babies, there were spots of baby feathers here and there. The neighborhood cats were gorging themselves on this once a year treat. It seemed no baby robin was safe.
While out one day, I spotted a baby robin to my left, sitting quietly while waiting for its mother to bring food. To my right, I saw a cat. It was eyeing the baby robin while all hunkered down, ready to pounce at just the right time.
If another baby robin was eaten, would it really matter? It would matter to this little fella. What a terrible way to go. I quickly ran to him, scooped him up and carried him inside.
I raised that robin. He went through many jars of chicken and beef baby food. In time, he was fat and sassy, sporting a brilliant red breast. I began to let him fly freely and bring him in just at night.
This bird didn't seem jealous. He would sit quietly on my shoulder while I talked with neighbors. Even so, he would never sit on the shoulders of someone else. I would put him on their shoulders. He would stay just an instant and then return to mine.
I would go out when it was time to feed him. All I had to do was call, 'Robbie'! Seemingly, from out of nowhere, he would land on my shoulder.
One day I called, 'Robbie'! He didn't come. I called, again. He didn't come. Sadly, I had to listen. Without a word being spoken and from a distance, I heard, 'Thank you for saving me from the cat. Thank you for raising me and being my friend. I will always remember you, kindly. But I am a young robin. I must live a robin's life. I must find a mate and continue my own kind. As much as I love you, my future must be without you. Good bye, Doug'.
------
And then, there was the conversation between Mr. and Mrs. house finch. I had hung one of those desk organizers that hold paper clips and such, under a porch awning. It seemed ideal for a finch nest, and it was positioned where I could take pictures of the development of the babies.
Sure enough, it was spotted by Mrs. house finch. She fell in love with it. Yes, it would do nicely. She called to Mr. house finch. When he came, she said, 'Look, honey! I've found the perfect place, just look.'
Mr finch said, 'Yes, it's nice, but I think we should build under the corner of the window awning, just as we did last year. Come look. I've already started the foundation.'
They both flew to the window awning. Mrs. finch agreed it was nice, but she had her heart set on the desk organizer. She said, 'Before we decide, take another look at the nice basket. They both flew to the desk organizer. 'It's so sturdy', she said. 'And such a nice change'.
'I don't know', he said. 'It's too out in the open. I don't think its safe'. The two made two or three more trips together, back and forth to the different sites, each trying to convince the other, their site was best.
As with Humans, so it is with birds. Quite often, the male, though not necessarily in the right, will get his way. The nest was built under the corner of the window awning.
I don't know how Mrs. house finch felt about all this. I guess when her babies were born, the mother instinct prevailed and assuaged any disappointment she might have felt earlier.
We can hear with more than our ears. Without a word being spoken, I heard this entire conversation. I had never witnessed such personal dialogue between two animals. I had entered for a few moments, into the private world of another species. I was quite moved afterwards. And I pondered, 'Wonder if some 'higher', unseen species is looking into my world. One never knows, does one?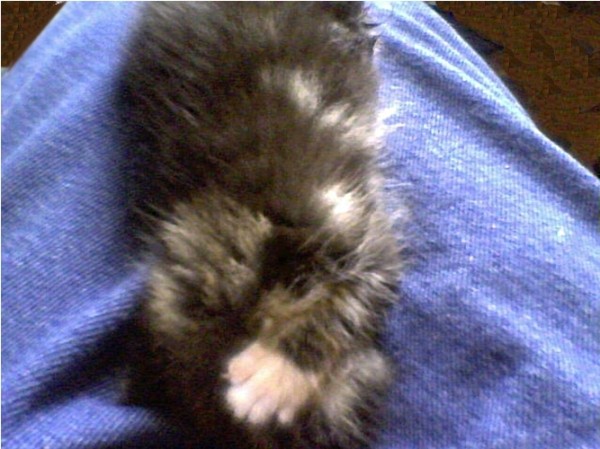 A lady friend had given me a Velux blanket for Christmas. I don't know how others did it, but I was unable to keep it on the bed. I lost a lot of sleep chasing that blanket throughout the night. Out of frustration, I stored the blanket in an out building. It would stay there until I found someone who could make use of it. I forgot about it.
Over time, the blanket deteriorated. All that was left was a net like lining. I thought, 'Well, good'. I will get some use out of the blanket after all. I'll use the net to keep the birds away from my strawberries. Strawberry season was over for that year. So, the net stayed on the outbuilding floor.
Some months later, while doing some weeding in the back yard, I kept hearing a tiny, mournful sound. It sounded like a baby kitten. I looked and looked and looked. I saw no baby kitten. The next day, I heard the sound again, but no kitten. Upon hearing the sound on the third day, I was determined I would find its source.
Remembering that in the past, cats had made the outbuilding a delivery room and nursery, I decided to look in there. Sure enough, there was the source of the sound. A tiny kitten just a few days old and at least three days without food was there, starving to death.
(I know what happened. The mother cat had her litter in that building. True to a cat's nature, she decided to move the kittens after a few days. There is a reason for this. When a female cat is in estrus, several males will attempt to mate with her. There are those who will not succeed. Often, one of those will return after the kittens are born. If he can, he will kill all the kittens. There are two reasons for this. One is that he will prevent another male cat's bloodline from continuing. The other is that by the mother cat not having any kittens to feed, she will come into estrus sooner, providing another chance for the murderous male to continue his bloodline).
The kitten was all entangled in the blanket netting. I'm sure the mother tried to free him and couldn't. With other hungry kittens placed elsewhere, she had no choice but to abandon him.
I rescued the kitten. He remained in a state of near starvation though I fed him several times a day. He had a rough time of it in my charge until I accepted the fact that kittens cannot tolerate cow's milk. They must have mother's milk or a special formula designed just for them. Once I started feeding him formula, he began to flourish and gained weight rapidly.
We were friends. We spent most all our time, together. We played together. I named him 'Felix'. When he was near grown, I let him spend more time outside. He was never one to stray, always staying close to home. A neighbor commented, 'Doug, that cat sure loves you. He won't go far from you, and he won't have anything to do with anyone else'.
Then, he was missing for two days. Nowhere to be found. I came home from grocery shopping and saw him standing near the back door. It was obvious. He was in pain and in fear. He looked me in the eye, and without a word being spoken, I heard him say, 'Doug, help me. Please help me'.
I sat the groceries aside and ran to him. I gently picked him up and took him inside. Once inside, I could see there had been serious damage to his front right leg. The wounds were so bad, I figured a dog had tried to kill him.
The leg did not appear to be broken, but there were two or three holes in it. I cleaned the wounds and dressed the leg. In a couple of days, I saw the wounds were weeping a pink fluid. I removed the dressing and was shocked. There were more holes. Felix was in a lot of pain. He would look at me, and without a word being spoken, I would hear him say, 'Help me, Doug. Please help me.'
By the third day, his entire leg was riddled with holes, and they were weeping, profusely. I have never heard of anything like this in my life. It was a sure thing, Felix would lose his leg. And at the rate the holes were forming, it was probably just a matter of days before they appeared elsewhere on his body. I never saw a cat suffer so much. Each time I looked at him, without a word being spoken, he looked into my eyes and I heard him say, ' Doug, please help me, I'm suffering. Please help me.'
Knowing he had only a few days left, and those days would be spent in horrible pain; I called the Animal Control Center. I explained the situation to them, making sure they understood how Felix was suffering. I asked them if they would put him to sleep. They said. 'Yes'.
I took Felix to the center. Those who examined him said they had never seen anything like it. They could only guess he was attacked by a dog and some necrotizing germ had entered the wounds. They agreed the cat should be put to sleep.
I said my goodbyes to Felix. And as I looked into his eyes for the last time, without a word being spoken, I heard him say; ' Thanks, Doug. Thank you for rescuing me when I was a little starving kitten. Thank you for raising me and being a good friend all the while. Thank you for all the nice evenings you put me in your lap and we would play for hours. I know my fate. I know the end is coming. Goodbye, Doug. Goodbye, my Friend.'
The Animals speak. Do you listen?