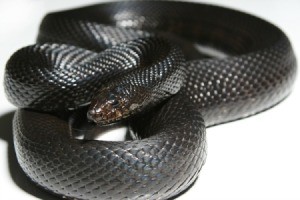 Black snakes are a good thing! It must be Spring as our Black Snake is back. Black snakes will keep your property clean of rodents as well as Starlings (bird) that nest around the roof area of your home. They, at least ours, is not aggressive at all. This year our buddy made his grand entry in our house, that we are remodeling. He/she was hanging by his/her tail over the back door, doing twists and turns like an acrobat.
Our Jack Russell Terrier discovered it first and started barking. Knowing it was the Black snake back, we just let it do it's thing and be on it's way. Later we saw it crawling around the gutters on our shed. Personally, I know a Black snake when I see one but I can certainly appreciate some people wouldn't have a clue what a Black snake looks like compared to a venomous snake, which brings me to my question.
Is it true that Black snakes are the only type snake that will crawl around house rafters or other high places in your house? I was told that venomous snakes are considered earth snakes that may crawl high on a mountain top but not in a home. If that is true, it may save many Black snakes lives if people knew that.
Please don't kill Black snakes as they are gentle and do a good job keeping unwanted rats, mice and yes those pesty birds called Starlings.
By Susan Wolfe from Clinton, TN.
Answers

May 10, 2009
1

found this helpful
I have seen several types of snakes in trees, including water moccacins (cotton mouth).
When I was little I was playing with a Barbie doll near a creek. I left the doll on a large rock and went off to explore the area.
When I returned to get my doll. It was being swallowed by a water moccacin. Luckily skinny Barbie didn't have any meat on her and the snake eventually spit her out.

May 11, 2009
1

found this helpful
Please note correction: The subject should be RE: Black snakes around ROOF AREA'S of homes and/or other structures.
Knowing that all snakes can climb, I understand that they crawl up in tree's as that is their turf. What I question is, will all snakes crawl up into the rafters or ROOF AREA, inside or outside of a house? Has anyone ever seen, as a fact, any other snake, other than a black snake, in their rafters or around the ROOF AREA of a home? I also understand that all snakes will head for higher ground for survival purposes like when there is a flood. There may be many reasons why other snakes, other than black snakes, will not climb to heights of a manmade type turf. Maybe they're afraid of human's or pet's. Maybe they don't like "very high-up" manmade structures, although you might find them on a porch or padio area.
Although I really enjoy hearing snake feedback, my question is only regarding which snakes will climb into or on the ROOF AREA of manmade structures. If you are absolutely sure that you have seen a snake other than a black snake, and have positively identified the type snake, around the ROOF AREA of a structure, please let me know. The person that told me that, swears only black snakes will attempt crawling to the ROOF AREA of a house. I would like to know if that statement is fact or fiction? Like many, I question that is a fact! Thanx! Please, let me hear your snake stories, as I find them interesting. When you think about it, isn't it neat that snakes can climb without any hands or legs to help? Personally, I find that amazing.

May 16, 2009
0

found this helpful
A black snake will also turn on you. We had one in our garage and my husband kept taking it to the woods and it kept coming back. The last time he tried to move it to the woods, it turned on him. Just be aware.

May 18, 2009
0

found this helpful
I have heard that pouring a two inch wide line of "diatomaceous earth" will keep snakes from crossing it, once you clear the area you want clear.
I'd try it in a very small area where you think the snakes live or frequent first. I have no idea the cost of the chemical is. I believe I read this in one of the Jerry Baker Gardening books from Rodales? Check his website in case I'm misremembering.
I'd rather rely on a cat to clear the area of mice than a snake of any color, and I like some snakes, but
not outside of a cage or aquarium. God bless and help you. Be careful! : )

May 25, 2009
0

found this helpful
We have black rat snake around our house and trees. They are harmless, just eat mice and keeps the trees free of nesting birds. I just untangled a 3-4 ft one from some garden netting. I have a friend who had black snakes in his attic-- he had to get a herpetologist to remove them. Which was very difficult (there were very small baby snake in there as well). Funny thing is that the herpe. came back to him a few months later and asked if she could try to get some more, apparently she wanted to put some in her attic!
-- From Virginia

Lilac
Silver Feedback Medal for All Time! 450 Feedbacks
February 25, 2010
0

found this helpful
The point is that this woman has a phobia of snakes and her husband is insitive to that. I find that appalling. It doesn't matter if the snake is harmless or not. Some people are afraid of mice or spiders. Her husband needs to get some sinsitivity training, it is cruel and abusive to subject someone to something they fear. She needs to have someone he respects explain this to him.

February 25, 2010
0

found this helpful
Snakes can certainly climb trees. That's how they eat squirrels. I have seen one drop from the tree in my front yard. I don't walk under that tree anymore.
I don't want to think a snake might fall on me. It was a good snake because it was a rat snake, but a very big one.

April 4, 2010
0

found this helpful
Most likely, if you're in Tennessee, it's a black snake. But if you were in Florida, etc. it could be a black snake, a water snake, or a moccasin.

April 4, 2010
0

found this helpful
I have been catching snakes since I was a kid. If possible, I catch and release, or if possible leave the snake where it is at if it is not a danger to anyone. If I walk up on a snake and it is about to bite me then that is a different story. I also have a snake phobia but I tried to learn as much as I could about snakes to over come the phobia. I have been bit once and almost bit another time by small snakes. When I was a kid my girlfriends dad was a snake handler and bite number 201 got him the man he worked for got bit over 2,000 times before he died.
Read More

Answers
I live in the Tampa, Florida area. Last year my white house cat got outdoors and just froze looking at something. Racing thru the flowerbed was a black snake, 4-5 ft long, with its head up like a periscope. It had the largest eyes I've ever seen, between nickel and quarter. Bright white cornea black iris. I have always had a snake phobia, but now I cannot even work in my flower beds. I hate that this snake controls my life. Please let me in on ID.
By Karen S from Lutz, FL
Answers

June 8, 2013
0

found this helpful
It sounds like a FL Black Racer snake.
www.aaanimalcontrol.com/.../floridablackracer.html
Generally these are harmless to you but they will eat squirrels, mice, and rats so if your cat is small you'll likely want to keep the cat indoors for it's protection. The presence of one in your garden means you have the much greater worry of a rodent infestation-these snakes go where the food is.
I lived in Melbourne, FL for several years in the 90s and about had heart failure one day when a curious Racer snake poked about 8" of it's upper body out of the pampas clump next to my mail box! They are active during the daylight hours and for a snake, rather comfortable about 'getting to know you'-not a shy snake at all!
Check with your co-operative extension office web pages for more info on the snake including how to discourage it from hanging at your house.
Whatever you do (and I agree that Caution is King here), please DO NOT kill it. The snake population of FL is dropping quickly but the rat population is unfortunately rising and one of the reasons is the human instinct to kill every snake for 200 miles.
I think I'd rather have snakes in the garden than rats, to be honest, and I hope you will agree.
The following is are links to your county extension office info pages re snakes in the garden:
hillsborough.ifas.ufl.edu/.../SnakeIdentification.pdf
Read More

Answers

I was at a friend's house and we saw a huge 6 foot ling black snake. We thought it was just a big, non-venomous black snake that eats mice and is native to the area, but then it opened it's mouth and had a pure white mouth or throat.
We didn't know what it was, because the only snake we knew in the area with a white mouth is the Cottonmouth, a poisonous snake that can be lethal. But Cottonmouths don't get 6 feet long that we know of. We were not near water; it was in a small tree. Some feedback would be appreciated, so I can know if my friend is in danger or if the snake was harmless.
By colton from West Plains, MO
Answers

June 9, 2009
0

found this helpful
I'm not 100% certain, but because it has a white mouth, it sounds like a cottonmouth snake - it's named "cottonmouth" because of the white mouth/throat. If so, it is VERY venomous! Cottonmouth (a/k/a "water moccasin") snakes are usually smaller than that, but it's possible you could have estimated its size incorrectly. It's hard to tell a snake's actual size, due to its coiling/slithering.
In any case, call your local wild animal control center, or the humane society about this. You don't want to be messing with this snake if it is, indeed, a cottonmouth. Even if it isn't that species, it's better to have an expert determine what it is.
Because, if it is a cottonmouth, you seriously do not want to be bitten by it. They'll usually try to escape rather than attack you (unless it's cornered, or if you step on it by accident). Talk to some knowledgeable people in your area, and find out what the snake is, and whether it can be relocated safely.
I love snakes, but I have a very healthy respect for them. Be careful. :-)

June 9, 2009
0

found this helpful
I can't find a way to edit my post, so I'll post some additional info.
OK. I got conflicting info from different websites about this snake. One site said that the snake will flee rather than attack, but others say that this snake is aggressive, and will attack.
Here's the site, with pictures, which might help you identify the snake:
www.wf.net/.../moccasin.htm
It says that rare cottonmouths have been reported as being up to 6 feet long, so your friend might be dealing with a granddaddy of this species.
All the more reason to get in touch with animal control immediately. Good luck!

June 12, 2009
0

found this helpful
A couple things about "your" black snake, one, was it slender, and did it have a long, slender tail to the tip? Two, could you tell if it had any sign of an underlying pattern, no matter how faint? The cottonmouth, or water moccasin, is rather thick bodied for it's length, has a thick tail that ends kind of abruptly. They are often slightly splotchy in color, not always black, sometimes dull brownish-black, and they have a back that could almost be described as having a ridge. One last thing, a slit eye (up and down slit) is an indication of poisonous snake in the US, and a round eye indicates something like a pine snake, black racer, etc. Hope that helps.
Answer

this Question