Getting Rid of Snakes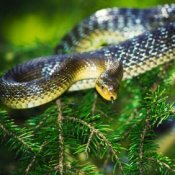 There is a large snake about five feet long living under my deck and is responsible for death of one of my dogs. I have new rescue who smells snakes. How do I get rid of the snake? It maybe a water moccasin.
By Kimijohn
Answers
February 1, 2014
0

found this helpful
Best Answer
Call your local animal control office. If you are right about the kind of snake, you do not want to tackle this on your own. If you are outside and sense that the snake is near, then call 911.
Answer

this Question
22 More Questions
Ask a QuestionHere are the questions asked by community members. Read on to see the answers provided by the ThriftyFun community or ask a new question.
My daughter has a retention pond behind her house and the snakes are starting to come out with the warm weather here in the South. She has fought them for 2 years and nothing seems to work. Is there anything that authorities can do to eliminate the snakes from being in the pond? Some counties will maintain the snakes for the protection of the people who live around them.
By Bonnie
Answers
January 14, 2013
0

found this helpful
I found this link which discusses how to make the area undesirable for snakes...such as using enclosable mouse traps around the perimeter of the pond, using snake proof fences, and cutting grass around the perimeter of the pond.
Here is the link:
www.ehow.com/how_5969427_rid-snakes-pond.html
Good luck and blessings, Robyn from Tennessee
Read More

Answers
I am asking for help concerning a possible den of snakes found in my basement. We've lived in our house for about four years. This is the first time we have had a problem, it was the spring after we bought the house. I saw something moving in the ceiling of our unfinished basement and then suddenly realized it was a black snake. Every spring, it's the same story - just when you think you've gotten rid of them-they're back.
I say they, because for a long time I thought I was seeing the same snake. We even named him, "Henry." But Henry was quite elusive and refused to be caught, until about two months ago when my very courageous neighbor came over and devised a snake catching kit, and caught him unharmed.
We let him go in the woods behind our house, and naturally I thought snake-gate was all over with. Wrong! Two nights ago, two black snakes nearly fell on my head. We don't have mice.
Any advice,
B.J. in Virginia
Answers
By Annette (Guest Post)
June 15, 2005
0

found this helpful
Lady if it were me I would move!!
By Michele (Guest Post)
June 15, 2005
0

found this helpful
My daughter went to take a shower one night last week and there was a snake hanging over the shower head. We thought he must have been huge cause we could see some of him up on the side of the shower also. To make a long story short...hubby came home and it was two snakes mating! STOP UP ALL HOLES! He found a huge hole under our tub where they put the pipes in. You will have to find them...get down on the floor, up in the rafters but find the hole! Or they will keep coming back! And yes, we still have nightmares..LOL
By Liz Homard (Guest Post)
June 16, 2005
0

found this helpful
I would hire exterminaters,
By Ann (Guest Post)
June 16, 2005
0

found this helpful
I am terrified of snakes and some of my neighbors have them in their yards. I've been told we probably don't have them because of our cats. I have seen my cats with a snake at our previous home that was next to a cow pasture. If you think they aren't poisonious, I'd try letting a neighbors cat hang out in the basement. I don't know if this will work but I could never go in that basement. I think I've also heard that snakes won't cross over white. My neighbor heavily limes the back of her property for this reason. This could possibly help if you found where they were coming from.
By Nelly (Guest Post)
November 13, 2005
0

found this helpful
I dunno where you get them but you can buy these sound emiters. They give off a sound only heard by the snakes and it drives them crazy. Then they leave! But I would call an exterminator about it. What kind of snakes are they? Gardner or corn snakes or something more dangerous?
By (Guest Post)
May 8, 2006
0

found this helpful
It isn't because the lime is white that the snakes won't cross, its because lime is toxic to them. Many folks in the south use this method to keep the rattlers away as best they can.
By Snakes owned me (Guest Post)
August 22, 2007
0

found this helpful
I was infested with snakes in my basement. I hate them. However I'm not scared of them so it really did not bother me. I would occasionally come across them lounging in the sun on my kitchen floor or even once in my laundry machine.
After some time I kinda thought of them as pets. However when I got engaged, my fiance did not share my snake apathy. She basically said it's the snakes or her, one has got to go. I tried two chemical repellents. Snake-away... which did nothing and stank. And an all natural one caled Snake-Stop. This worked immediately. I sprayed it lightly in my basement and they were gone within a day. I used to see four or five when I went down in my basement and now have not seen one for a year. Good luck.
By (Guest Post)
August 20, 2008
0

found this helpful
It sounds like a black rat snake to me.
Read More

Answers
What kind of acid or chemicals can be used to avoid snakes?
By vishnunathgouda from India

Answers
June 15, 2010
0

found this helpful
Moth balls will work, good luck.
June 16, 2010
0

found this helpful
Moth balls don't work. Critters just move them out of the way or go around them. Out in the open the moth balls melt quickly. I don't know why folks think moth balls will deter animals. I don't know of any treatment that will clear your property of snakes.
June 18, 2010
0

found this helpful
A few weeks ago, we found snakes in our yard after 33 years of being snake free. I am so afraid of snakes and was a nervous wreck every time I opened my front door! I have since quit planting in my yard and will now only plant flowers on my 2nd level deck. After some internet research, we purchased Dr. T's Snake Away, available at Lowes and Home Depot. It smells like mothballs but is in a granular form. Haven't seen any snakes for two weeks (which makes me very, very happy). Some reviews say it works, some say it doesn't. But, for my own sanity, I have to keep telling myself Dr. T's is working just fine.
June 28, 2010
0

found this helpful
I once heard an old timer say that in olden days folks would burn an all leather shoe to chase snakes away. Granted in today's world that would be an awful expensive deterrent, but if you have an old pair it may be worth trying! Just make sure to remove any man made materials like rubber soles.
Read More

Answers
I live in the Outback at a caravan park and it is expected that we are going to have snakes and I do not wish to harm them. I would be quite happy to keep them away with moth balls, but I have a small dog and I am wondering if she will eat the moth balls.
By Toni
Read More

Answers
Last spring we noticed some holes in our mostly dirt front yard. We never saw anything come in or out of them, but there seemed to be several. (The yard is mostly dirt because our house was raised prior us moving in and still needs to be leveled and reseeded.). So, back to these holes. I believe them to be snake holes, but largely they got ignored.
I did once see a small snake in my driveway which my husband ushered over to a large field by our home. My two cats do bring home kills, small rodents and birds. Back to the holes- so this morning- 1-8-2014, I walked outside and just glanced something sliding back into a hole. I only saw about three inches, but I am pretty sure it was not a large earth worm.
Yes, I understand to keep rodents away, unfortunately, we live next to a field, so all we can do is control that population with our mighty ninja cats. What can I do to get this snake or snakes out from under my yard? I doubt they are poisonous due to our location- NW Oregon, but I am pretty sure I saw a reddish brown color leaving me wondering. I have two young children and certainly don't want an unwanted visitor. Help!
By Samantha D.
Read More

Answers
I live in Texas in a canyon area and a diamond back rattle snake entered the kitchen. Is this unusual that this type of snake would enter a home?
By Georgia Breish from TX
Answers
August 13, 2009
0

found this helpful
I suppose not when I lived in Tallahassee, Fl I got up one morning and there was one in my hallway. Then about a year later I went to put towels on my linen shelf in bathroom and there was one curled up on my towels. And I'm deathly afraid of snakes!
August 16, 2009
0

found this helpful
I haven't had the experience with the rattler(Tank God!),but I have had a water moccasin stretch out alongside a top mattress which had slipped over on the box spring an inch or two. I was just about to grab hold of the mattress to slide it back in place before I made the bed, when I saw the snake lying on the edge of the box spring. I also had one crawl onto a white sheet I was using to sunbathe in the back yard.
Remember, snakes are cold-blooded. If it is scorching hot outside, they will seek shade, and if it is cold, they will seek warmth, since they can't regulate their own body temperature. Plus, they will feed wherever prey presents itself. Do you have birds in your house, or hamsters, gerbils, or even small kittens or puppies? Maybe a mouse? I had a huge rattler once on my back steps. Only after we killed it did I realize where the baby kittens had been disappearing to on a daily basis. Terribly sad, but true.
August 20, 2009
0

found this helpful
I can't believe I'm reading this blog! I would never live in an area where there are such deadly snakes. If I were on vacation some place and these snakes happened by I would be out of there so fast, and I hope the Good Lord is watching out for you and yours.
Answer

this Question
I had a 5 foot rattlesnake under my house. I put sulphur out everywhere except a small area where he could get out. The next morning I ran out and sealed the rest of perimeter with sulphur. But my problem is he left from under the house, but keeps hanging around wanting to go back under. How do I get rid of him forever except for a shotgun? Please help I am terrified of snakes! He will not crawl thru sulphur, but hangs close. Yikes!
Read More

Answers
How do I get rid of coral snakes around the base of my house?
By Moe T

Read More

Answers
I have a rattlesnake on my downstairs. I live in Rocklin, California. How do you get rid of them? Can they climb up to my second floor? Can they climb that high?
By Joan
Read More

Answers
What do you use to get rid of rattlesnakes down in a hole?
By LR from TX
Read More

Answers
I just found a very small, 6-8 inch wormlike black snake in my house. My son removed it in a trash can. How do I know if this was a single snake or if I have more? I have never seen a mouse in the house. I do have a small dog door.
By Susan
Read More

Answers
I found 4 rat snakes in my basement last week and 2 outside of the house. We caught them all and got rid of them. We sealed the hole where we think they were coming into the basement and we haven't seen anymore in 4 days now. How will I know if I got all of them out? And how will they get out if we sealed the hole up already?
By Mary A
Read More

Answers
Every spring we find baby snakes in my home. They are crawling in the living room, falling from the ceiling, and even in the bathrooms. This only happens in the spring. We have never seen the momma snake.
Is it possible to catch the momma snake before she lays her eggs in our home?
By Dana R
Answer

this Question
Published by ThriftyFun.
© 1997-2021 by Cumuli, Inc. All Rights Reserved.
https://www.thriftyfun.com/tf/Pest_Control/Snakes/Getting-Rid-of-Snakes.html