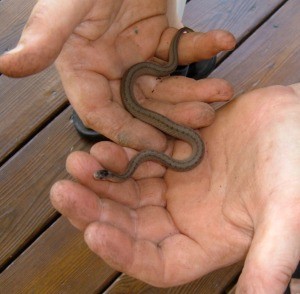 When you are digging in your flowers and grassy areas, you may run into this little fellow. It is a DeKay snake and quite harmless and appears to not mind being held, although, I don't want to hold it. I just take pictures.
From what I have read, it is a small, meat eating snake and prefers bugs, beetles, spiders, slugs, snails, and such. It's a good little snake to have around.
If you would like a snake for a pet, this one can be your little buddy.