I had two snakes on my porch and one on the side of my house. I'm afraid that I may have a nest under my deck. How do I get rid of them without getting hurt? I'm really afraid of them. I live in Florida and the snakes were tan and thin.
Alison from Tamarac, FL
Answers:
How to Get Rid of Snakes!
I hate snakes. I don't care if they are good ones or not. I've been in this house nearly 3 yrs. Last year though was the kicker. We had a rattlesnake weaving his itself down our gravel driveway. I bought a product called "Snake Away".
It worked OK, but the smell was terrible. Just by luck and because we are re-landscaping our front yard, we needed cats to help get rid of gophers. The bonus? They killed a snake that was making it's way onto my front porch and they cornered 2 tarantulas. I don't know if the sex of the cat has anything to do with their hunting skills, but mine are all male. I'm suggesting on getting a couple cats. (12/18/2008)

By SweetCali40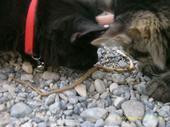 How to Get Rid of Snakes!
Call your County Extension agent. He/she is your best source of information on good and bad critters and getting rid of them. These folks work for you and are always glad to help. (01/06/2009)

By Sewbead