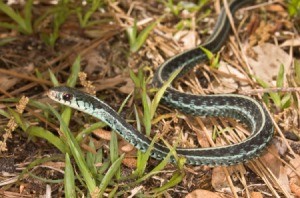 How do you identify nonpoisonous snakes?
By don

Answers

June 2, 2010
0

found this helpful
I have attached a picture on a nonpoisonous snake. Of course, it is not advised to try and tell when the snake is alive ha ha.
In the picture, where you see the scales interlock with eachother means it is nonpoisonous.
If the scales were to stay lined up the way they are above the anus, it is poisonous.
You can also squeeze the head of a dead snake on the sides of the eyes and if fangs pop out, it is more than likely venomous.
Although these ways are effective, always see a doctor regardless of whether or not the snake is poisonous. If you are bitten by a snake it is very important to remain as calm as possible. As your heart rate increases from the panic you are experiencing, the faster your blood (along with the venom) pump faster throughout your body.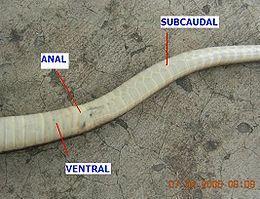 June 5, 2010
0

found this helpful
Since you would have to first kill a snake to look under it, I suggest you look at head shape. Poisonous snakes usually have a wedge or spear shaped head and their pupils (which are easy to see as snakes have no eyelids) are up and down shaped like in a cat's eye. All snakes will bite when cornered to defend themselves. Some even have small teeth although they are non-poisonous. Getting a book with pictures of patterns of poisonous snakes in your area will help you to know which ones are beneficial and which ones to avoid or remove.
You can ask your county extension agent or look it up in the library or on the internet.
Killing non-poisonous, beneficial snakes is wasteful and cruel. Non-poisonous snakes keep the mice and rat population at a tolerable level and rodents are by far the more disease infested and destructive.
Learning you have killed a harmless snake is too late to save the snake. It could have made your yard a safer place for you and if you have them our children.

September 8, 2011
0

found this helpful
In the United States, round pupils in the eyes are the best way. The only venomous snake in the US with round pupils is the Coral Snake, whose eyes are black so that the pupil is not visible anyway. Head shape is not a great rule....All pit vipers (Rattlesnakes/Copperheads/Cottonmouths) have the wide triangular heads but many nonvenomous snakes (Rat/Water/Hognose etc) will flatten their heads into the exact same shape when they feel threatened. The pupil rule is the best without flipping the snake over. In the USA, there are four basic types of venomous snake: Coral Snake (Red/yellow/black with red touching yellow - you probably know the rhyme - and a jet black head with wide yellow collar). Rattlesnakes (easy to identify because they usually have a visible rattle), Copperheads, and Cottonmouths (which are essentially large aquatic Copperheads).
Copperheads and Cottonmouths are the trickiest because they lack rattles and are brownish and patterned, like many nonvenomous species. On Copperheads, the dark bands are narrowest down the middle of the back and widest near the belly. The opposite is true for all banded nonvenomous species. Cottonmouths have a dark mask through the eyes (like a raccoon) and often hold their mouth open when they feel threatened. Aggression is not a good indicator of venomous species - contrary to popular belief many nonvenomous species are more aggressive than venomous ones. There are a lot of myths out there about Cottonmouths and other snakes being aggressive; most of these are based on exaggerations, misunderstandings, or complete fabrications.
Answer

this Question