What to moles feast on for their food. Not that I want to keep them in my garden, but I'd like them to stop. I do not have any trees just those fragrant gardenias, jasmine, and azaleas.

Moled Jean


Answers:
What do Moles Eat?
It is my understanding that moles eat grub worms. If you treat your lawn for grub worms, the moles will go away because they won't have a food supply. (05/25/2005)
By Cheryl from MO
What do Moles Eat?
Moles eat grubs, a fat whitish worm that is underground. In summer turns into Japanese beetles which eats up the roses, grub treatment like "milky spore" takes a few seasons of treatment, but last 10 or more years. I go out and pick off the Japanese beetles and put them into soapy water in a coffee can. The less beetles, the less grubs, and the less moles. Moles won't eat your plants, but voles will and they use mole tunnels. They love bulbs. (05/25/2005)

By Dee
What do Moles Eat?
My mother used the following two methods to encourage moles to move on, both worked. Drop a piece of Juicy Fruit gum down the hole (unwrapped). For some reason this is the only flavor they go for. Her other remedy was to pour a couple of tablespoons or more of mineral oil down the holes. (05/25/2005)
By Alex
What do Moles Eat?
I used to use one of those spinning things you see stuck in people's yards, a pinwheel. That did it. There's no reason to kill an animal just because you don't want it around. Just make them move on. It's their planet, too. (08/10/2005)

By Vicki
What do Moles Eat?
Well, my cat brought me a baby mole today and we don't have visible nests around our house so I went trumping through two acres of wooded land looking for it's home. Anyways, I talked to the zoo and wildlife center and a couple other places and they all told me that if you want to return it to the wild, just find it's home and leave it there and make sure to wear gloves cause mama won't take it back if it has your scent. Just thought I would let you all know. Hopefully my cat won't bring me anymore moles, at least with mice and bunnies I know what to do. Ha ha. Good luck to you all! (04/20/2007)
By Stephanie
What do Moles Eat?
They will also eat bread or worms. I have a baby mole so I know what to feed it. (06/04/2007)

By Katie of KY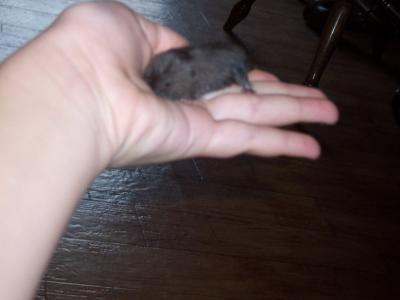 What do Moles Eat?
I was told for a baby mole go get Esbilac from a pet store. It's a puppy formula. And try to get them to eat that. It's not an easy thing to do though. I have been trying to get my 4 pups to eat for the last couple of days. When they get bigger they will eat the bugs and worms, but when they are little they still need their momma's milk. (09/15/2007)

By Amanda
What do Moles Eat?
Steve got it right. Although yes a mole can bite, but it is very rare. Just get yourself an aquarium like he said. Fill it 34 of the way up with regular soil from your backyard, and keep it stocked with nice fat worms and crickets that you can get live from any bait and tackle shop. While it is very hard to dig him out of his tunnels once he has dug them in the aquarium it is much like having a giant ant habitat.
You can watch him dig his little tunnels and crawl through them. They are great for kids or for a classroom. Oh yeah and just like he said, for water just cut a sponge into a square to fit a very shallow dish or lid and keep it wet, the mole will drink its water from that. (02/23/2008)
By MommaCoats
What do Moles Eat?
They eat worms, grubs, and slugs. So there you have it. (12/07/2008)

By crazy woman
What do Moles Eat?
(Submitted by email)
Moles eat fish, worms, night crawlers, and roots.

Steve
(03/14/2009)

By Sally