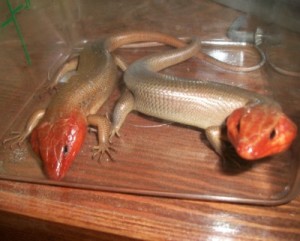 These pictures are of 2 red-headed (with greyish bodies) lizards that our Grand-Doggie found in north Florida when we were visiting our oldest daughter recently. When Sadie Belle finds something she is not familiar with, she will not hush until you go to see what it is she's found.
We believe the lizards were "courting", so they were easy to catch together long enough to take several photographs before we set them free to go on their "merry way." They had lovely sleek bodies which almost looked like scales, but were not scales at all.
Pretty and shiny, and most definitely red-heads.
None of us had ever seen this type of lizard before. They are very interesting.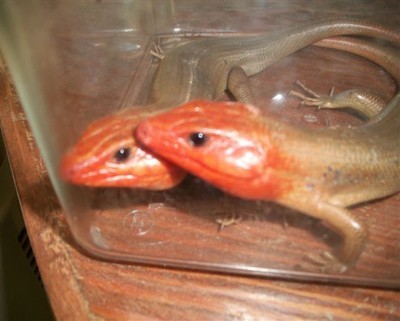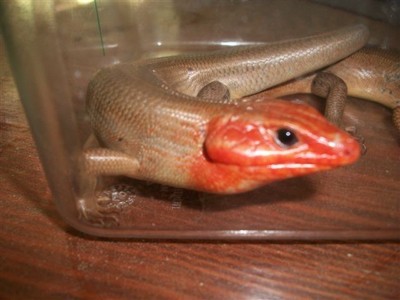 By Julia
Editor's Note: If anyone can identify these lizards, please let us know in the feedback.
Are redheaded lizards poisonous?
Answers
June 3, 2017
0

found this helpful
From Yahoo: There are only 2 species of lizards that actually have venom. The Gila Monster and its very close relative the Mexican Beaded Lizard. Some people think Komodo Dragons are venomous but they just develop so much bacteria in their mouths that whatever they bite will eventually die from infection.
None of these have a red head.
June 3, 2017
1

found this helpful
I believe that is a broad-headed skink or broadhead skink and no, they are not.
June 5, 2017
0

found this helpful
Redheaded Lizards (Broad Headed Skinks) are not poisonous but cats usually love to catch lizards and these will sometimes make them a little sick but not for very long - cats recover quickly.
I live in Florida and see these along with several other types of lizards many times a day and have never had a problem with any of them.
Here is link to an interesting article if you would like to know more about these curious creatures. The second link is to similar questions and answers posted in the past on ThriftyFun.
archive-srel.uga.edu/.../ecoview140622.htm
August 29, 2017
0

found this helpful
that is absolutely false. Komodo dragons do produce venom. Dr. Bryan fry. A bite from a komodo dragon is fatal in most cases even when the bite isn't severe. And the speed in which death occurs is too fast for any bacteria no matter how dangerous it may be. Dissection of similar lizards such as monitors and even non related species such as Iguanas have been found to have primitive venom and venom producing glands.
Answer

this Question

...