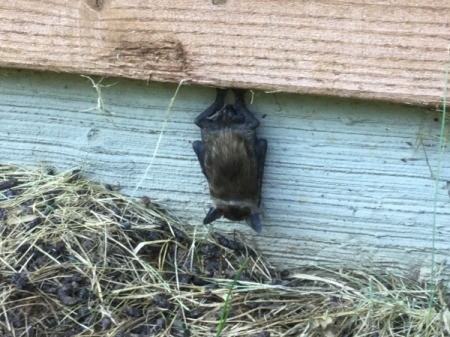 Photo Description
July 1st was a hot/humid day in Wisconsin. I noticed this mother and her pup slept out of the bat house very low to the ground where it was cooler. The pup is tucked behind her body, near her legs, close to the cedar. We have 34 moms in the bat house, it's a maternity colony. Last weekend our bat count was 41, meaning the babies are beginning to fly out at night and forage for bugs! Late in June we saw 6 of the moms fly out of the house during the day, one was holding her pup with her legs and they flew to the cool shade of the pine forest.
When I replaced our old bat house I painted the new one dark brown, in the spring the dark color helps heat up the house to keep them warm. I'm afraid in the summer months the dark brown is causing the bat house to heat up too much. We do keep a house on the north side of the house and they usually move themselves and the pups to the cooler side, but maybe the extreme heat caught them by surprise. 12 years ago when we moved into the house I put up a small house on the east side of the chimney. We have added a few more larger houses since then and the colony was up to 55 a few years ago but the White Nose syndrome has killed approximately 30% of the bats because it is a fungus that takes nutrients from the bats while they hibernate so they die of starvation during the winter. We sure never have a mosquito problem around our house and are very blessed to have them around.
Photo Location
Arena, Wisconsin
Add your voice! Click below to comment. ThriftyFun is powered by your wisdom!
July 23, 2018
0

found this helpful
Awwww, that's so sweet. I've always liked bats, haha really!
I think they're cool creatures, and I've read about that horrid "White Nose Fungus" and how it's taking out millions of them, and they have no defense. That's so wonderful you've provided a place for them to stay.
This is just a link for help if you see any that are infected with WN, as they can help. There is a bacterium they're using to inhibit the fungus, but I don't know how they administer it.
July 23, 2018
0

found this helpful
how cool is that.. i love bats
July 23, 2018
0

found this helpful
Im so happy you like bats as I do. They seem a little misunderstood. I participated in the Great Wisconsin Bat Count this past weekend and our 38 total bats May count has increased to 82 bats!! Moms usually have only one pup each. We have some visitors or a few sets of twins. Thank you for the website for the WNS info, I really hope they figure out how to help the bats.
I have read that if they increase the temps in the caves to a level that the fungus wont grow would help. But I will be hoping for something soon. When we sat out to count the bats, I chuckled when there was not one mosquito bugging us as we sat in our chairs at dusk.
July 23, 2018
0

found this helpful
Believe me, it warms my heart to know there's so many people that love all animals. They're all precious, and they all have their place for Earth's balance, and they do make our lives better, which I know what you mean about them being misunderstood, and they are something awful. They are sweet creatures that share the planet, as we all do, and do us all a lot of good.
I think they're cute as can be, and so are the little "Fruit Bats" too, I think they're called, they look like miniature dogs in their face.
But no matter what they look like, they're all kinds of living "life", and that makes them all special. :)
Add your voice! Click below to comment. ThriftyFun is powered by your wisdom!