Saving Money on Aquarium Supplies
Solutions
Share on ThriftyFunThis guide contains the following solutions. Have something to add? Please share your solution!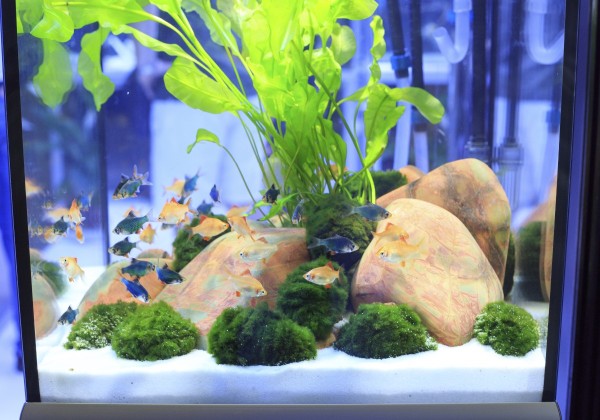 As an avid aquarium hobbyist, I am always trying to find ways to save money while making a great home for my fish. I have several tips that I would love to use here:
Buy aquarium tubing in bulk. It is always worth it to get the 25 feet, even when you don't think you will need it. For example, if you have a tank on an aquarium stand and are running a pump, under gravel filter, or aerating decor into the tank, each line will need to be 4-5 feet depending on the height of the aquarium.
You are never too good to find a great deal through Wal-Mart. Believe it or not, they actually have great supplies there. The aforementioned aquarium tubing is one example, but other supplies such as Melafix (wide-spectrum antibacterial ointment) or Aquasafe (water decholorinator) will be much less expensive here than at PetCo or PetSmart. Gravel is a great buy here too. Also, I ordered my very first water test kit through the website and had it shipped to store (free shipping).
Get a set of measuring cups/spoons instead of expensive water-testing equipment to measure out portions of medications.
Find a local fish store and ask for their advice as opposed to advice given at corporate chains. I have nothing against corporate chains, mind you, but employees at respectable local fish stores can give your questions and concerns their complete attention and can follow-up with sound advice.
Also at the local fish store is fish food is sometimes sold in bulk. A one-half pound bag of fish food costing $12 is a better buy than half that amount at the same price anywhere. Keep extra fish food in the fridge.
Never underestimate the use of good, brand new resealable containers (i.e. Tupperware) just for the aquarium hobby. This includes small containers for storing fish food or pitchers for pouring water into the tank. NEVER use soap in any container that is designed for fish use only.
Know what you are looking for. I recently purchased a 5-gallon kit for a single molly (fish) and the cost was approximately $35. The kit came with a hood, light, filter, and some tubing. If bought piecemeal brand new, the tank would have been approximately $10; the hood would have been approximately $10; the light would have been hard to find, but still would have cost around $15; the filter would have been approximately $20. In total, it would have cost $55. None of the cost is including the price of a heater, gravel, decorations, etc. Sometimes at local fish stores, kits are sold including items that would cost more than if the tank and the equipment was sold separately. There is a lot to be said for "shopping around" for the best deal, but when dealing with live animals you never want to get sub-par quality.
Fake plants are expensive; real plants are cheap. Fake plants can range in price from anywhere between $3-$30, depending on the size (small, medium, large, x-large) or type (plastic, silk, silk-like). In this scenario, check out PetCo or PetSmart for "betta bulbs". These bulbs were originally designed to grow in smaller tanks, but will grow indefinitely if kept in the proper conditions. A 3-5 pack of bulbs costs around $3, and while there are no guarantees that any of them will grow, the company that manufactures the bulb does make an offer to replace the bulb/refund your money if the bulb does not sprout within 14 or so days. Real plants will eat nitrates and keep fish healthy. They act as a natural filter in the water and keep water conditions perfect. Plants also act as a barrier between more skittish fish and more aggressive fish.
Thank you for reading and happy aquarium keeping!
By Jenni from Lincoln, NE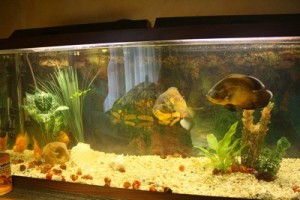 I needed more plastic plants for my aquarium, but they are $3.00 to $6.00 a piece. Too expensive! So, I bought some "dollar store" foliage for $1.00 and washed them before I put them in the tank. My original expensive plants are pictured on the right, my "el cheapo" plants are on the left. The fish are doing fine with their new foliage.
By shotpusher from NC
July 29, 2005
4

found this helpful
Instead of the more expensive sands and other substrates at the fish store, go to your local hardware store. For natural sand, use play sand; for black sand, use black sandblasting sand; for white sand, use white pool filter sand.
Silicates should be avoided, but otherwise these sands work for freshwater or saltwater tanks and are infinitely cheaper. Substrates at the fish store are between $15-$20 for 20-25 pounds. Sand at the hardware store cost between $2-$5 for 50 pounds.
By coolchinchilla
Catherine Forman
0

found this helpful
So you've decided to swim with the fishes (so to speak). After you've set up your aquarium, there are some supplies you may want to keep on hand.
The Basics:
Fish food. You need to feed your new fish.
A net. For scooping out the fish when it's tank cleaning time.
Useful But Not Essential:
Water testing kit. You want the water in the tank to be fish-friendly. Periodically check the PH levels and water hardness, and find out what other stuff is in your tank.
Isolation tank. Also known as a nursery or breeding tank, it's a good way to isolate a sick fish or a pregnant fish. I've seen tanks that have an isolation tank with a beta in it, and all sorts of other fish in the main tank.
Fish drugs. It doesn't hurt to keep them on hand in case of fungus, parasites, or other fish ailments.
Air tube/air pump. Don't put the actual pump in the tank! The tube helps increase aeration of the water.
Keeping your tank clean is essential to the health and well-being of your fish! Your water filters will need periodic cleaning. Your tank will grow algae. Uneaten fish food and other gunk will get stuck in the gravel.
Rather than emptying the tank and starting over every time you need to clean, you may want to do a weekly cleaning. Just remove part of the water, less than 20% of the tank capacity, and clean a portion of the gravel every week. By not removing all the water, you keep beneficial bacteria in the environment.
Cleaning Supplies:
Gravel vacuum. This handy device cleans debris (like uneaten food and fish waste) out of the gravel.
Large bowls or bucket. These can be used for cleaning filters, other tank accessories, and for tank filling. Keep in mind that tap water can be detrimental to good bacteria in the tank water, so you may want to use water from the aquarium for cleaning.
Algae scraper. Algae in tank is bad.
Catherine Forman
Related Content