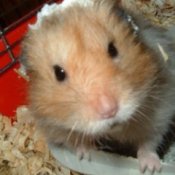 My son has a female hamster. Her cage smells so bad eventhough I clean it frequently. It smells after the first 24 hours. Any ideas?

Linda from Richmond, VA

Answers
By Me (Guest Post)
May 4, 2006
0

found this helpful
Sounds like the hamster has some health problems... check to see the water's ok and the food's fresh, but I'd suggest you take it to the vet.
By Mary (Guest Post)
May 4, 2006
0

found this helpful
Ours did too, I sprinkled baking soda on the bottom of the cage before putting the chips back in and it seemed to keep the smell down quite a bit. It will not harm your hampster.
By not acceptable - minor (Guest Post)
May 16, 2006
0

found this helpful
its the same with mine we've even tried lavender smelling sawdust but it doesn't seem to work. if she(your hamster) uses a certain corner as her litter tray why not buy a litter tray and put it there. it doesn't work for me but it might work for you.
By (Guest Post)
May 16, 2006
0

found this helpful
your hamster might have wet tail .look at its bottom.""""""""
By Kate (Guest Post)
April 26, 2007
0

found this helpful
I use a lavender scented wood shavings from pets at home. Not only helps control any odour but makes your room smell quite nice too.
By Zoe (Guest Post)
November 12, 2007
0

found this helpful
My hamster did that too, but I clean the cage every day and that's why it doesn't smell bad.
By Alice (Guest Post)
July 25, 2008
0

found this helpful
Your hamster is somehow ill. My guess is wet tail, but you can't be sure. Wet tail is a form of diarrhea that coats the hamster's bottom and creates blockage and attracting infection. You might want to have her looked at by a vet, but if it's too late, there's nothing that anyone can do.
By eileen, scotland (Guest Post)
October 25, 2008
0

found this helpful
Our hamster cage has started to smell worse than usual. She seems ok though and is eating and drinking.
Read More

Answers
Our hamster got sick and died a couple nights ago. I need to know a safe way to clean and disinfect the cage so the next one we get does not "catch" whatever Princess had. We had 2 cages for her to go back and forth in, and the 1 is all plastic. I do not want to use bleach as it may seep into the plastic and make the next one sick. Any ideas on how I can clean and disinfect this? Thanks in advance for any and all suggestions.
Janice from IL
Answers
December 9, 2008
0

found this helpful
Use a household steamer. You can rent, borrow, or buy. I use mine for everthing-- especially cleaning out the fridge.
December 9, 2008
0

found this helpful
At our house we have a Green Iguana.
We can't use just anything to clean with.
No soaps, no harsh cleaners or chemicals.
To clean his cage, and other items, we use Clorox Hard Surface Cleaner. It comes in a spray bottle so its easy to use. It is safe to use as well. We allow it to air dry before putting IGGY back into his cage.
Give this a try....
Read More

Answers
When cleaning my hamster's cage I used Distilled White Vinegar to remove the urnie stains. It wasn't all dry when I returned my hammie to the cage and she managed to lick some up. Is this harmful for her or not?
Maheejee from Alpine, TX
Answers
October 21, 2005
0

found this helpful
Simple answer to your question...Is she still alive?
Urine stains or sediment...I just straped it off the cage with a flat knife and didn't worry about getting it all off, 'cause the hamster will make the stain there again. I also had the hamster in an old aquarium which meant that when I straped the area I was scraping glass not plastic, like many hamster cages are made of. Glass is very easy to clean.
January 23, 2008
0

found this helpful
yes it very harm ful it clogs up there throught and makes them choke
Answer

this Question