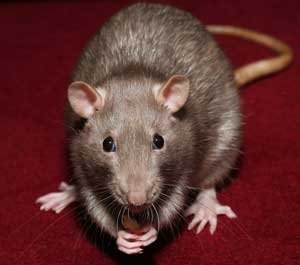 Description:
Children have always been fond of keeping mice and rats as pets, especially young boys. Intensive breeding over hundreds of generations has resulted in many colorful and interesting species. Rats and mice are generally inexpensive and easy to care for. With regular handing, they are easy to tame and even grow to enjoy human interaction. Because of their size, these pets require delicate handling and are not suitable for small children.
Size: Mice (1.1 oz); Rats (10.0-17.0 oz). In both species, the males are larger than females.
Compatibility: Mice and rats are social. With enough space, rats can be kept in same-sex groups of pairs or trios. Mice can be kept in larger groups of the same sex, although the bucks (males) have a tendency to fight. Rats and mice are prolific breeders. Different sexes should not be combined unless you are intentionally trying to breed them.
Appeal: Rats and mice are the least expensive "pocket-pets" to keep and need the smallest amount of room. They are generally lively and interesting to watch. Most can be easily tamed and are easy to care for.
Drawbacks: Mice and rats have short life-spans. They are prolific breeders. When frightened, mice and rats can bite. They can be easily injured and are not suited to small children.
Diet: Rats and mice should be fed a balanced or "complete" seed mix or specially formulated pellets.
Problems & Health Issues: These rodents are more susceptible to respiratory infections and tumors.
Lifespan: Mice and rats have short life-spans. Mice typically only live 2-5 years and rats from 3-4 years.
Interesting Facts: A female mouse can be biologically ready to breed within an hour of giving birth.