I used to regularly buy the small 6-8 oz. yogurts for my lunch. I would spend quite a bit on yogurt over a month's time. I have begun buying a large 40 oz. container, then spooning a serving's worth into a small yogurt container. I can take it easily in my lunch, it is much more cost effective, and I'm not throwing as many yogurt containers away. Plus, if I buy the plain or vanilla kind, I can add my own fruits and enjoy a much healthier, lower-sugar version of flavored yogurt. I add all sorts of fruit I wouldn't otherwise find available with yogurt, like pineapple or mango.
Source: my grandmother
By Sarah W. from East Lansing, MI
Read More Comments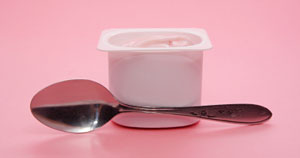 Tips and advice for saving money on yogurt as posted by the ThriftyFun community.
Buy On Sale
We buy Yoplait when it goes on sale 3 for 99 cents at the local grocery store. My husband takes those to work with is lunch. For my 5 year old and I, we buy the bigger Yoplait containers on sale and put them in our own 4 oz Gladware containers. 4 ounces is less than the single servings, so it stretches it that way too and usually 4 ounces is plenty for us.
By QT
Make Your Own Yogurt
It's very easy to make your own yogurt. You can buy a yogurt maker from Amazon for maybe $10. Then all you need is a candy thermometer to measure the temperature of the milk.
By Natasha
Homemade Yogurt Without A Device
This is how I make my own yogurt: I pour some milk on top of the left over organic yogurt whose bacteria were alive. I close the container with a lid, ensuring there's air circulation under the lid. I leave it on the kitchen counter at (warm) room temperature. You can always keep some of the culture in a closed container on the shelves of your fridge's door. I use a ceramic pot with a lid to make my yogurt, since for some obscure reason, I've found out that it yields the best tasting yogurt.
Bon Apetit!
By AHUVA KAPON
Editor's Note: Here are some ThriftyFun requests and articles on yogurt making. Be sure to check out the feedback too.
Read More Comments