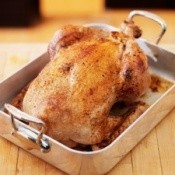 It's turkey season. Here are tips for saving money on buying a turkey as suggested by the ThriftyFun community.
Cook Half a Turkey
Turkeys are so cheap right now. If you have a small family or even if you are going out for T-giving dinner, do buy a turkey anyway. The butcher can saw the frozen bird in half for you, thaw half to cook now, and wrap and stick the other half in the freezer to use a couple of months later. Turkey is so good and good for you. Take advantage of this inexpensive bargain!
By Linda L from Vista, CA
Brine a Cheaper Turkey
Brining will make even the cheaper frozen turkeys taste better. I also often look for fresh turkeys to be marked down a day or so after Thanksgiving. Because they are marked fresh, they have to sell them quickly before they go bad. I just pop it into my own freezer until I am ready to cook it again.
By Jess
Get a Large Turkey
When you have a choice, buy a large turkey. The first 14 lbs of a turkey are all bones!
By carol
Stock Up on Turkey!
Our local grocery starts the middle of October punching your turkey card, so all you spend on regular purchases gets credited. I usually end up with 2-3 free turkeys by Thanksgiving. Oh, and where husband works, each gets a free turkey about 12-15 lbs, and there are those who work there that can donate their turkey (if alone or not needing it) to the local food shelf.
Along comes the great turkey prices to draw you into the store to buy other things. So I stock the freezer up on turkeys. When I can spend $.39 lb instead of $1.39 lb, I can find room!
Also, I will partial thaw in the fridge, then open the turkey and cut it up like chicken, and quickly refreeze the drumettes, drums, breasts, thighs and then backs (for stock) in packages to use.
When cooking for the holiday, I fix the turkey(s) the week before, slice off white/dark meat into certain tupperware that fit my large crockpots and then pour over canned broth, toss into freezer and it is ready to go. I take out to thaw in fridge day before needing it, morning of, tip out into crockpots, put on high, all juice included, and have the most delicious moist turkey.
By Grandma J
Can't Beat a Butterball
I know they may be costly but on Thanksgiving it is a Butterball, no two ways about it. I love my Butterball and my butter turkey sculpture made out of butter. Thanksgiving is Football and Macy's parade and turkey with my giblet and sausage stuffing. Real good. Oh and family too.
Read More

Comments