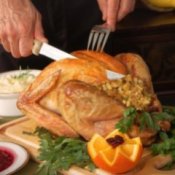 Think you've got your turkey pretty well stripped? Think again. After all that turkey tetrazini, turkey hash, turkey salad, etc, try turkey soup.
Toss all the turkey bones into a large pot. Cover the bones with water, add seasonings to taste, and simmer two hours. While the bones are simmering, peel carrots, celery and whatever other veggies you like. Add these to the pot. Cook an additional hour to hour and a half.
If desired, add a half pound of egg noodles near the end of the cooking time. Once the noodles are cooked according to the time specified on the package, remove the bones (carefully, so you don't burn yourself). Your turkey soup is ready to enjoy.
Read More

Comments
After Christmas dinner, DO NOT throw the carcass away. Remove all meat from carcass and pack in freezer bags. Take the carcass, place in large pot of water and add 3 large sliced onions and 3 or 4 stalks celery, salt, pepper and parsley flakes.
Read More...